When the world shuts down, planning for the future becomes nearly impossible.
During the spring and early summer, the coronavirus froze the economy. How each industry planned for the upcoming months became increasingly difficult as business shutdowns — some temporary and some permanent — accompanied empty roads and social distancing. As demand in many industries suddenly dropped off, the unexpected change caused suppliers to reevaluate the upcoming months.
"COVID-19 is definitely the most significant shock that our business managers are facing right now," said Yuan Wang, assistant professor of operations and supply chain management at the University of Houston-Victoria.
An economic standstill diminished demand and production for various products. Since that time in the spring, customer demands and forecasting of demands have increased "dramatically," while businesses try to build up the capability to produce, Wang said.
When manufacturers — or businesses earlier along in the value chain process — temporarily stopped work out of concern for an outbreak of COVID-19, production stopped. Forecasting for future demand diminished too but has since outpaced manufacturers.
Researcher Thomas Tunstall compared the economy's drastic changes in demand to running into a store as a hurricane hits.
"Chances are, you're going to be too late at that point."
As the director of research at the Institute for Economic Development at the University of Texas at San Antonio Institute for Economic Development, Tunstall monitors multiple sectors in Texas and elsewhere.
Tunstall said supply chains are designed for efficiency and cost optimization, not resilience. Because of this, he said the pandemic "will have the same impact on supply chains" as any other disaster.
Consumers could see the lack of resiliency at the onset of the pandemic, when shoppers stood in early-morning grocery store lines. Months later, industries are still making their return as lines are no longer out the door.
Lumber and construction materials
While each industry experienced the rapid changes to supply and demand differently, construction materials made a 360-degree turn.
Alamo Lumber Company sells retail and contractor materials in small towns in and around the Crossroads. After the initial downturn in demand, business has increased by about 10 to 15%, said President and Chief Operating Officer Matt Mullin.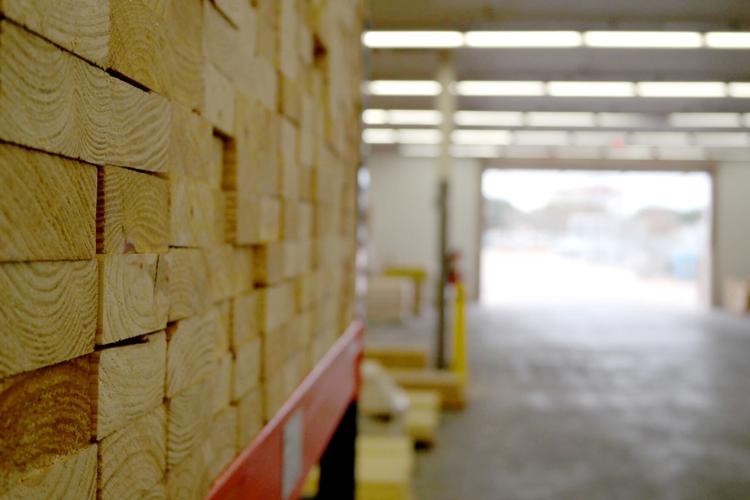 The unexpected uptick in demand resulted from people working from home, said Cally Fromme, vice president of communication and culture at Kodiak Building Partners and longtime lumber industry expert.
"(People) realize, 'Man, I really needed to add on an office or close in that garage,' and they get a playroom for the kids, or need to move. And also, people were just bored, and they were looking for just little projects to do," Fromme said. "It just increased the demand."
As production in the Eagle Ford Shale remains about a third of pre-pandemic levels, oilfield services companies' work has been in a downturn, too.
Mullin said as fewer people are on leased land for oil production, fewer roads, fences, tools and other infrastructure have been needed. As less infrastructure is needed, demand for lumber and other building materials from Alamo Lumber has diminished too.
"It's certainly ancillary and can be small to the oilfield, but it's fairly significant for us," Mullin said.
Even as sector-wide demand is up, the downturn in the oil industry can impact businesses less directly associated with drilling the crude oil from the earth.
"The oil and gas industry has higher multiplier effects than a lot of the retail industry or service industry," Tunstall said. "So the ripple effects through a community will tend to be more pronounced."
Elsewhere, other factors are at play that are influencing lumber supply and demand.
Timber along the West coast "sustained an enormous setback" from wildfires this year. Additionally, an 11.1% reduction on Canadian softwood duties "brings stability and predictability to the pricing and availability," according to a news release by the National Lumber & Building Material Dealers Association.
As lumber commodity prices increase, the potential for prices of newly constructed houses to increase is present. While U.S. interest rates remain low, an already tight housing supply in Victoria could gain more demand.
Lumber futures contracts hit a decades-long peak of $840.10 at closing on Dec. 16, according to the CME Group. Prices were on an upswing in August and September into $800s, then dropped and have returned at the end of 2020.
"The funny thing is, a lot of them still seem to have problems catching up," Mullin said. "I would have thought by now there would be more product flowing to satisfy the demand."
In a survey released in October, of 442 nationwide materials retailers, 62% of businesses were not able to source all the lumber and building materials their customers required, according to the LBM Journal, a lumber and building materials magazine. Seventy-nine percent of businesses reported having trouble getting pressure-treated wood from vendors.
While toilet paper, cleaning supplies and PPE made headlines this year, many other products have been challenged in the Crossroads.
Products with many parts, like a house or manufactured home, often require a complex value chain. If one part of a house is not ready, a family is not able to move in.
In addition to nonrenewable resource production, agricultural production of crops and livestock has been hit by the pandemic.
"I'm hopeful that people will start taking some of this stuff to heart," Tunstall said. "You're going to be subject to the swings in the cyclicality, and it's going to affect the local businesses. There's just no two ways about it."
As inventories and demand have changed drastically during the pandemic, keeping the complex web of supply chains running smoothly has been a challenge. Learn more about how businesses and consumers are impacted in Parts 2 and 3 of Busted Chains, which the Advocate will publish in the next two Sunday Business Report sections.