Life as a long-haul trucker paused briefly because of the pandemic for Amy Salinas. But now as she transports pharmaceuticals during the pandemic — some she thinks could be COVID-19 vaccines — demand for her deliveries is "going like crazy."
The pandemic caused supply chains across the U.S. to struggle with both supply and demand throughout 2020. After supply and demand are procured, producers struggle to get those products to vendors and then customers, which is still creating great demand for trucks and drivers like Salinas and her semi-truck, La Vergne.
After products are delivered to a community like Victoria by air, rail or sea, they then need to be moved to storefronts or warehouses by trucks. The same applies to products made in Victoria that need to be delivered to the Port of Victoria, a rail station or the Victoria Regional Airport to be shipped farther.
Delivering exclusively via trucks applies to 83% of all products in Texas said President and CEO of the Texas Trucking Association John Esparza.
As the pandemic turned the web of supply chains on its head, finding a way to get products down the road first became a challenge of no demand and then too much.
"It's an ongoing disaster," Esparza said.
Customer demands and forecasting of demands have increased "dramatically," the Advocate previously reported, at the same time businesses try to increase the capability to produce. The logistics sector, including truckers and the companies they work with, are also being challenged to meet this dramatic increase in demand.
Salinas and her husband David, both originally of Orange Grove, attended Victoria College in 2015 to become long-haul truck drivers together after it became hard to find work in the oil and gas industry during the industry's downturn.
In March, the pandemic paused the couple's delivery orders. Salinas thought she and her husband might need to find another career again, worrying they wouldn't be able to afford the truck they had just purchased in February.
"When they started shutting everything down, like the Mexican border, we were like, Holy smokes, this is going to kill us," Salinas said while at a stop in Memphis, Tennessee, on Monday. "We couldn't get a load for nothing. I mean, it was so bad. We were so slow."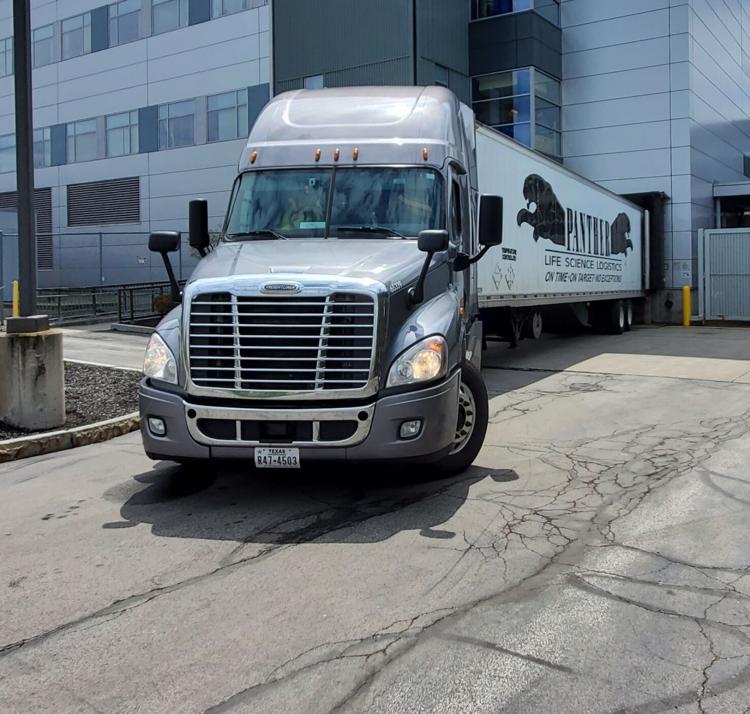 In late April, demand for deliveries began to pick back up.
Hauling pharmaceuticals has meant consistent business for Salinas and her husband. Often times, the bill of lading for health care products will not specifically state what is in the trailer.
Salinas said she thinks that while delivering mostly from warehouse to warehouse with hazmat precautions, they might be delivering the vaccine among other products.
Under their current agreement, Salinas and her husband receive $1.65 per mile to haul pharmaceuticals.
Outside of pharmaceutical deliveries, most, but not all, other industries are in need of more deliveries.
In the Eagle Ford Shale area, Esparza said as the current crude oil downturn causes businesses to stack oil rigs against a fence, it isn't a good sign for trucking businesses who deliver for oil field services.
Because of the impact of oil and gas specifically on the Crossroads economy, Esparza said it will take a little longer for trucking to bounce back.
Pivoting into delivering a new commodity or product that has higher demand, Esparza said, is difficult for most businesses.
Generally, the demand for deliveries of all kinds is staying busy.
"Anybody associated with transportation of goods has turned out to have been at the right place at the right time because of the pandemic," said Thomas Tunstall, director of research at the Institute for Economic Development at the University of Texas at San Antonio Institute for Economic Development.
In addition to logistics and long-haul trucking businesses, Tunstall said delivery services like Uber, DoorDash and others also are staying busy.
As demand for products stays high, so does demand in the job market for drivers.
'When they say 'we need truck drivers,' they are not kidding," Salinas said.
As inventories and demand have changed drastically during the pandemic, keeping the complex web of supply chains running smoothly has been a challenge. Learn more about how businesses and consumers are impacted in Part 3 of Busted Chains, which the Advocate will publish in next Sunday's Business Report section. To read Part 1 of Busted Chains, visit victoriaadvocate.com.