Amid talk of financial trouble, two Port Lavaca restaurants – Shellfish Sports Bar & Grille and Sundae Drive Cafe – shut their doors in November.
David Krupin, the owner of the two businesses, took over Shellfish from Dianna Stanger in 2016, when she sold it to him for $1.
"I've tried to pay it forward when I can, and David was talented and just needed a chance," Stanger said. "I tried to give him every opportunity to make a success for himself."
Stanger, who owns the now-for-sale building at 2615 SH 35, served as Krupin's landlord during his time as restaurant owner. She said Krupin was two months behind on his rent when the restaurant closed on Nov. 26, and he still owes her more than $10,000.
Stanger's bookkeeper, Todd Quesnel, said he sent Krupin a demand letter Wednesday for the amount he owes.
According to a GoFundMe fundraiser posted under Krupin's name on Nov. 10, his financial trouble began this fall.
"I was making my payments fine until Sept. 22, 2019, when Tropical Storm Imelda hit," Krupin's post read.
The description in the post, which is no longer available, called for help to raise $120,000 and said the money would be used to make loan payments and pay employees, taxes and food purveyors.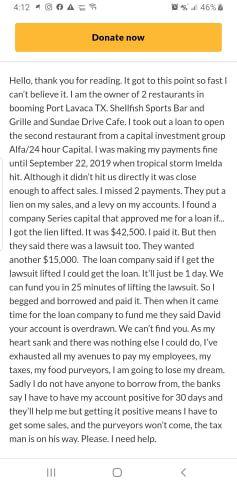 Krupin opened Sundae Drive Cafe at 468 SH 35 in September with his business partner, Kayla Elam.
Neither Krupin nor Elam could be reached for comment.
Jaime Hessel worked at the cafe as a baker. When she closed shop for the last time on Nov. 9, she decided not to continue working for Krupin, who told her he planned to reopen the cafe.
"I'm glad I quit when I did, because I still cannot cash my last check, and would not have been able to pay my nanny," Hessel said.
Hessel said two checks she received for hours worked in November have bounced.
She said she plans to Calhoun County District Attorney Dan Heard on Thursday, when he returns to his office, to report hot checks.
According to a former cafe employee, Ashley Ann Czarnecki, about 50 people were employed at the two restaurants. Both she and former employee Samuel Ramsey said they're owed more than $1,000 each in back pay and have already called and left messages at Heard's office to complain.
As reported in the town's newspaper, Krupin said he intends to open another business where Sundae Drive Cafe was located. The new business would be called Linneville: Churn and Grind.
Stanger, who opened Shellfish in 2009, turned it into a staple of Port Lavaca's restaurant scene.
She put the building up for sale shortly before the Shellfish restaurant closed. The building is currently listed for $2.1 million.
Stanger said she wishes the best for the next occupant.
"Hopefully the building does just as well as it always has for the great location that it is," Stanger said. "Hopefully a new restaurant that comes in does it justice."