When it comes to cattle, having an ultrasound done can show more than just pregnancy.
Meredith and Robert Martin run Akaushi-Angus cattle on their property in Jackson County, operating a high quality, private label beef business, Martin Beef. By ultrasounding their high-quality cattle, the couple learns how well the ribs are marbling before cattle are sent to a meat processor with about 80% accuracy. This marbling is a mark of high-quality beef coveted by many customers.
"We're spoiled," Meredith Martin said. "We're not happy without it."
Martin Beef began using Akaushi in their products about four years ago. American use of the originally Japanese breed began in 1994, according to the American Akaushi Association.
Breeding Akaushi with Angus that Martin already ran on her ranch resulted in beef she thought "isn't so rich that it's like eating a stick of butter" but also retains the high marbling.
"And after that, we said, 'You know, we should really introduce this to people in the area as a way to fill their freezer,'" Martin said.
Martin Beef sells wholesale orders of whole and half a head of Akaushi-Angus beef as well as quarter, half and whole wagyu-Angus beef. One of these purchases can fill a freezer with hundreds of pounds of meat.
To ensure they are raising about two-thirds of their calves to the highest United States Department of Agriculture grade, Martin said she worked with longtime UGC ultrasound technician Donnie Robertson to assess her cattle. As Robertson runs the ultrasound machine across the bodies of cattle from Arizona to Florida, ranchers like Martin receive a better estimate of the intramuscular fat that restaurants and individual consumers purchase for hundreds or thousands of dollars.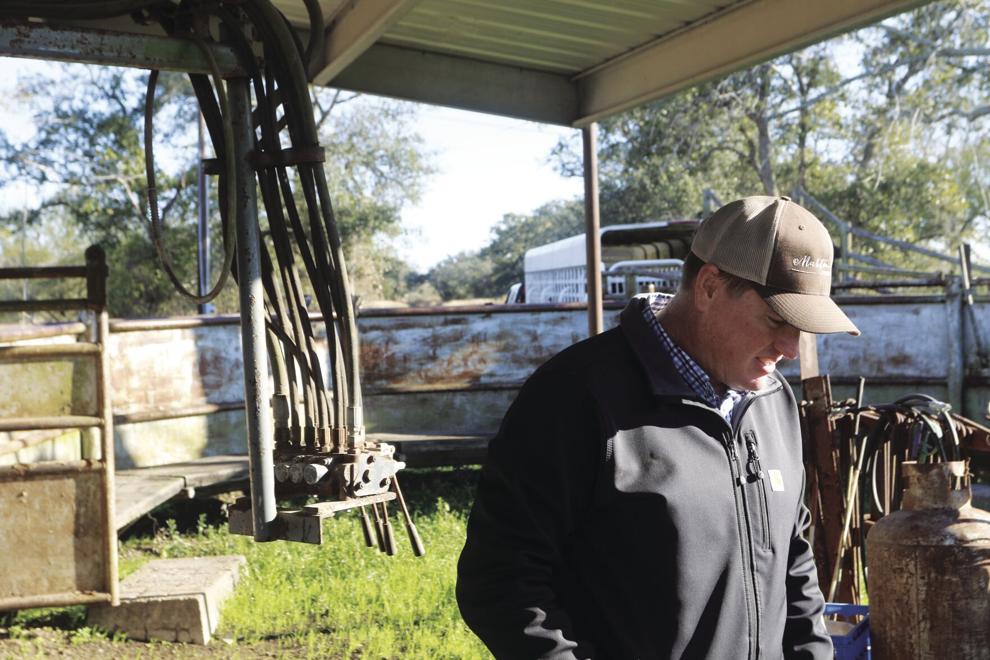 Marbling is the intramuscular fat cattle grow, rather than separate chunks of pure fat within their bodies. According to the USDA, this marbling gives beef its flavor, juiciness and tenderness.
Joe Paschal, Texas A&M professor and extension livestock specialist, compared the assessment of marbling to using sonar technology to locate submarines.
"We don't want big patches of marbling," Paschal said. "It's like, instead of one big submarine, we have thousands of tiny submarines that (the ultrasound machine) has a hard time picking up."
Those certified by the Ultrasound Guideline Council, like Robertson, can then assess the result of cattle's marbling by looking for a white web on the image produced by an ultrasound.
The abundant marbling allows Martin to produce USDA prime beef from Akaushi more consistently than most other cattle do. Only about 4.5% to 7% of all U.S. beef receives this highest rating, which is usually produced from young, well-fed beef cattle, according to the USDA.
"We were able to catch (Robertson) when he was in the area, and it was just such a cool experience," Martin said.
Ultrasounds are generally done within about 30 to 45 days of being sent to a processor, Robertson said. Beef grade estimates from ultrasounds usually hold true if external factors like stress on cattle from sickness or heat don't negatively affect them before being processed.
The Martins' plans to send cattle to a meat processor come at a time when many processors have had backlogs.
Unlike Akaushi-Angus or purebred cattle, Paschal said he has assessed research suggesting ultrasounds are accurate on most purebred and crossbred cattle other than Brahmans.
After attending a dinner provided by Akaushi raisers to promote the breed's use in the U.S., Martin said she and her husband have continued to introduce it on their ranch more.
Beforehand, Robert Martin's father had worked for decades to breed the "cream of the crop" among Angus cattle on the ranch. When the Martins introduced the Akaushi, she said the quality automatically jumped up from graded at about two-thirds choice to two-thirds prime.
Until the pandemic closures, Martin said they had partnered with Houston steakhouse Georgia James but then began the Martin Beef private label when restaurant demand decreased. In the near future, she hopes to continue expanding business into restaurants.
On the ranch, which has been in the family for 130 years, Martin said she hopes she can catch Robertson again to help the expanding beef business.