Beverly Sanders sells all types of Shiner beer from her bar, Antiques, Art & Beer, in downtown Shiner. Of the more than 400 beers sold at her establishment, Shiner Bock is the best-seller, she says.
Since Karbach Brewing Company, a macrobrewery owned by beer giant Anheuser-Busch InBev NV, ran advertisements around town promoting Crawford Bock as the "new Bock in Shiner," Sanders said people have come into her store asking for the "original Bock."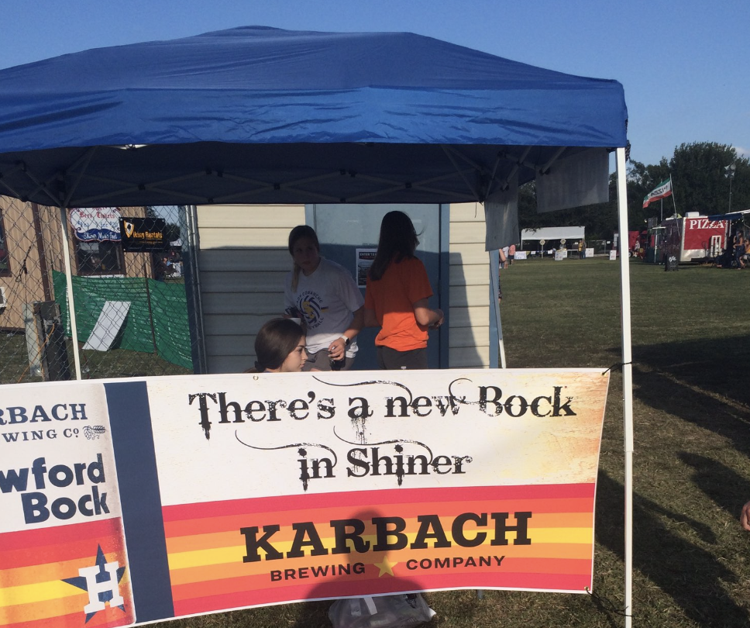 "All it's done is increase sales," Sanders said. "It's truly generated a lot of interest in the original."
Sanders said the Spoetzl Brewery, which produces Shiner Bock, shouldn't worry too much about the campaign's influence on local sales. Nevertheless, Spoetzl Brewery officials took the appearance of the advertisements as a sign of a brewing fight.
"There's only 2,000 people in Shiner, Texas," said Julie Boehm, a spokeswoman for the Spoetzl Brewery. "It was more of a push in the face, like, 'Look what we can do.'"
The advertising campaign including three billboards, appeared in advance of the Shiner Lions Club's sixth annual Shiner Music Festival and promoted Karbach's sponsorship of the festival. The Spoetzl Brewery was also a sponsor.
In response to the advertisements, the Spoetzel Brewery ran an open letter in Thursday's Shiner Gazette.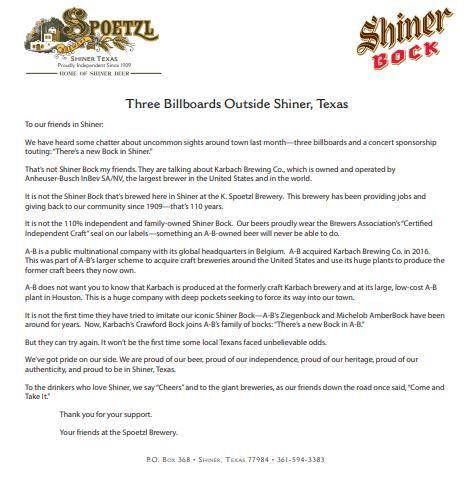 "A-B does not want you to know that Karbach is produced at the formerly craft Karbach brewery and its large, low-cost A-B plant in Houston," the letter read. "This is a huge company with deep pockets seeking to force its way into our town."
Karbach, a formerly independent craft beer maker, was acquired by Anheuser-Busch in 2016. The Spoetzel Brewery is owned by the Gambrinus Company, a family-owned company based in San Antonio that owns another brewery in California.
Karbach officials said their sponsorship of the festival came after they received a call from Del Papa Distributing in Shiner. This distributor asked if Karbach would partner in their sponsorship.
"Shiner Music Fest has a rich history in the area and one that is important to the community, so we were happy to sign on and support the event with Crawford Bock for the occasion," said David Graham, Karbach Brewing Co.'s brand manager, in a statement. "Del Papa is a 110-year-old family-owned distributor. We are proud that we were able to work together on their sponsorship of the festival."
Jeffrey Wheeler, Del Papa Distributing's director of marketing, called Shiner's open letter as "silly."
"The three billboards we placed in Shiner, Texas, simply promoted the event and included none of the verbiage described in the 'open letter,'" Wheeler said. "Ultimately, we hope that our sponsorship dollars went to support a worthy local institution while promoting the quality of life in Shiner through a very well-executed music festival that we look forward to being part of for many years to come."
Sanders said the defensive reaction from the Spoetzl Brewery and locals is typical of the town's pride in its defining brand.
"A lot of people move here strictly because of the Spoetzl Brewery," Sanders said. "People are vicious when it comes to others invading territory over here."