Construction and planning continues on I-69, the intracontinental roadway system that can transport Victorians from Mexico to Canada.
The future I-69 corridor consists of roadways like U.S. 59 that extends from the Houston metro through Victoria and then continues south to split into three segments toward the U.S.-Mexico border. Decades of work continue to develop I-69 into a contiguous interstate highway.
As families travel from Houston to Victoria or truckers transport goods southwest from Victoria, they might notice a variety of black and white signs along the road — U.S 59, U.S. 77 or others that are set to someday include blue signs for I-69. But the development of those roadways is more than just the interstate designation, said Julie Fulgham, director of development services for the city of Victoria.
A few upgrades in Victoria are under construction, like the installation of a freeway system from Telferner at Farm-to-Market 1686 to Zac Lentz Parkway as well as a median barrier and extended ramp north of FM 1686, said Victoria Mayor Rawley McCoy in a written statement.
Upgrading roadways requires controlled access. A controlled access highway is a type of highway that has been designed for high-speed vehicular traffic with all traffic entering and exiting the highway via ramps, according to TxDOT.
"You have to look at what that road sign means," Fulgham said. "If it were as simple as changing that road sign, we would have done that."
Other elements also contributing to the overall impact of economic development include workforce availability and the quality of life in Victoria, said Victoria City Manager Jesús Garza. Hopefully, he said, all these things together will help attract businesses.
In preparation for more development along the future I-69 corridor, Garza said the utilities were extended across U.S. 59 to the south, which he said has the potential to open up hundreds of acres for development on that side of the roadway.
Another Crossroads project along the future I-69 corridor includes a proposed resurfacing of the roadway with no lane reconfiguration along U.S. 77 from the loop to the Refugio-Victoria County line, according to public information officer Lucea'n Kuykendall of the TxDOT Yoakum District. I-69-designated routes near Victoria are in and around both the Houston and Corpus Christi metro areas, according to the U.S. Department of Transportation.
Originally built to connect Michigan to much of the Midwest, the first roadway to receive an I-69 sign in Texas was in Robstown in 2011, the Advocate previously reported.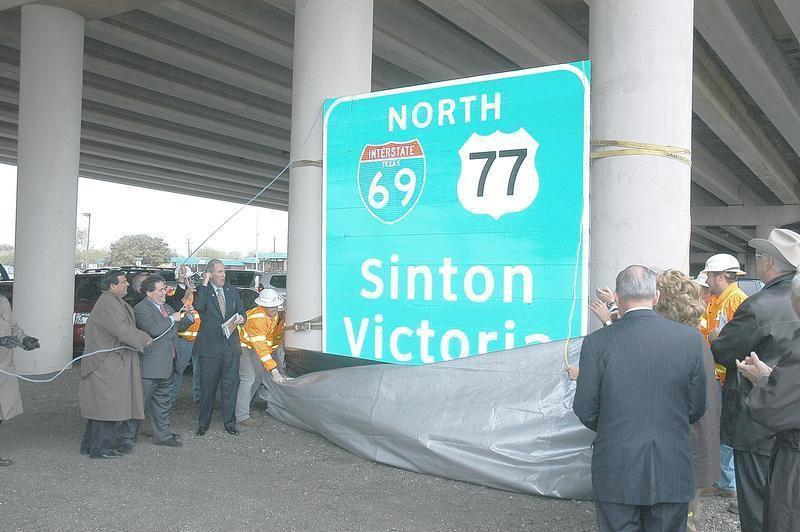 McCoy is one of dozens of elected officials and other leaders on a board of directors for the Alliance for I-69 Texas, which advocates for upgrading the entire I-69 route in Texas.
"I see this as a tremendous opportunity for warehouses or redistribution centers," McCoy said. "It's one more thing we, as a community, need to work toward."