Farming is taking on a new role on either side of the Crossroads.
Wind farms began generating energy in Matagorda and Refugio counties during the past two years, bringing a new energy industry to the region, while benefiting those who own the land below the massive wind turbines.
Use of wind turbines has become more common in Texas throughout the past two decades as most commercial-scale turbines became operational since 2000. In the greater Crossroads area, the turbines are near Wadsworth and Woodsboro and have operated fully since March and Oct. 2, respectively.
Unlike solar energy, which requires more land than wind farms, the turbines pose an alternative energy source for Texas' own electric grid, the Electric Reliability Council of Texas, commonly referred to as ERCOT.
They also create profit for companies that lease plots of land from landowners like Herff Cornelius of Matagorda County and other ranchers and crop farmers.
For Cornelius, the mixed use of the land he and his siblings co-own with equal parts near Wadsworth is a new energy and income generator.
"You can still operate your business with very little change," Cornelius said. "And you can make a lot more (money) off a wind turbine than you can a cow."
The Cornelius family runs cattle and grows row crops like cotton, mallow and corn on the same property where a portion of the 48 turbines in the area stand across approximately 50 acres. The mixed use and limited space each turbine takes up makes agriculture still a viable option on the land below.
"It hardly takes up an acre for each turbine, even including the road," Cornelius said. "The cattle even use the turbines as shade and as a scratching post."
Accommodating the new technology required the Cornelius' land to put some crop growth on hold. It also takes a little more planning at new heights.
Coordination is required between crop duster pilots, crop farmers and turbine operators. For a crop duster to fly between turbines, there is communication with turbine operators to ensure the turbines are turned off when a crop duster flies by and that workers aren't in the line of fertilizer spray. Once the turbines and its workers are ready, the crop dusters fly between rows of turbines to spray herbicides and pesticides on the mixed-use land.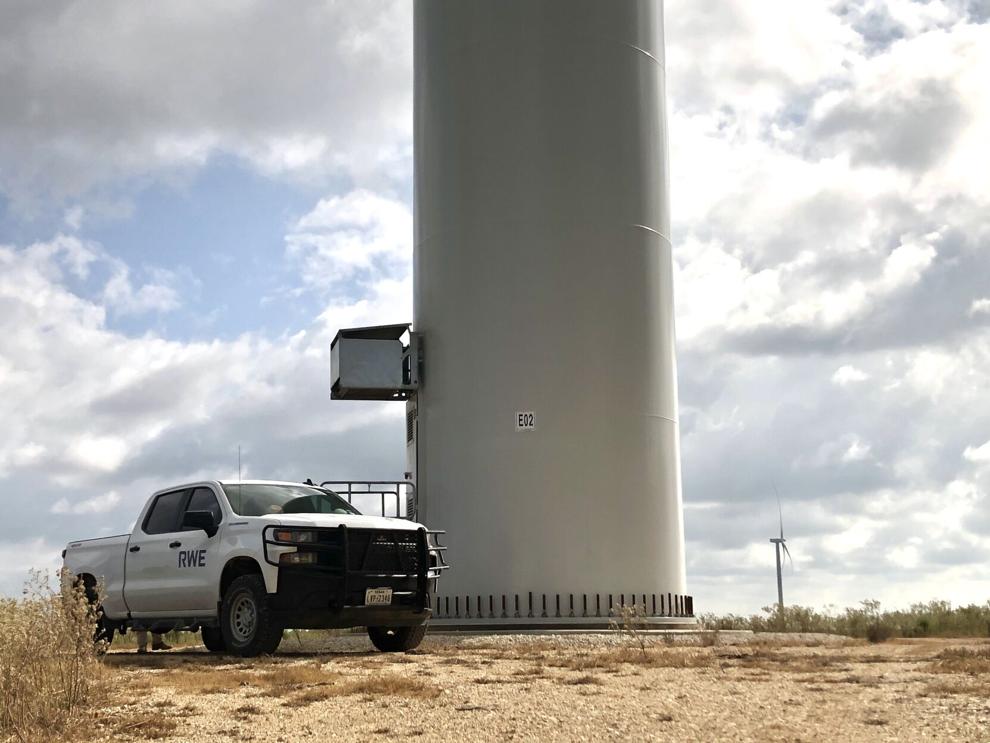 Construction for the windfarm began in December 2018 and utilized Matagorda County and Wharton County companies for construction, trucking and materials, said the RWE windfarm's operational site manager Rob Walker.
Tax abatements for the Matagorda County windfarm were discussed but never implemented, according to Matagorda County judge Nate McDonald.
German electricity company RWE operates the 48 turbines on the Cornelius land and adjacent properties across SH 60. In Refugio County, there are 100 turbines over an approximate 10 square miles on the northwest side of US 77.
The Refugio County windfarms were originally set to be produced by German utility company E.ON, but after the July 1 merger of E.ON and RWE, the Refugio County turbines are under the umbrella of RWE's nonrenewable branch.
RWE operational site manager for the Refugio County turbines Dustin Gardner oversees the turbines outside Woodsboro.
This turbine project broke ground at the end of 2018 and has a 220 megawatt capacity, which is on the higher side compared to turbines elsewhere in Texas.
While higher wind speeds are usually good, the sky-high machines do not operate if there is a chance of wind that could damage the turbines from a tropical storm or hurricane. In Matagorda and Refugio counties, both have fared well since becoming operational.
"As far as the big storms ... we've been pretty fortunate, it's not really impacted us," Gardner said of the turbines in Refugio County near Woodsboro. The turbines in Matagorda County have fared well also despite Hurricane Laura and other high-wind-speed weather events.
One criticism Walker said he has heard is that turbines are an "eye sore."
"I think at the beginning, it was a bit of an adverse change," Walker said. "But a lot of the people coming into the area said 'I think it's great for the area, I love renewable energy, it's good for the planet.' So we're always looking at avenues to expand renewable resources."