A fire burned a Victoria home Friday afternoon causing significant damage to the structure and forcing a couple who lived there to relocate.
Victoria Fire Marshal Tom Legler said the cause of the fire remained unknown Friday evening, but the home is not a total loss.
"There's significant fire damage to the rooms in the back part of the house," he said.
At 12:37 p.m. firefighters were dispatched to the home at 604 N. Troy St. and arrived to find the home burning, said Victoria Fire Chief Tracy Fox.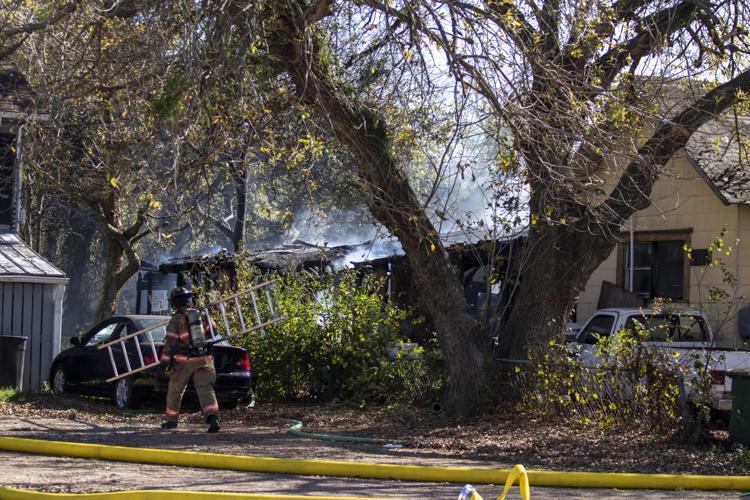 Herminia Robles, who lived at the home, said she and her husband, Kenneth Harris, were at home at the time of the fire but were unsure how it started.
Her husband, she said, ran back into the home to look for their dogs, but two of them died.
Two adult terrier mix females, one female puppy and one male puppy survived the blaze. The dogs are staying at the Main Street Animal Hospital for the next two to three days, veterinarian technician Blair Ziegler said.
"They are healthy and definitely in good hands," Ziegler said.
According to the Victoria County property records, the home is owned by Robles and James Daniel Salinas.
Harris, who suffered burns, was taken to DeTar Hospital Navarro for treatment. Legler said he does not know the extent of injuries, but Harris was transported to San Antonio Military Medical Center.
Although Fox said at the scene that he was unsure about the severity of Harris' injuries, the man appeared conscious and was talking moments before he was taken away on a stretcher.
Friday afternoon, investigators worked to determine the cause of the fire, which appeared to have started in the rear of the home, Fox said.
They had not determined a cause as of 4:30 p.m. Legler said they probably would not know the cause until next week.
Boards covered many of the home's windows, and Robles said it was awaiting repairs for damage sustained during Hurricane Harvey.
American Red Cross representatives plan to work with Robles and Harris to provide assistance if needed, Fox said.
The fire chief said officials were still working to determine the extent of the damage but added that the residents would likely be relocated for at least a night.
Robles said she and her husband were planning to stay with family.