The bond between a Victoria police officer and his K-9 partner has proved a powerful tool in fighting crime.
"We are inseparable," said Senior Patrol Officer Cody Maresh.
Although Maresh admitted his relationship with Cirix was about work, he did not hesitate to say it was also about love.
"He shows it in many ways. He doesn't let me go anywhere without following me and checking on me," Maresh said. "He always wants to be right next to me."
During the past four years, they have patrolled the streets of Victoria, nabbed fleeing criminals, uncovered vast quantities of smuggled drugs and, in the meantime, developed an intimate friendship known only to a police officer and his dog. That bond was one major reason, the officer said, the pair recently took the first-place spot in a national K-9 competition that tested their skills with simulated deadly scenarios. The trophy they took home, their second first-place prize in two years, Maresh said, was a reflection not simply of their own abilities but also of the support shown from the department and the Victoria community.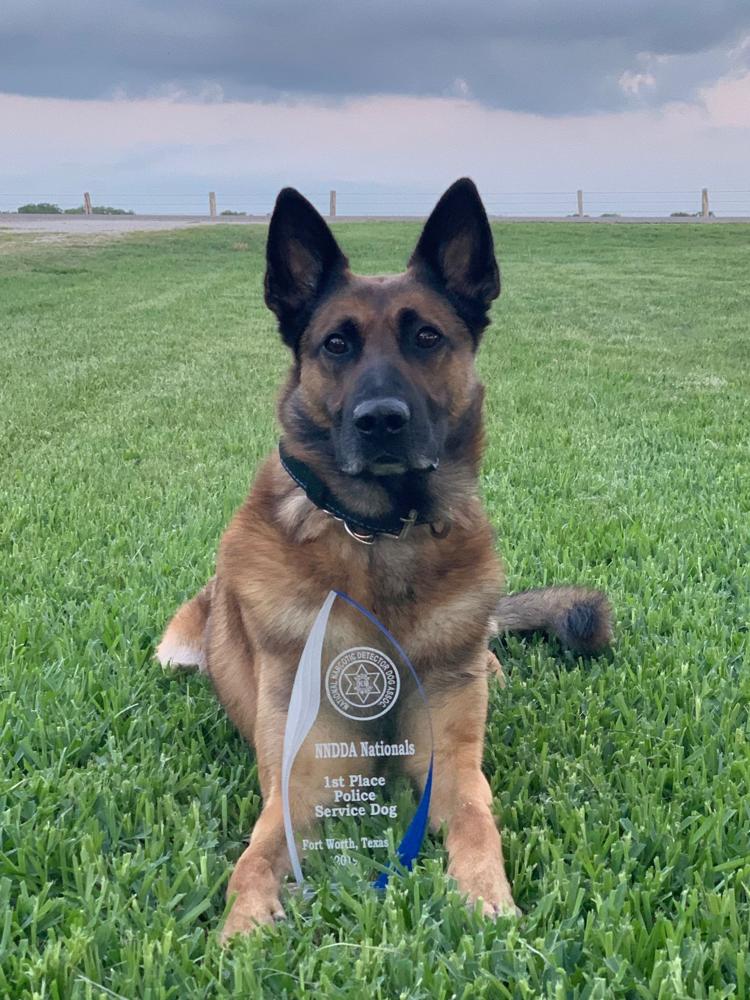 "That dog is part of his life," said Sgt. William Bernard, who supervises the pair as well as two other dogs and their handlers in the department's K-9 unit.
Alongside K-9s Ayax and Nero, whose names hail from classic Greek literature and Roman history, Cirix performs vital duties for the department. Maresh said he has yet to determine the origin of Cirix's name, which has puzzled the officer since he personally picked the pup from a graduating class at Hill Country Dog Center in Pipe Creek.
"I went to babynames.com ... but I have no idea. To me it translates to 'best K-9 in the world,'" Maresh said.
Chief Deputy Johnny Krause, of the Calhoun County Sheriff's Office, where two K-9s are staffed, described such dogs as "crucial."
In 2016, Maresh and Cirix uncovered 32 pounds of methamphetamine hidden inside a pickup, setting a department record.
"They are invaluable to our guys," Krause said.
In early May, Cirix, 5, and Maresh, 34, competed against more than 50 other K-9 teams, winning first prize in the patrol dog division at the 2019 National Narcotic Detector Dog Association competition in Fort Worth.
"One of the biggest things I can attribute to how well we work together is the bond that I've established with him," said Maresh, a self-described rookie handler, who has done the job for four years.
Cirix, he said, is the first and only police dog of his career.
For Cirix, the competition was just like any other day on the job, which is to say it was a game, Maresh said. Instead of a choke chain or other form of negative reinforcement, fun is Cirix's main motivation in learning to sniff out illegal drugs and chase criminals, said Maresh, hefting a bouncy, rubber Kong toy in one hand.
"He's just getting his toy. He has no idea it's a competition," said Maresh, grinning.
Despite their closeness, Maresh admitted he and Cirix, a dual-purpose K-9 who is versed in sniffing and biting, have constantly trained together with everything from simple commands practiced during down time to more elaborate exercises.
Wednesday evening, the pair prepared for a routine weekly training of sniffing for packets of cocaine, marijuana and heroin that police had hidden in vehicles at the department's impound lot. Lying in the back of Maresh's patrol vehicle, the Belgian Malinois waited patiently for his turn at the game with an air of relaxation that was exceptional for his high-energy breed.
"As far as Malinoises go, he's a little on the chill side," Maresh said. "Go walk by any other guy's car and their dogs will go nuts, barking and screaming, but look what he's doing right now. That's what he does most of the time – sleeping. A lot of the time, he's upside down with his feet in the air."
But in Fort Worth at the K-9 competition, Cirix was anything but asleep.
The competition thrust dogs and their handlers from across the country into three simulations that could prove deadly in real life.
In the first, they had to approach two suspicious people meeting in a park. Most dogs failed when they chased one person who suddenly walked away from the meeting, leaving the handler at the mercy of the second person, who attacked.
A second scenario required dogs to follow a complex litany of commands and correctly attack a driver through a vehicle's window during a traffic stop.
And a third exercise required them to search a darkened, burglarized bank in an uncannily realistic simulated town "the size of half a Walmart" that was built inside a giant warehouse with observation scaffolds hanging above, Maresh said.
"They tried to make the events as real as possible," he said.
Competition at the event was fierce, said Terry Uetrecht, national secretary for the National Narcotic Detector Dog Association, and repeat winners are rare.
Formed in 1972, the professional organization provides training and education for the police K-9s and their handlers by bringing together experts who would otherwise be unavailable for small departments, he said. For example, he said, 2019 participants were able to study under a handler who manages explosive-sniffing dogs for NASA.
Despite the importance of continuing education and training, Uetrecht agreed much of a dog and handler's success is about getting to know one another.
"Anytime (the dog) is awake that he is not going to the bathroom or eating, he is with his handler," Uetrecht said. "That is a super strong commitment that you don't get anywhere else."
It also requires plenty of patience and devotion, he said.
"A dog is like a 2-year-old with 42 teeth. It takes someone who can nurture that – just like if you have son or daughter. You help them along," he said, adding, "The handler is never off the clock, and neither is the dog."
For Maresh, who spent about a decade raising feral hog hunting dogs for a living before his life in law enforcement, working with police dogs was a natural progression.
"Instead of hunting hogs, I'm hunting dope and criminals and getting paid to do it," Maresh said.
He also admitted the dedication required by Cirix was more than he had ever given to a dog before. But Maresh's devotion comes with a price.
The nature of K-9s' physically demanding work means the dogs often don't last more than 7-8 years in the job. At some point, Maresh said, 4-year-old Cirix will become too old and weak to run, apprehend criminals and tolerate the Texas heat.
"That's something you got to prepare yourself for before you even get the dog," said Maresh. "No matter how many hunting dogs I had, this is going to be completely different because never did I spend 24/7, 365 with any of my hunting dogs."
Although handlers are often allowed to adopt retired dogs, Maresh said he dreads the day the two can no longer work side by side.
Maresh said his strategy for coping with the end of Cirix's career is simple. He pushes it to the back of his mind and cherishes the remaining time he has with his four-legged friend.
"That's part of why we train so hard," he said. "You do the best with what you got while you got it."