The owner of a Victoria gas station narrowly avoided serious injury after a pickup barreled through an exterior wall and into the cashier area Tuesday morning.
Neither the driver nor the gas station's owner suffered life-threatening injuries, said Sgt. William Bernard, Victoria Police Department.
About 8:40 a.m., police were called to Tipton's Conoco, 5903 Houston Highway, where a Dodge Ram 2500 pickup had made it about halfway into the brick building.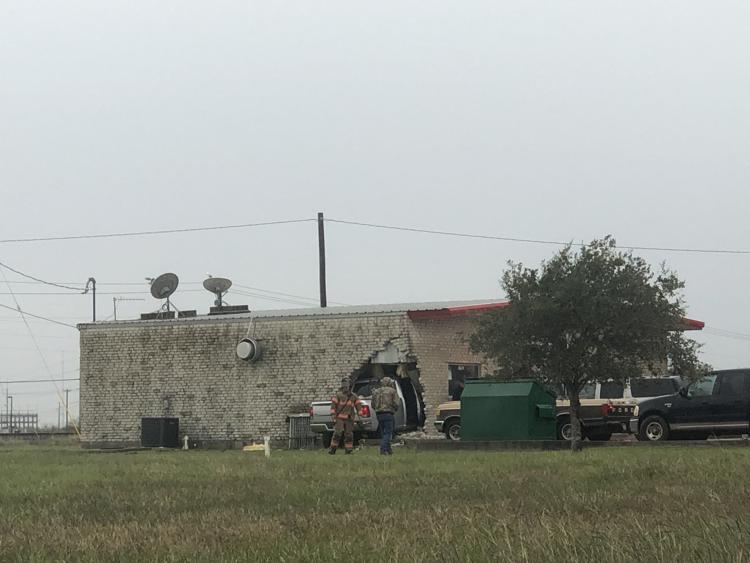 The driver's medical emergency caused the westbound pickup to leave Houston Highway and travel under a highway overpass through several hundred feet of grass before striking the building, which is surrounded by empty fields.
Station owner Don Tipton, 71, was working near the cash register when the pickup entered the building, said Senior Police Officer Bryan Knief.
Tipton was treated for minor injuries, Knief said.
The driver involved, 66-year-old Bay City resident Doroteo Sanchez blacked out just before the crash, Knief said. The officer said he could not speculate about the medical emergency that caused the crash but said Sanchez was conscious and talking after being taken to Citizens Medical Center.
David Krenek, 53, of Victoria, who has visited the gas station, said the cash register is located just where the pickup crashed.
After the crash, a Victoria building inspector was called to the gas station, Bernard said.