The arrest of Victoria County's top administrator resulted from a Texas Rangers investigation accusing her of theft and falsifying government documents, court records revealed Thursday.
That arrest came more than three years after outgoing District Attorney Stephen Tyler declined to pursue prosecution of the charges, according to a 40-page Rangers investigation report. Tyler said prosecution was impossible because his office received the report after the crimes had exceeded their statute of limitations.
Wednesday afternoon, deputies arrested Director of Administrative Services Joyce Cavazos Dean, 57, on a warrant charging her with theft by a public servant of more than $100, a Class B misdemeanor that carries a sentence of up to 180 days in jail and a $2,000 fine. They also obtained a search warrant to seize computers and records from Dean's courthouse office.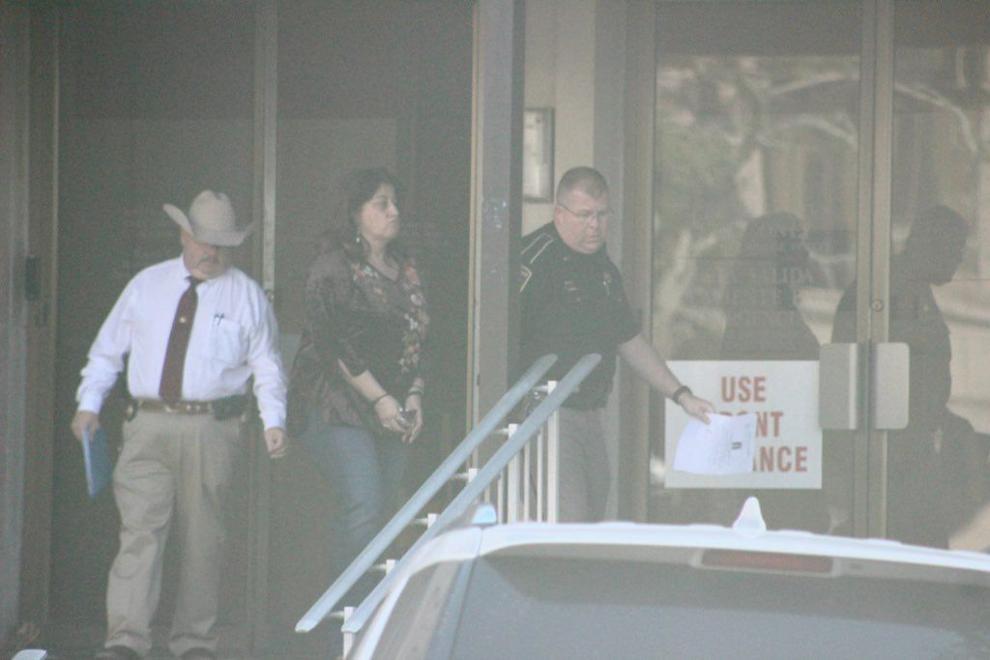 Dean was released later the same day on a personal recognizance bond. She did not respond to requests for comment.
In a written statement issued Thursday, County Judge Ben Zeller said Dean had been placed on paid administrative leave until Dec. 26, after which county officials will begin an internal review.
"We've also been in contact with an outside (human resources) attorney who will be looking at things from every angle," said Zeller, adding he did not know about the investigation until after Dean's arrest.
According to an investigation report by Texas Ranger Drew Pilkington, Dean used her government position and influence to improperly alter her son's time card records, repair her son's home on taxpayer dollars and have a county employee drive him around town for personal business. That investigation began in November 2010 at the request of Sheriff T. Michael O'Connor.
The sheriff did not answer questions Thursday.
Dean's son, Robert Dean, was employed in the county's maintenance department, working at the Victoria County Public Health Department. He died in November 2016 at the age of 25.
"(A maintenance supervisor) informed Ranger Pilkington he knew of several occasions where Joyce Dean altered her son's time records ... (The supervisor) said to Ranger Pilkington (that) Joyce Dean is in a powerful position, and it is known around the courthouse not to mess with her," the investigation report states.
O'Connor contacted Pilkington after courthouse deputies received a report saying Dean had directed a county maintenance employee to repair a hole in the wallboard at her son's apartment during the course of the employee's workday and with county-owned materials.
That employee, according to the report, also regularly drove Dean's son, who did not have a driver's license, for visits to a probation office and to Dean's courthouse office to "run up and see his mom."
After examining time card records, Pilkington determined eight instances in which her son had reported working hours when he was, in fact, making a court-ordered payment at the probation office. In three of those instances, Dean had made the time card changes herself.
"(The maintenance employee) said he would drive (her son) around to pay bills, take him to the probation office and do other personal business because Joyce told him to do so," the report states, continuing, "(The employee) told me he did not want to do this stuff any more, and he was tired of doing these things because he was scared of getting in trouble because he knew it was wrong, but he said he was doing it because Joyce was the boss, and he was scared if he didn't do it for her, she would fire him."
Pilkington's report recommended charging Dean with tampering with a government record, a state jail felony that carries a possible sentence of 180 days to two years imprisonment, and theft.
Dean denied any wrongdoing during interviews with Pilkington, but she also refused to submit to a polygraph test.
After the ranger forwarded his report to the Victoria County District Attorney's Office in April 2013, the county's district attorney did not review the information for more than two years and seven months.
In December 2015, Tyler told Pilkington that he was declining to prosecute the case because the statute of limitations had expired on Dean's accused offenses, which occurred from September 2009 to February 2010, according to the ranger's report.
Although a law enforcement organization may arrest a person when a crime is suspected to have been committed, it's up to the district attorney to prosecute.
Victoria attorney Constance Filley Johnson will become Victoria County's new district attorney in January. She said she is unfamiliar with Dean's case and is not representing the woman.
In a statement released Thursday evening, Tyler said his office received four cases for alleged crimes by Dean, including the theft of building materials, abuse of official capacity, tampering with a government record and false statement to obtain property or credit. None of those crimes carry a statutory time limit beyond three years, he said.
While theft by a public servant may carry a limit of 10 years, Tyler said the allegations against Dean were not applicable.
"This case was not "theft by a public servant of government property over which (she) exercised control in (her) official capacity," Tyler said, citing the Texas Code of Criminal Procedure.
Zeller did not respond to questions asking about Dean's job duties as director of administrative services.
And a lack of detailed evidence, Tyler said, further prevented successful prosecution.
"The investigator in charge should have been aware of these issues or should have consulted with someone to make them aware," Tyler said. "Instead, a rash decision has now exposed our county to possible suit."