A Victoria County man was arrested Monday and charged with vehicular manslaughter for a 2018 motorcycle crash more than two decades after serving prison time for a similar case.
Adam Clayton Tucker, 45, was arrested about 4:40 p.m. Monday and charged with intoxication manslaughter with a vehicle, a second-degree felony, according to court records.
As of Tuesday, he remained in the Victoria County Jail in lieu of a $100,000 bond.
Tucker is accused of killing a passenger who was thrown from his motorcycle after crashing on a darkened, rural Victoria County farm road one November night.
His most recent charge carries a potential sentence of two-20 years in prison and up to a $10,000 fine and comes more than 25 years after he was convicted of involuntary manslaughter for crashing head-on with an SUV carrying a Cuero husband and wife.
On the evening of Nov. 6, Kelsey Renee Benedict, a 23-year-old Robstown woman, was riding as a passenger on a motorcycle driven by Tucker on Farm-to-Market Road 236 near Beck Road West. The crash seriously injured Tucker, whose mugshot shows him wearing a neck brace, and killed the woman.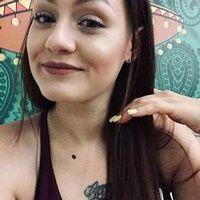 Benedict's family members could not be reached.
A Department of Public Safety trooper who investigated the case determined Tucker was not only responsible for Benedict's death but was intoxicated at the time.
Troopers arrested Tucker during a "planned tactical operation" because he was suspected to pose a threat to members of law enforcement, his warrant states.
"I have been made aware of statements made by Tucker during this process that he is not going back to prison and that he had firearms," reads a warrant authored by an investigating trooper. "For the safety of myself and other members of law enforcement, these threats are not to be taken lightly, and Tucker should be treated with caution."
Tucker's home on Carefree Drive in Victoria County is about half a mile from the scene of the fatal 1994 crash and about seven miles from the November motorcycle crash.
According to a 1994 Victoria Advocate story, Tucker, 20 at the time, was involved in a head-on collision with Cuero couple Fred Don White and Sandra H. White on Upper Mission Valley Road near Carefree Drive.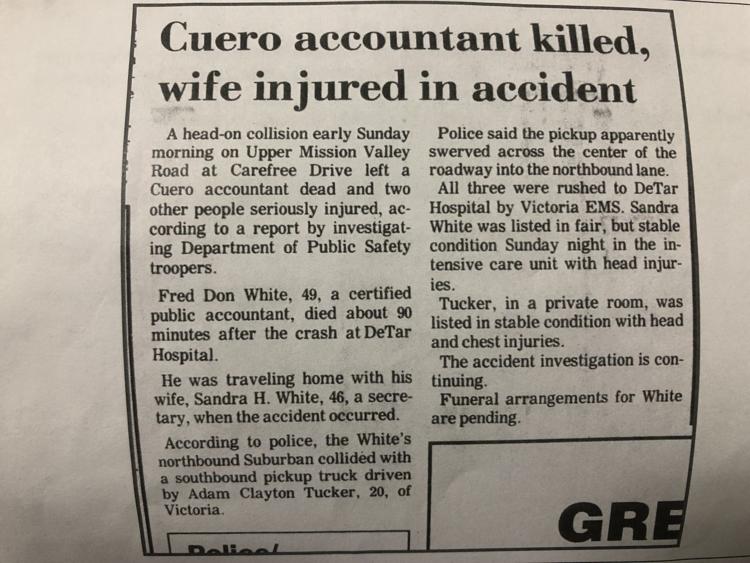 Cuero resident Sandra White, 70, said she and her husband were driving back from a friend's Valentine's Day and housewarming party in Rockport when Tucker crashed into their SUV.
"Police said the pickup apparently swerved across the center of the roadway into the northbound lane," a 1994 Advocate article states.
White said authorities determined Tucker was drunk at the time.
"There seems to be a common element," she said.
The crash left Tucker and Sandra H. White severely injured. It killed her husband, who was 49.
"We just got in his way," the wife said.
White criticized District Judge Robert Cheshire as being overly lenient for giving Tucker a deferred sentence that kept him out of prison. Instead, Tucker received probation, which he then violated with an assault charge for choking a 16-year-old girl.
Tucker was also registered as a high-risk, lifetime sex offender in December of 2002 by the Department of Criminal Justice after he was convicted of indecency with a child, sexual contact in 1998.
"He gave him a probated sentence for the death of my husband," White said. "I did not feel that was right."
For that probation violation, Tucker received a seven-year prison sentence, which White also said was too lenient.
"They didn't prosecute him like they should have," she said. "Now, here we are 25-plus years later, and hopefully the law will catch up to him."