When members of a Victoria garden group discovered one of their own had gone missing, they began to suspect the worst — a catnapping.
"It just broke our hearts," said Brynn Lee, a co-chair of the Victoria Educational Gardens who has volunteered there for more than 11 years. "We didn't think we'd ever see him again."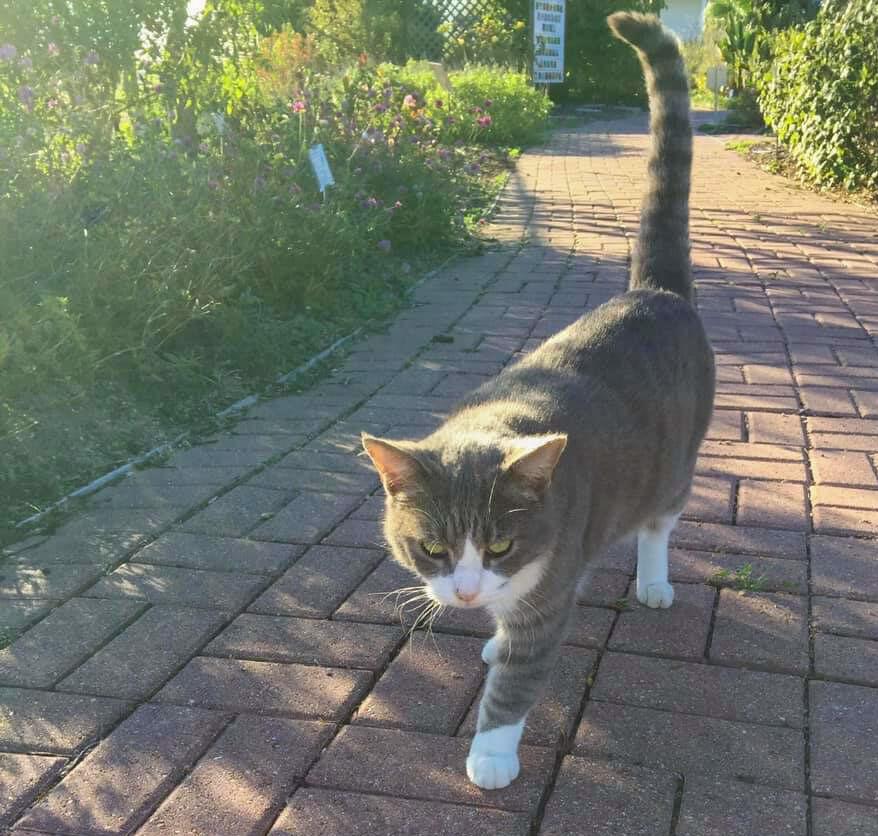 A gray-and-white cat affectionately referred to as "Fat Cat" because of his size was nowhere to be found Monday morning, and surveillance camera footage from the previous night showed him being carried off while snuggling in the arms of one of his suspected captors.
"I just couldn't believe that anyone would take our greeter," Lee said. "We just wanted him back so bad, and we didn't know what to do."
The 2-acre public garden, located on Bachelor Drive near Victoria's airport, is a project of the Victory County Master Gardeners Association, a nonprofit that aims to foster environmental education through volunteer work. The project is also sponsored by Texas A&M ArgiLife Extension.
"He has been here since he was a kitten, and all the gardeners love him," Lee said. "He is a booger, too, because he will always find a way into your lap when you are gardening. He is just the most loving-est cat ever."
Surveillance video Sunday night showed a group of five people entering the public garden, Lee said. About five minutes after arriving and attempting to enter the locked greenhouse, the group is seen leaving the garden with one of them carrying Fat Cat out of frame.
Desperate, master gardener association members began posting about Fat Cat on social media in hope of someone recognizing the fluffy feline and returning him home.
Linda Lees, the publicity chair for the nonprofit, said master gardener association members were eager to get the word out, but they were skeptical that Fat Cat would return.
"We figured it was like finding a needle in a haystack," Lees said.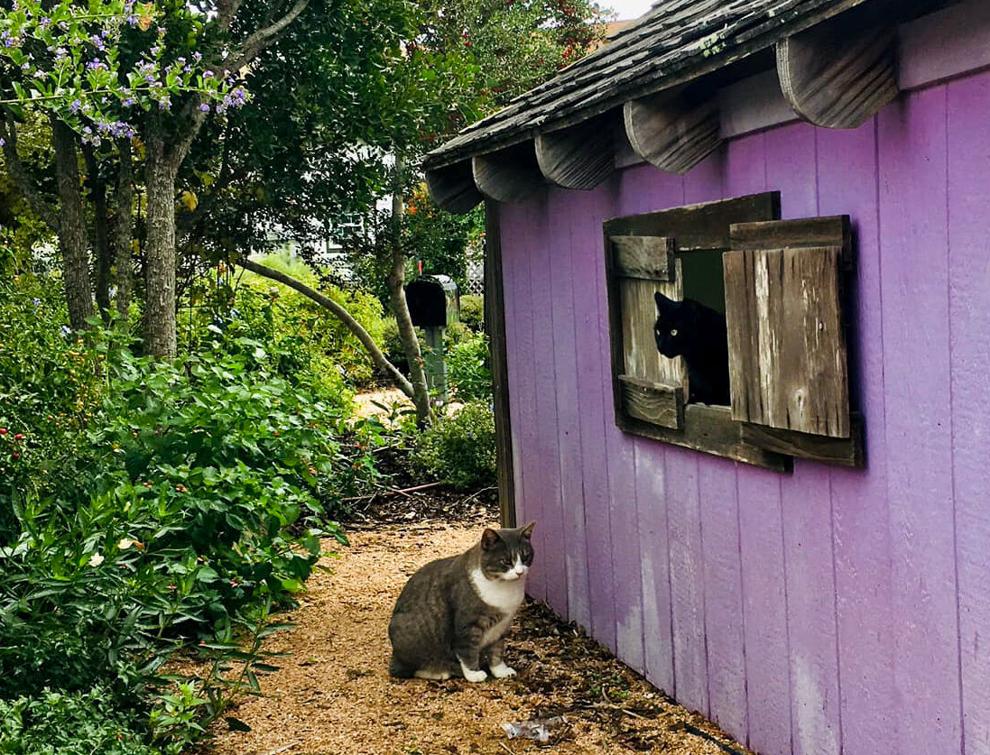 Some of the Facebook posts shared by community members boasted over 200 shares and were filled with pleas like "Please bring Fat Cat home, no questions asked." Some of the posts referenced a black cat that lives with Fat Cat in the gardens. The black cat, Lee said, had been visibly lost since his friend's disappearance.
"It was incredible to see the community come together for us on Facebook. We didn't think anyone would care," Lee said. "I had people I didn't know reaching out to me for updates. It was just wild."
Come Wednesday, Fat Cat was spotted by a good Samaritan near North Washington and West Brazos streets in Victoria, which is more than 5 miles away from the gardens.
"I just remember thinking he was the biggest cat I have ever seen," said Christy Jackson, who lives on West Brazos Street. "My son's friend saw him out wandering, and it was cold and rainy. They were so worried about him, so they brought him in."
Jackson said she often takes in and cares for stray cats and dogs she comes across, but she quickly found out who Fat Cat's owners were after seeing it on Facebook the next day.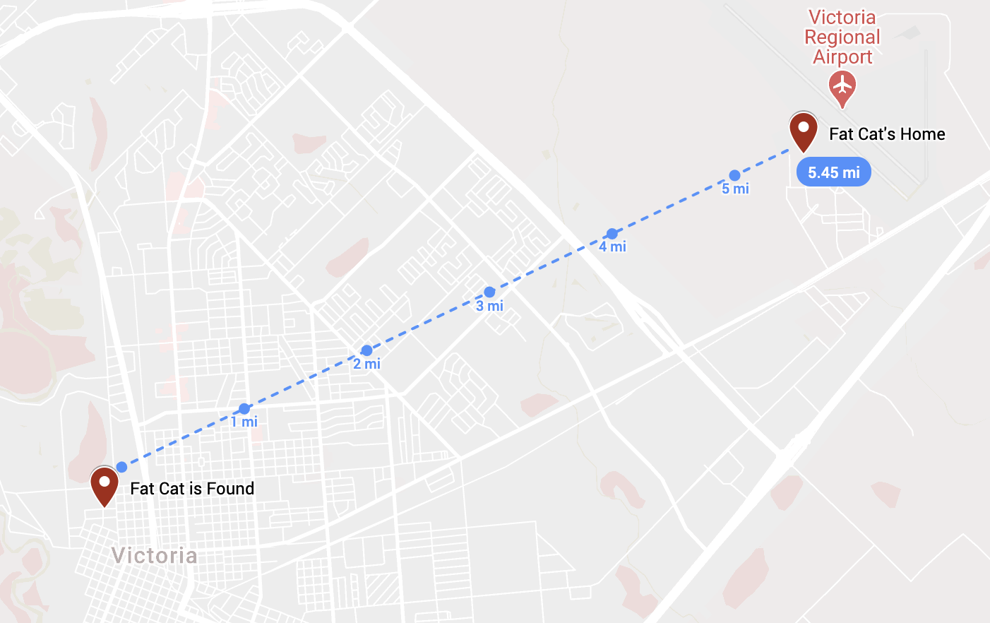 "I saw him on one of those lost animal pages and quickly recognized him just because he is just so large," she said. "I reached out to let them know I saw him. I am glad he got to go home."
After a master gardener association member retrieved Fat Cat and brought him home, Lee said everyone was ecstatic.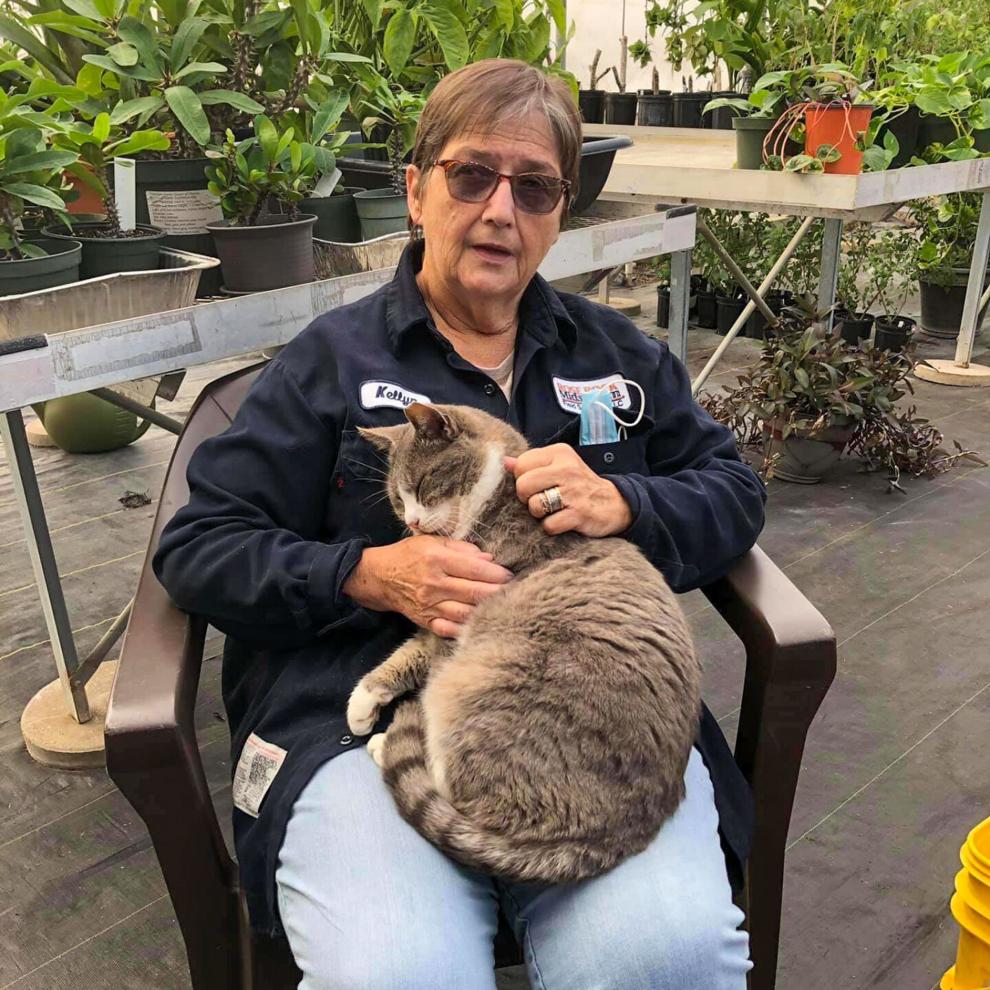 "I was over the moon," Lee said. "We missed him so much in the short time he was gone."
For returning Fat Cat, the gardeners gifted Jackson a potted bromeliad with a note thanking her. She added the plant to her collection.
"It was a very thoughtful gift," said Jackson, who has a small collection of named potted plants. "I named him Spike."
After everything, Lee said she is not surprised Fat Cat eventually made his way back.
"He survived Hurricane Harvey. He survives the cold, and he survived this," she said. "I think he'll be sticking around a while."