Although the city of Victoria funds the Victoria Main Street Program to help develop the city's downtown, no specific incentives exist to attract developers to the downtown business district.
"If investors (had) the ability to receive some type of abatement or tax freeze, that would encourage investments," said James Wearden, Realtor for Woolson Real Estate. "The next step would be for the council to provide some additional incentives to make development possible."
The Victoria Main Street Program markets downtown buildings that are for lease or for sale, and the program is funded by city Hotel Occupancy Tax revenue. The initiative works to revitalize downtown, developers and Realtors said, but the city needs to provide incentives specific to downtown development. Restoring an old historic building can be costly, and after remodeling is completed, taxes on the building usually increase drastically.
Wearden also said the city could invest in a public and private parking area or garage for downtown for tourists and shoppers because office employees take up the parking spaces available during the day.
Victoria businessman Torin Bales, 55, has restored three buildings downtown but is reconsidering whether he wants to do more.
He said the No. 1 reason he hears for why developers don't want to invest in downtown and renovate historic buildings is the high values the appraisal district will put on the spaces when they finish renovations.
"I'm not going to do anything else in Victoria unless the city can get together with the appraisal district and make more incentives for the investor to come in and do all the work," he said. "They could do a five-year freeze on the taxes. When you take a building that's being taxed at $50,000 and as soon as you're done doing the work (the appraisal district) will raise the value of it, it will be super high."
He has restored the building that houses Moonshine Drinkery, 103 W. Santa Rosa St.; 106 S. William St.; and the Soiree events center, 212 S. Main St. He sold the building on West Santa Rosa Street about five years ago and plans to sell the events center this year. He still owns the South William Street location, which has office space upstairs and a downstairs area for lease.
Vacant downtown Victoria buildings
A map showing the vacant buildings are located in downtown Victoria.
Julie Fulgham, city director of development services, said city officials have discussed adopting specific incentives for the downtown business district, but as of now none exist.
O.C. Garza, city communications director, said he was not aware of any existing reinvestment zone for downtown, but incentives exist for businesses to come to any part of Victoria. An example is a Chapter 380 Agreement in which the city may loan, grant or rebate money to promote economic development.
"There isn't something specific for the rest of Victoria," he said. "Those incentives could be used anywhere in Victoria, including the downtown area."
Mary Helen Barrick, executive director of the Victoria Main Street Program, actively markets downtown buildings that are for lease or for sale. As of Thursday, she was aware of five free-standing buildings for lease or for sale. Some building owners leave town not knowing if they want to sell or lease their spaces.
"People not wanting to do anything with their buildings – it's not something I can market or promote," she said. "One of the key things is that we can only market what we know about. I really encourage building owners or Realtors to make sure that our office is aware when a building becomes for lease or for sale."
To combat the fact there are unoccupied buildings downtown, Barrick is using an online real estate and building inventory tool – downtowntx.org – which lists the available buildings in Texas Main Street downtowns. Victoria went online on the website at the beginning of the year.
"We can market to our community, but there are a lot of developers or businesses that may be from outside Victoria that have a vested interest in historic downtowns or Main Street cities, and this is a resource," that can introduce Victoria's downtown to them, she said.
The city development services and building officials are supportive of downtown development, Wearden said, and work with developers to meet building codes.
Fulgham said there aren't any barriers in the building codes preventing developers from investing in retail or office space, but for residential or restaurant space, making older buildings meet building and fire codes can be costly.
Fire protection and life safety codes are heightened in the downtown business district because the buildings are mostly side by side and share walls, city building official Rick Madrid said.
Creating more than one apartment in a downtown building can be costly because of fire code requirements such as having a fire sprinkler system, Madrid said. Restaurants can also be difficult because of needed equipment, such as grease traps, and most downtown buildings have no room for expansion, Fulgham said.
In 2014, city officials did away with parking requirements for the downtown business district to make it easier for developers to bring businesses to the area, Fulgham said.
"As far as the development side of things, we have almost relaxed the planning standards almost as much as we can in the downtown area," she said.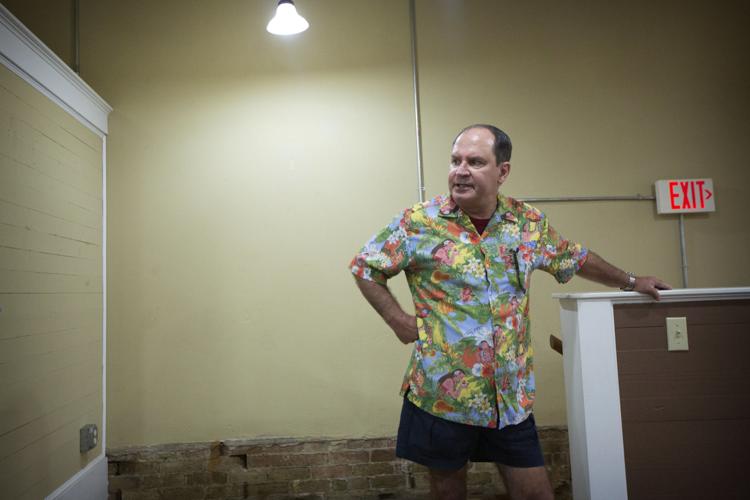 Tommy Barnes, 67, put his downtown building up for sale for the first time two months ago for $425,000. He operated his jewelry store from the building at 108 N. Main St. for about 22 years and closed it when he retired four and a half years ago. He has renovated the downstairs and upstairs. Vela Farms, which operated its store there, moved next door about a year ago.
"(It) would be perfect for someone to put a business on the ground floor and live in the upstairs floor," he said. "That was a standard practice back in the old days."
Barnes said before the 1970s, downtown Victoria was full of department and clothing stores, banks and more.
"Everyone seems to want to be out at the mall or out on Navarro Street. Why they want to do that escapes me," he said. "I'd like to see more development and more stuff being done with these old historic buildings."