Second-grader Brandon Acuña, 7, loves his classroom. His teacher Veronica Bryan speaks in Spanish – his family's native language – and in English, his newest language.
"I like it because sometimes when she tells me something in English I don't understand, and she'll tell me in Spanish," he said.
Being in a classroom where his peers can speak his native language with him is fun, he said.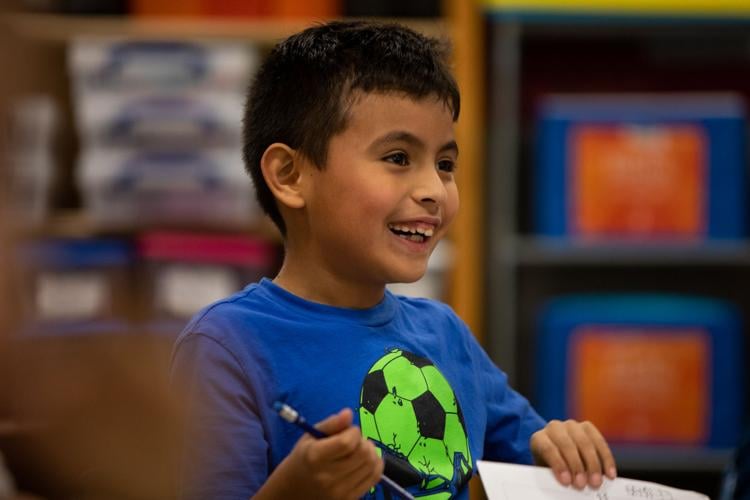 Brandon is one of 20 students in Room 307 at Crain Elementary School who are native Spanish speakers who are learning English and Spanish in the school district's bilingual program.
They learn in both languages in their bilingual classes during their entire education in the Victoria school district. This helps them maintain their native language while also learning English.
The bilingual program began three years ago and is now offered up to the fourth grade, said Alejandro Mojica, director of Bilingual and English as a Second Language, or ESL, programs at the school district. The bilingual program will continue to expand as the current fourth-graders advance. The courses are offered at Crain and Smith elementary schools, and ESL classes are offered at every school.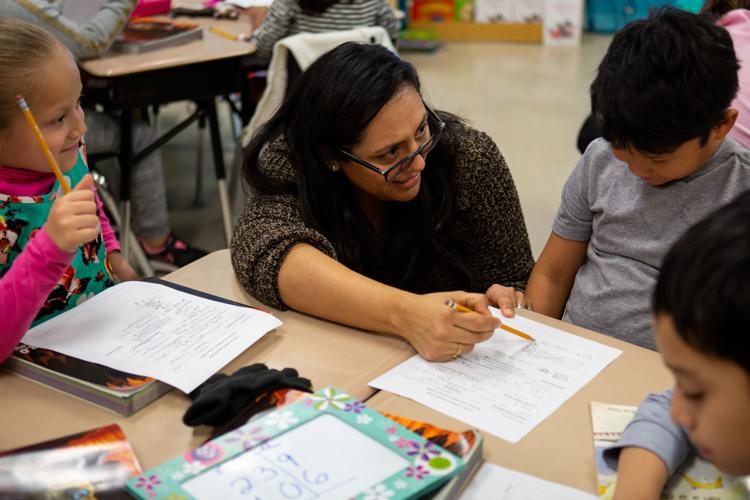 A bilingual class is offered to one class per grade level, and English is slowly integrated into the curriculum. For instance, kindergarten students learn their curriculum in 80% Spanish and 20% English. As they age, the ratio changes.
The bilingual program is different than the ESL courses, which the district has offered for years, Mojica said.
When students enroll in school, parents are asked what language is spoken at home to gauge the student's English-speaking level. Based on that information, they will be placed in either a bilingual or ESL classroom, Mojica said.
"They would never be successful without these services," Mojica said.
The district has about 1,000 English learning students enrolled across the district, Mojica said.
In Veronica Bryan's second-grade classroom, the students learn in 60% Spanish and 40% English.
This differs from the ESL classes, which are taught strictly in English.
"Our kids are learning in both languages," Bryan said.
Bryan splits her curriculum so in the morning she teaches science and English in English and teaches social studies and math in Spanish during the afternoon.
"We want to have students that are biliterate," Bryan said. "In our global world now being bilingual is a plus."
Vocabulary is a big part of the program, Bryan said. She uses the vocabulary to compare the two languages.
The bilingual classes slowly integrate pieces of English into the curriculum unlike its ESL counterpart, Bryan said.
"When they are in our classroom, they feel more comfortable speaking their native language," she said.
One Thursday afternoon, Bryan started her math lesson in Spanish.
"Muy bien," she said as her students shouted the correct answer.
Bryan said her classroom is all about comfort. If the students are comfortable they are open to new information.
During her lesson, Bryan squatted next to her students and worked the problem with them one-on-one. When the student solved the problem, she gave them a celebratory fist bump.
Bryan said the program allows her to practice her Spanish and teaches her students to be proud of their language.
"I try to instill in them that they should be proud because they are bilingual," she said.
Many of her students live with only Spanish-speaking parents, and her classroom is a safe space for her students and their parents.
"The parents feel more comfortable with it," Bryan said. "They do want their kids to learn English, but they love the fact that they learn in Spanish which is their language."
For Brandon, the student, he takes home what he has learned and is able to talk with everyone in his family.
At home, Brandon speaks Spanish with his parents and his 3-year-old sister, but he speaks English with his older brother.
English is his favorite language though.
"Because I was born in the United States," he said.