Andrew Morris, 13, stood up from behind the prosecution table, adjusted his pink bow tie and walked to the center of the Victoria Municipal Court.
He looked at the jury box and presented his opening statement.
"There are some things you can't do, like drinking and driving," the Nazareth Academy eighth-grader began. "I expect you, the jury, to find Avery Johnson guilty of driving while under the influence of alcohol."
Morris addressed the jury of his Nazareth Academy peers. He was one of three prosecuting attorneys during a mock trial they held Tuesday with the help of Judge Vanessa Heinold. Two classes held a mock trial about the same case.
For the past three years, Heinold has met with eighth-grade U.S. history classes and teaches them the fundamentals of a court case. She does this by having the students conduct their own trial.
She has worked with Trinity Episcopal School for the past three years and Nazareth Academy the past two years. Trinity students are scheduled to present their mock trial Nov. 19.
"At the end of the day, we learn better hands-on," she said.
This mock trial is a direct way for students to learn about the justice system. Heinold met with students a few times a week for about a month in their history classes, and they discuss the case, which she assigns based on a real-world trial.
This year they worked on a driving while intoxicated case. Heinold said by using real-world cases, they learn life lessons.
"Mock trial allows them to feel comfortable in the courtroom and help with their public speaking skills," she said.
The students are using skills beyond that, Heinold explained. They also learn to research, pull relevant facts and ask questions.
Nazareth Academy history teacher Terri Covington said the class last year enjoyed it, and she wanted this year's eighth-graders to share the same experience.
This year's case involves an underage man who was arrested for driving while under the influence after leaving a party at his grandparents' house. The driver failed a field sobriety test, but he did not take a breathalyzer. Other details are revealed through witnesses played by their peers, who were given witness statements to learn.
A student played the judge and sat next to Heinold, who would whisper in her ear what to say when a student-attorney made objections.
Both the state and defense called three witnesses and questioned them. As information came up, attorneys jotted down notes and would read from them during cross-examination.
"They really got into their roles," Covington said. "Each side really took on their roles and had that opinion on if the person should be guilty or free."
She said it's good for the students to learn lessons from the trial and how the judicial system works.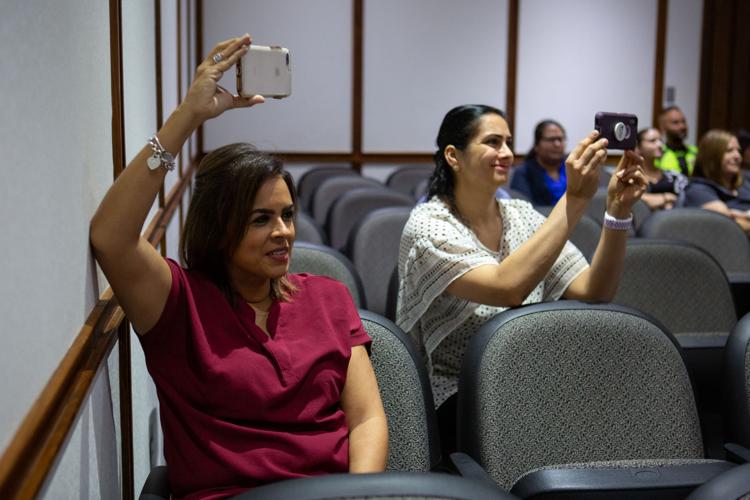 This year a verdict was not passed, but she thinks next year they may get some students to be the jury, who will come up with the verdict and hand down a sentence.
"I think they would really get a kick out of that," Covington said.
Covington said she is honored that Nazareth can learn this lesson in a hands-on setting with Heinold.
"It's great we have an opportunity like this to teach the kids about real life," she said.
Morris said he learned a lot and wants to continue searching for the truth as a prosecutor when he grows up.
"It seems fun to be a prosecutor," he said. "There's a right and a wrong, and you have to follow the law."