University of Houston-Victoria freshman Jose Ramirez has a chance to stay close to home once the university completes its newest building in two years.
"I'm hoping to be a mechanical engineer or a game warden," said Ramirez, 18, who is a Victoria native. "I either want to graduate with a bachelor's in biology or I was going to transfer to the mechanical engineering program at Kingsville."
Ramirez said the new Science, Technology, Engineering and Mathematics building on- campus will attract students and enhance the Victoria community.
"I think it's great," he said. "It's a small town, so hopefully it will bring in more people."
The university broke ground Friday on the $28 million, three-story facility that will be located on the south side of the University Center building, 3007 N. Ben Wilson St.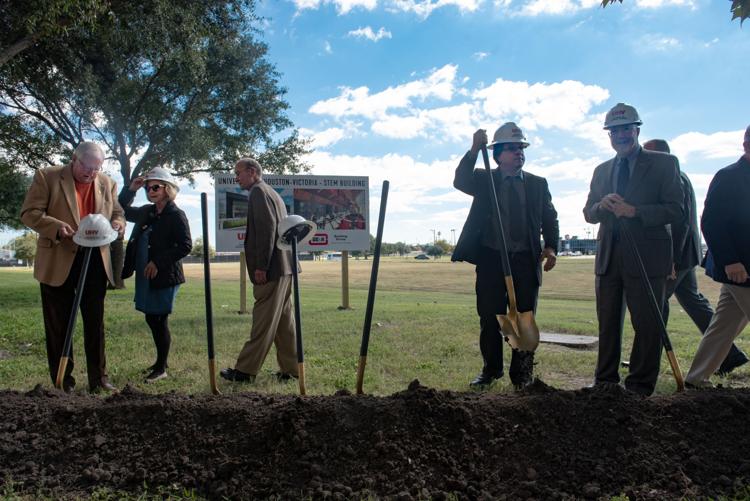 "This is our first truly academic building on campus," said University President Robert Glenn. "Our goal is to make UHV a destination university, to build a campus community that will attract students to want to live here and be a part of this community not just for their time here but hopefully in the future, and build a foundation for this region to prosper."
Construction on the 58,464-square-foot facility will begin in November and is slated for completion by fall 2020, he said. The general contractor for the project is BE&K Building Group of Houston, and the architect is SmithGroup, a Dallas company.
Another freshman who could possibly use the facility after it is complete is Ashley Novosad.
"I'm excited for the science part of it because I'm planning on going into the nursing field," said Novosad, 18. "Hopefully it brings a lot more engineering students and tech students in."
The STEM building will include lab space for computer science, microbiology, physics, computer engineering and digital gaming; classrooms; faculty and staff offices; a seminar room; gathering spaces; and an immersive 210-degree screen lab.
"The idea was to have a shining light for the sciences, for STEM education, that people could be proud of and students would be attracted to," said Jeffrey Di Leo, dean of the school of arts and sciences. "When you come on campus and the best-looking building would be the science building, I think it's a wonderful statement to where our priorities are."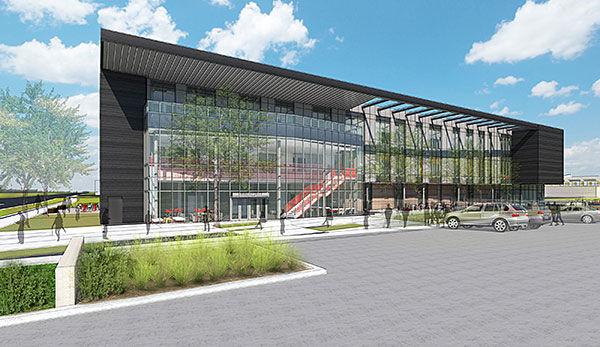 The layout of the building was designed to feature collaborative study and work areas and state-of-the-art equipment that faculty and students can use, Matt Alexander, UHV director of capital projects, said in a news release.
"We are going to have state-of-the-art labs for the first time in this university's history," Di Leo said, adding he hopes engineering programs are a result of the building.
The university currently has two labs, said Daniel White, an assistant professor of biology.
"After the university lost the Sugar Land campus and they took that away, not that we're homeless or orphaned, but we've had to really crunch time to fit all of the biology and chemistry and physics labs into the space that we had," he said. "We went from six labs down to two now, and we're going back up to that six again."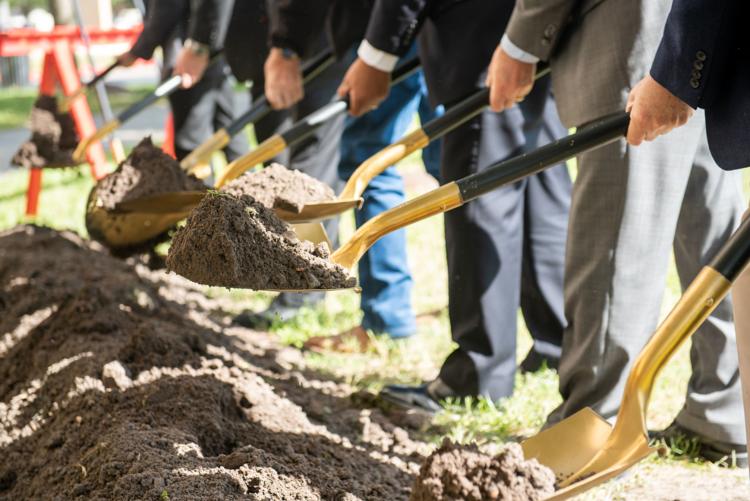 The building also will include a research area, said White, who is also the director of the university's biomedical sciences graduate program.
"Universities are supposed to do scholarly things beyond education," he said. "In the biology world, research isn't just going to the library and reading papers. It's actually pouring chemicals together, it's measuring blood pressure ... it's trying to figure out how to cure disease.
"We are finally going to be able to do the type of experiments that we really need to be doing in biology. It's going to expand the education of our students immensely."