Krista McNary, 15, soared through the air, flipping and turning, on a trampoline.
She and six other gymnasts worked on fundamentals and their routines during practice Tuesday afternoon at Gymagic. Krista worked on perfecting her routine which won her a gold medal at the Valladolid Spanish Invitational in Spain in the 15- to 16-year-old trampoline division in early October.
"I wasn't expecting it," Krista said. "I was very shocked."
She and fellow gymnast Brooke Warzecha, 15, traveled to Spain and competed against about 30 other contestants in their category. Krista walked away with the gold and Brooke placed 11th. The two were on team U.S.
The duo will soon travel to Tokyo on Dec. 1-10 to put their routines to the test again.
"I'm so excited. I'm really nervous," said Krista, a Victoria East High School sophomore. "I hope I do good."
When Krista competed in Spain, her goal was to make it in the top eight and compete in the finals round. She was not expecting to win first place.
Krista is grateful for the sport for taking her to new places and experiencing new cultures. Before her competition in Spain, she previously competed in Bulgaria and Russia.
"It's a fun sport," she said. "It's given me the opportunity to travel. Not a lot of people do that every day."
She said she is proud of her most recent accomplishment, but she is already looking to the next competition in Tokyo at the World Age Group Games. She currently trains six days a week for at least three hours a day.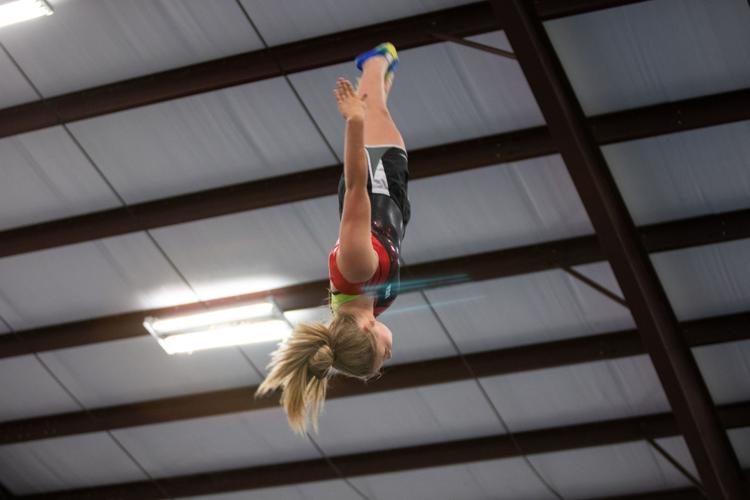 "I just come in and try to be focused." Krista said. "I train with a purpose."
Ashten Linney, Gymagic owner and team coach traveled with the girls to Spain and will again in Tokyo. She was one of four people selected to be a team U.S. coach at both invitationals.
"It's awesome," she said. "Most of the coaches have known each other for years."
Linney said at this elite level of competition faces become familiar in the sport, and she was proud to work alongside other talented people.
"More than anything it's a huge honor," she said.
She said she is looking forward to seeing the work Krista and Brooke have invested pay off. As a coach, she said it is great to travel with the team.
"One of the best things about coaching these athletes is traveling with them and watch them experience new things."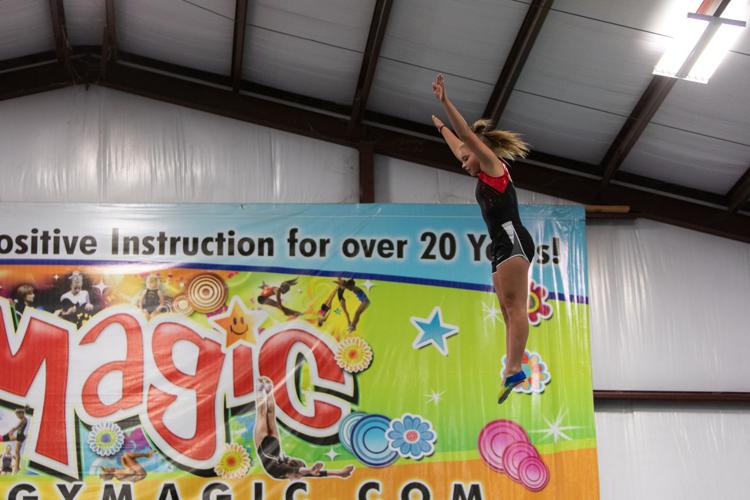 Krista practiced Tuesday afternoon dressed in her USA red, white, and blue leotard from when she represented the country in Spain.
She mounted the gymnastic trampoline and bounced through the air, getting higher and higher. She pushed herself to new heights as Linney encouraged her to push harder and get higher.
"Come on Nugget," Linney said.
Krista took a deep breath between bounces and moved into her routine of flips and turns. Her peers cheered her on from the ground below.
"Push, Kris," Brooke said while spotting Krista with a mat, "Come on."
Brooke, an Industrial High School freshman, said Spain wasn't her best competition, but she is eager to get back on the trampoline in Tokyo.
"(Spain) was a really cool experience," she said. "I'm going to Tokyo and seeing where I'm at in the world."
She said they typically practice five days a week, but they are training on Saturdays because the Tokyo trip is a few weeks away.
"I'm pretty confident," Brooke said. "I'm getting more consistent."