AUSTWELL – Tourists flock to the Aransas National Wildlife Refuge during the winter to catch a glimpse of the whooping cranes, but this year a nesting pair of bald eagles is also drawing bird lovers in.
About half way down the refuge's one-way, 9-mile driving loop visitors stop or pull their cars over to watch the iconic birds nesting in the distance.
Bald eagles mate for life and usually return to their infamously large nests each year.
"There is a good chance they've nested here in previous years and just haven't been spotted," said Laura Bonneau, the refuge's visitor services manager. "Now that we've seen them and we can give people landmarks to look for, they are visible as far as if you take binoculars, there is a very good chance you will see them."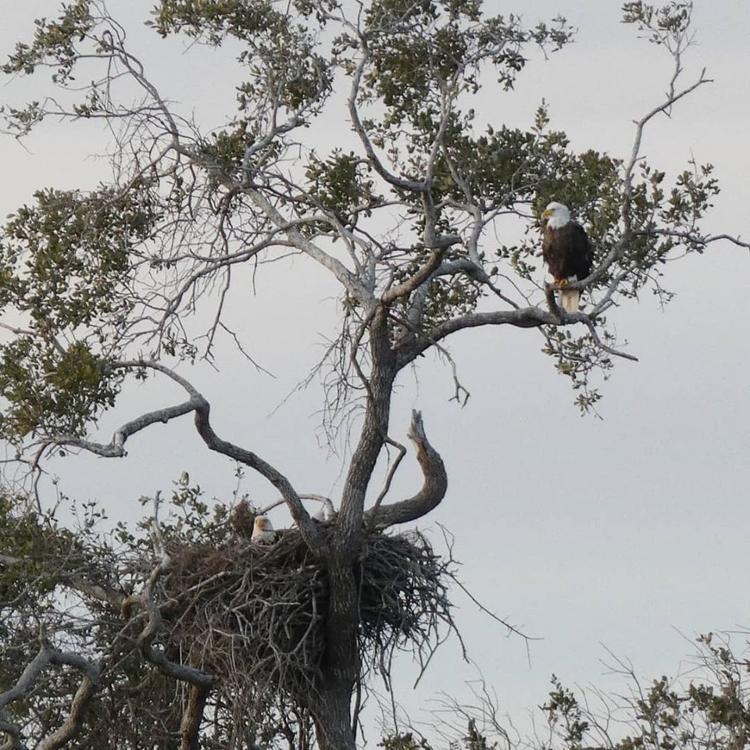 The nest is of particular interest to locals, who are not used to seeing breeding bald eagles so close to home, Bonneau said. The last nest discovered at the refuge that she could find on record was almost 50 years ago, in 1971.
"This time of year we have people from all over visiting and a lot of winter Texans, but they're so used to seeing bald eagles in their home states that it is just kind of like, 'Meh, bald eagles are cool but not unusual,'" she said. "But for Texas and especially around here, there aren't so many eagles nesting so it is a big deal and we've had quite a few visitors come out just to see them."
Bald eagles are in Texas year-round, but breeding and non-breeding populations inhabit different parts of the state.
Breeding populations are primary located in East Texas and along coastal counties from Rockport to Houston, while non-breeding populations primarily take up habitat in the Panhandle, Central and East Texas, according to the Houston Audubon Society. There are an estimated 156 breeding pairs in Texas.
Bald eagle nests are as impressive as the birds themselves.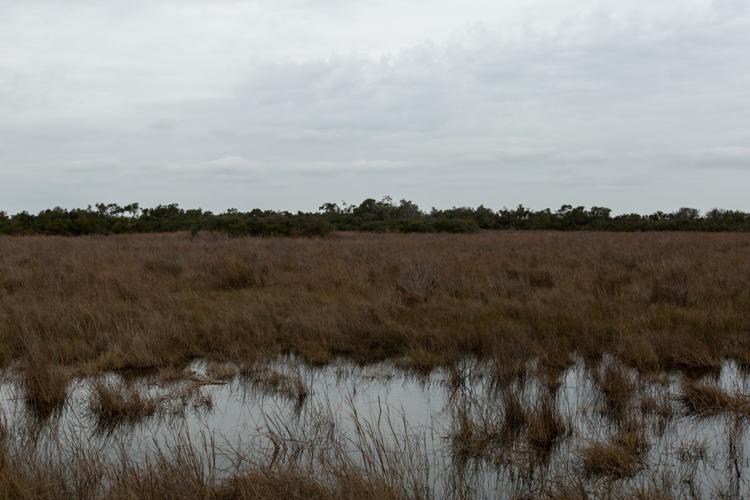 Adult pairs add 1-2 feet of material to the nest annually. Typically 5 to 6 feet in diameter and 2 to 4 feet tall, nests can grow up to 10 feet in diameter and weigh up to half a ton.
Bald eagles are protected under the Bald Eagle Protection Act of 1940, which prohibited killing, selling or possessing the species, but were in danger of going extinct for several decades.
After World War II DDT became a popular pesticide and the birds were poisoned as the pesticide washed into waterways where they scavenged for food, according to the U.S. Fish & Wildlife Service.
The species was eventually added to the endangered species list in 1967, but was down listed to threatened in 1995 and removed from the list in 2007.
During that time breeding pairs successfully recovered from about 450 in the lower 48 states during the 1960s to about 10,000, according to the Houston Audubon Society.
Visitors are not allowed to leave the roadway on the driving tour to avoid disturbing wildlife, so binoculars are essential for a good view of the nesting pair.
"We're really excited. We want people to see them, but they have to stay on the road," Bonneau said. "We don't want to disturb them and that hasn't been a problem, but we know sometimes people think, 'Oh, if I can just get a little closer then I'll get a better photo.'"
A baby spotting had yet to be reported as of Friday, but some visitors reported seeing the bald eagles bring back fish to the nest so at least one hatching is suspected, Bonneau said.
The nest is easy to miss, so refuge staff encourages visitors stop by the visitor contact station for specific directions.
"The man who first saw them, I feel like he kind of got lucky because you could have driven past the nest 100 times and not seen them," Bonneau said.
New discoveries at the refuge seem to be inherent in its sprawling landscape, where nature is always running its unpredictable course.
"We miss so much because we can't be everywhere at every moment, which is good," Bonneau said. "That is kind of what makes this place so special and why there is so much here."