AUSTWELL – Until recently, if you wanted to watch fiddler crabs skitter across the tidal flats at the Aransas National Wildlife Refuge, you'd have to be OK with getting down in the mud with them.
That changed when earlier this month a boardwalk opened, connecting two observation towers to where the Big Tree Trail meets San Antonio Bay.
Now, people can comfortably watch all manner of animals from above without needing a change of clothes.
Hurricane Harvey damaged a portion of the boardwalk in 2017, while refuge staff closed another portion before that because they felt it had become unsafe without handrails, said Laura Bonneau, the refuge's visitors' services manager.
How often do you visit the Aransas National Wildlife Refuge?
"I've had so many visitors come in and ask, 'Is the boardwalk back?'" Bonneau said. "It's just a neat opportunity to see a habitat that you don't necessarily get to explore otherwise."
Now, the boardwalk has handrails and is wide enough that a visitor can navigate its turns while carrying a kayak.
In fact, it has steps leading down into the bay that kayakers can launch from. Bonneau said people may kayak or fish from there April 15-Oct. 14. Then it closes because whooping cranes make the refuge their home for part of the year and the U.S. Fish and Wildlife Service does't want people to disturb the endangered species.
The boardwalk is one of many changes the refuge is undergoing, some hurricane-related, some not.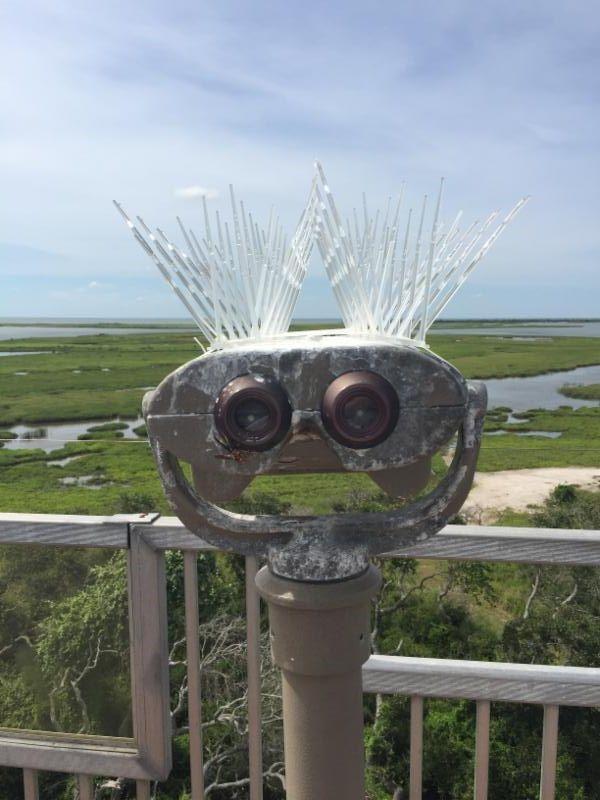 A contractor demolished the Claude F. Lard Visitor Center this summer while a recent newsletter called the "Aransas Matagorda Island Guardian/Orator," or AMIGO for short, informed people they no longer needed to plug their noses when taking in a panoramic view of the refuge atop a 40-foot observation tower. That's because a spiky structure was added to the telescopes there to deter vultures from perching on the telescopes and relieving themselves.
To some, it might as well be.