The National Weather Service issued coastal flood watches and warnings for the Middle Texas Coast on Wednesday, ahead of Hurricane Delta's arrival on the Gulf Coast.
A coastal flood advisory will remain in effect until 7 a.m. Thursday, when a coastal flood watch will go into effect until 7 a.m. Friday.
Forecasters expect above normal waters levels to cause minor flooding, especially near times of high tide along Gulf-facing beaches south of Port Aransas. About 1-foot flood inundation is expected.
Thursday morning through Friday, the NWS said numerous low-lying coastal roads will likely be closed and some beach roads impassible. Low-lying property, including homes, businesses and infrastructure could also be flooded along the immediate waterfront.
As of Wednesday, high swells from the storm were forecast along the Middle Texas Coast Thursday through Friday. Swells were expected to greatly increase beginning Thursday to 6-12 feet, peak at 12-17 feet on Friday morning and subside to 5-10 feet by Friday evening.
A small craft advisory is in effect from 7 a.m. Thursday to 7 a.m. Friday.
Thursday through Friday, winds of about 23-34 mph with gusts up to 40 mph were expected over offshore waters and winds of about 17-23 mph with gusts up to 29 mph were forecast over nearshore waters.
As of Wednesday, the track of Hurricane Delta remained uncertain and forecasters continued to monitor for impacts to South Texas, the NWS said.
After making landfall at 5:30 a.m. Wednesday on the Yucatan Peninsula, Delta started moving into the southern Gulf of Mexico.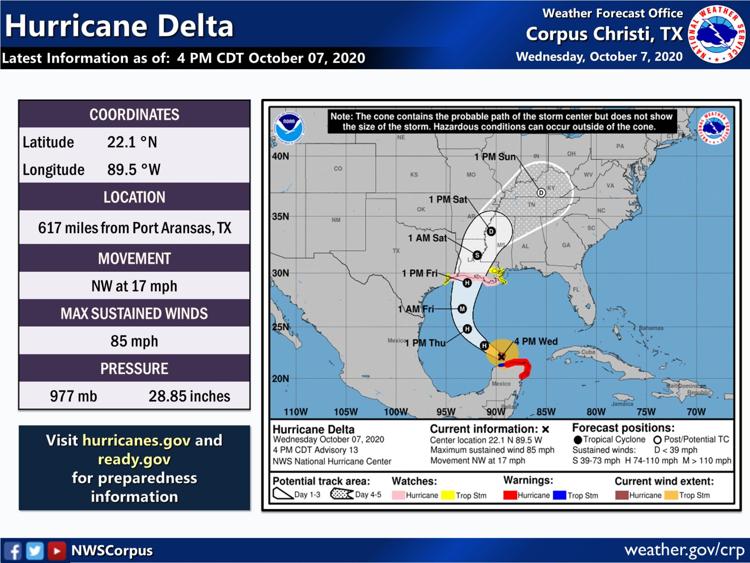 Delta rapidly strengthened into a Category 4 hurricane on Tuesday, but weakened to a Category 2 before making landfall.
Delta was forecast to continue moving northwest across the Gulf of Mexico before making a turn to the north on Thursday night, gaining strength and making landfall along the northern Gulf Coast on Friday.
The National Hurricane Center expects the storm to regain strength on Thursday and become a major hurricane again. The system is forecast to weaken as it approaches land on Friday.