Wendy Gordon did not shy away from one of the most politicized words in modern politics on Wednesday afternoon at the University of Houston — Victoria North building, where she kicked off a conversation about coastal resiliency.
Climate change is not a dirty word nor a term for what the globe will experience down the road, but rather what is already happening, she said.
"I will disagree with the idea that climate change is something that is in the future, kinda hard to see and hard to wrap our hands around because in fact it is happening now," she said.
Gordon is the founder and director of Climate Action Texas, a nonprofit she recently started after recognizing the need for an organization dedicated to looking at the science and policy of climate change in Texas.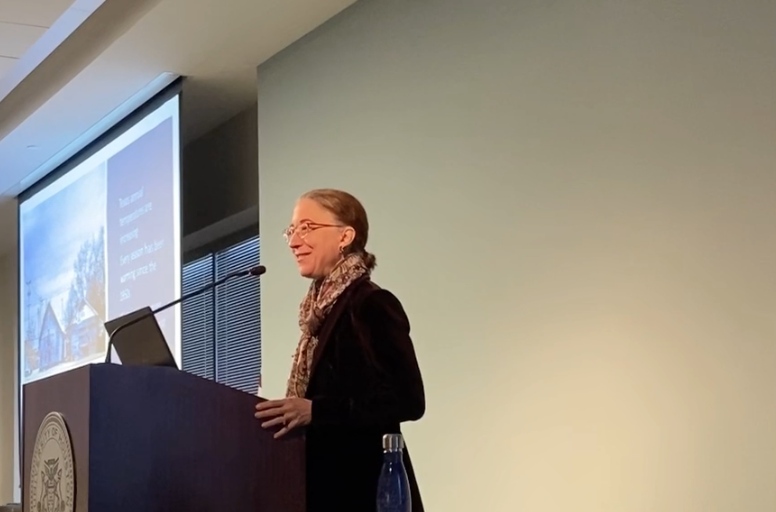 Gordon was one of multiple panelists who engaged with environmentalists and key industry players in pressing discussions during the first day of the San Antonio Bay Partnership's 10th Anniversary Conference.
She focused on the evidence of air and water temperatures warming, as well as the impact rising temperatures are having on fisheries and the plants that protect our shoreline by serving as buffers against sea level rise, erosion and extreme weather events.
"When you're talking even inches of sea level rise, you're talking about inundating areas that are already just a couple of inches above sea level," she said.
A lot of these areas are also at risk of storm surge.
"These are all really important lands, and now they are being hammered by a variety of impacts," Gordon said. "What we need to be doing is thinking about resiliency, thinking about how to make all these areas stronger that are able to withstand some of these different impacts and, you know, there are projects underway that are doing just that."
Jim Blackburn, a Houston-based environmental attorney, took to the mic next to talk about one of those solutions – natural carbon sequestration.
His concern about climate change started while he was studying Hurricane Ike at Rice University, where he was among researchers honing in on the resilience built into our state's natural ecosystem.
"There are several million acres along the Texas Coast that would be better left natural and we're not going to get regulation to get there. So the question became, how can we get there and money became the answer," he said.
Carbon capture usually brings the oil and gas industry to mind, but deep carbon storage is expensive and hard to scale, Blackburn said. Natural carbon sequestration, however, is a different story.
"Oil and gas is used to thinking frankly of nature is an enemy. Usually endangered species, wetlands, things like that are holding up projects," he said. "It is hard to think that that leap (to natural carbon sequestration) may actually be the future of the oil and gas industry, but I think it will be."
The Texas Coastal Exchange was among the creative solutions Blackburn helped launch. The nonprofit works with landowners to sequester carbon with donations while enhancing the ecological benefits of ecosystems that provide flood and drought protection.
About 13,000 tons of carbon are for sale through the exchange, which is asking a $20 donation per ton and offers tools for donors to calculate their own carbon footprint.
Coastal wetlands are on the exchange, but the nonprofit plans to expand into prairies and bottomland hardwood forests.
"We will have a massive expansion of our appeal to buyers and our marketing in the next year," he said. "The bottom line is that we just went out and did this. We created something (and) all of us can create things; all of us can get involved.
"We are simply limited by our imagination."