Residents were still not able to return to their homes and property in DeWitt County on Thursday, almost a week after a blowout occurred at one of Devon Energy's oil wells near Yorktown.
The company is providing lodging and meals to those who had to be evacuated because they live within a two-mile radius of the well located near Farm-to-Market Road 952 and Cotton Patch Road, said Tim Hartley, a spokesman for Devon.
The evacuation zone totals about 8,000 acres.
No persons have been reported injured as a result of the blowout, though many residents have grown worried about their livestock since the incident, said DeWitt County Sheriff Carl Bowen.
"There have been some instances where landowners have removed their livestock, so it is just the remaining ones that are out there in the work zone that Devon is making sure have the arrangements they need to care for their livestock," he said.
An estimated 12,000 pounds of natural gas will be released during the incident, according to the initial report Devon filed with the Texas Commission on Environmental Quality. After the event ends, the company will have two weeks to submit a final report to the agency.
Natural gas contains benzene, a carcinogen associate with multiple health risks, and methane, a greenhouse gas that is 86 times more powerful at warming the climate than carbon dioxide.
Multiple authorities responded to the scene, including the Texas Commission on Environmental Quality, Railroad Commission of Texas and Houston-based Great White Well Control, which Devon contracted to assist in containment.
"Crews are working quickly to regain control of the well (and) preparing the site for safely capping the wellhead," Hartley said. "A number of steps have been taken to contain any fluid runoff at the well site to protect the surrounding environment."
Devon identified seven stock ponds within a one-mile radius of the uncontrolled well, and started installing oil absorbent booms Thursday morning at the banks of each pond to prevent runoff from the well into the ponds, said Ramona Nye, a spokeswoman for the Railroad Commission of Texas.
The company also told the commission that it will build up berms or raised barriers around the well in advance of predicted rain, she said.
"The Railroad Commission continues to monitor the operator's efforts to bring the well under control," Nye said. "Once it is safe to do, the commission will inspect the site for compliance with RRC's Oil & Gas Division rules."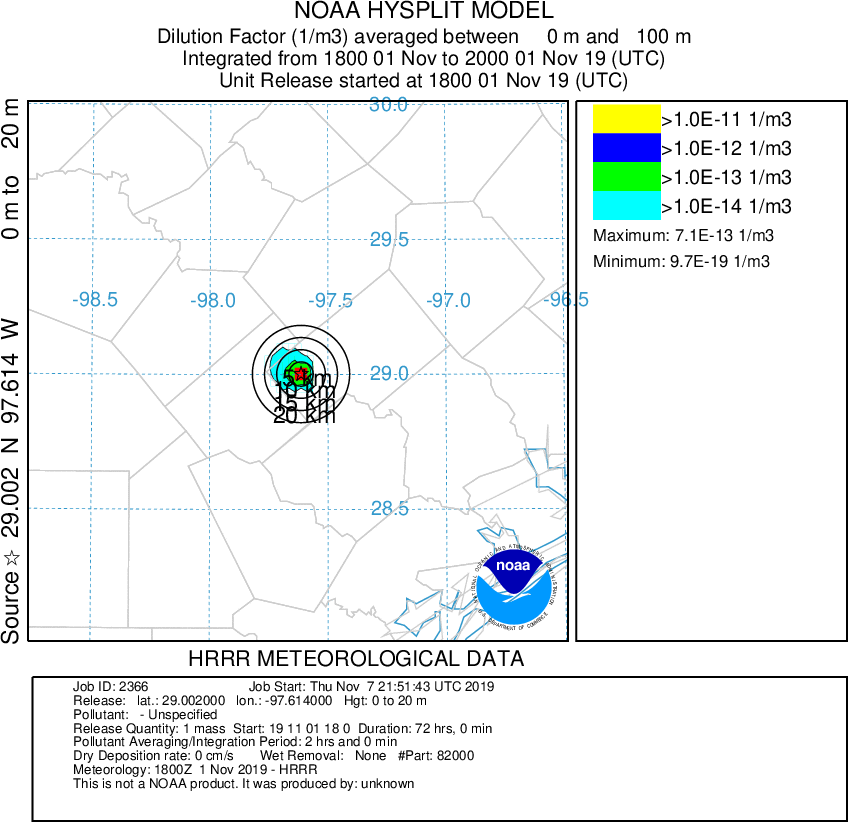 TCEQ is supporting local authorities by conducting handheld air monitoring in the area with equipment that provides instantaneous readings for compounds, including volatile organic compounds, benzene, lower explosive limit, hydrogen sulfide, carbon monoxide, sulfur dioxide and radiation.
The commission has not detected any levels of concern exceeding short-term health exposure outside the two-mile evacuation zone, said Marty Otero, a spokeswoman for TCEQ.
Though air quality monitors stationed in Karnes City, about 18 miles southwest of the blowout, did show spikes in levels of benzene and xylene in the days after the incident.
Otero said it is unlikely that these measurements are associated with the event because of the recorded wind speeds and direction.
But Gunnar Schade, an associate professor in the atmospheric sciences department at Texas A&M University, said models from the National Oceanic and Atmospheric Administration tell a different story.
"I'm actually running a dispersion model right now and it matches exactly the times when the plume arrived in Karnes," he said.
The model shows that the plume should have been measurable in the Karnes area between 2-4 a.m. Saturday morning, and monitors show a peak in benzene and xylene carcinogens about 2 a.m. A similar correlation is evident on Sunday morning.
"Since the monitor picked it up when the model says it should have, you can be confident that the areas the model indicates the plume reached were indeed the areas people would have smelled it (or were exposed to it)," he said.
The levels measured are below what TCEQ considers of concern, but they are "extraordinarily high," considering that Karnes City is almost 20 miles downwind from the blowout, Schade said.
"It does penetrate," he said. "Our buildings in this part of Texas are not very well insulated ... a lot of older buildings have poor insulation, and so within a few hours your indoor air will be similar to your outdoor air."
The incident happened days after the well was transferred from BPX Energy, the U.S. onshore oil and gas arm of BP, to Devon on Oct. 28, Railroad Commission records show.
Sharon Wilson, an activist against hydraulic fracturing with Earthworks, said the blowout reflects the inability to ensure safety from oil and gas production.
"This isn't Devon's first blowout, or second, despite its promises of safe operation ... despite our state government's promises of responsible oversight," she said in a statement. "We need strong rules, reliably and transparently enforced."
This article was updated to correct errors in a quote from Gunnar Schade.