Rain, rain, rain and more rain is forecast for the already saturated Crossroads through Friday, raising concerns of flooding and hazardous driving conditions.
Forecasters estimate 2-4 inches fell in Victoria and 3-5 inches fell in Port Lavaca from 4 p.m. Tuesday to 4 p.m. Wednesday.
The region's "wet pattern" will continue with numerous showers and thunderstorms expected through Thursday, according to the National Weather Service. A flash flood watch for all of the Crossroads will remain in effect until 7 a.m. Friday, after which rainfall is expected to decrease.
Total rainfall through Friday in Victoria is forecast to reach 4-6 inches. The southern half of Victoria, Goliad and Jackson counties, as well as all of Calhoun and Refugio counties, are expected to receive 6-8 inches in total rainfall through Friday.
On Wednesday, local emergency management officials said flash flooding was a major concern and urged residents to take precaution.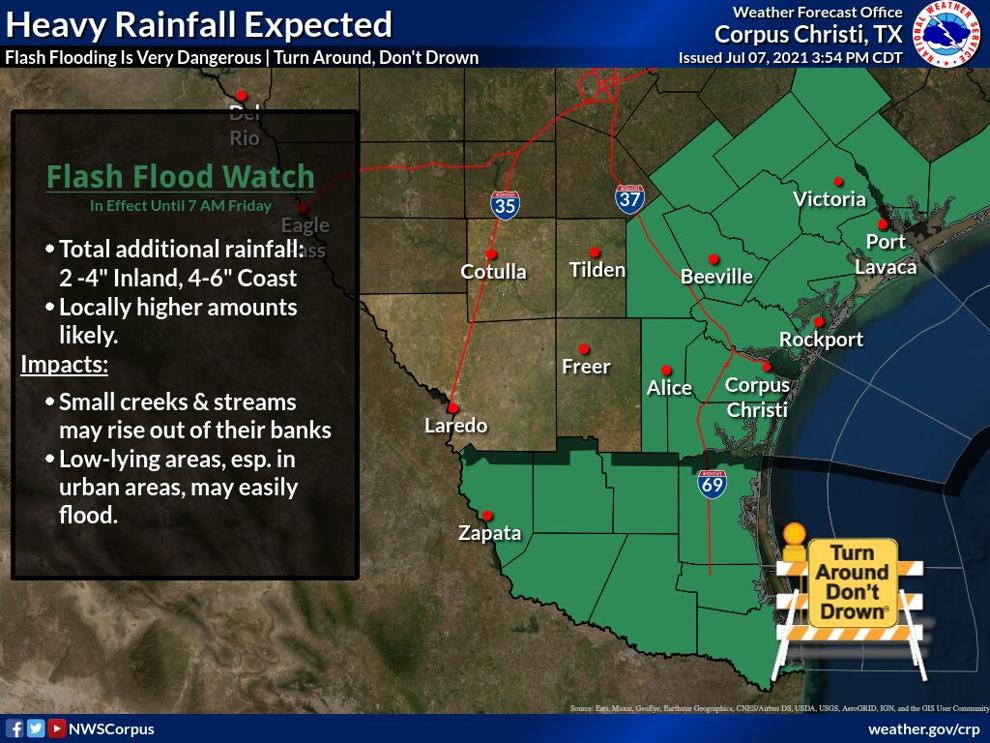 Because soils across the region are already saturated due to recent rainfall, additional heavy rains can quickly lead to flash flooding.
"People need to monitor the areas they know flood and try to avoid them," said Calhoun County Emergency Management Coordinator Ladonna Thigpen. "Since everything is saturated, it won't be absorbed into the soil and instead will run into a ditch or low-lying area. That is what will cause the flooding."
Old Seadrift Road and the Six Mile bridge on Farm-to-Market Road 1090 in Calhoun County had to be closed early Wednesday due to standing water, as well as portions of roads along Maple Street in Port O'Connor, she said.
More road closures in low-lying areas are expected throughout the region.
Residents should be aware of risks, monitor forecasts and follow drivetexas.org and local emergency management updates for road closure information, said Jena West, Victoria County deputy emergency management coordinator.
Driving through flood waters, which led to two rescues in Lavaca and Victoria counties just last month, is not worth the risk, she said.
"The best thing I can say is to don't even risk it," West said. "Because of the uncertainty of the water, things can turn bad quickly."