Hurricane Delta was expected to turn to the north Thursday night and make landfall in Louisiana on Friday.
As of Thursday evening, the storm had maximum sustained winds of 115 mph and was moving north-northwest.
Although the storm is tracking east of the central Texas Coast, large and dangerous swells are expected to impact Gulf waters and area beaches.
Swells are expected to peak at 12-17 feet on Friday morning and subside to 5-10 feet by Friday evening. The swells will create a high risk of rip currents through Friday.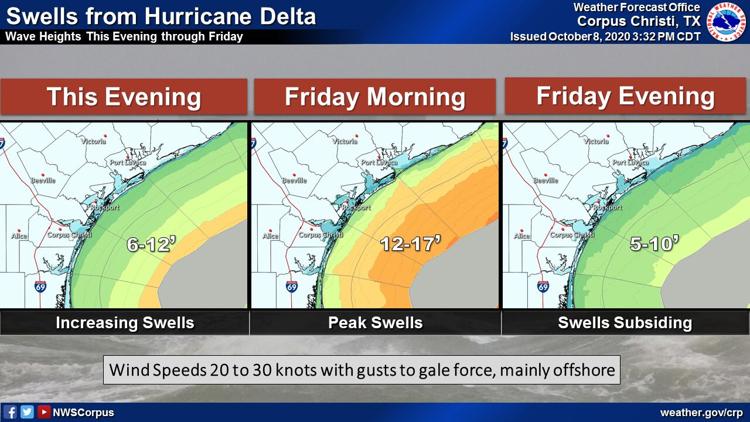 High tides will continue through Friday along the mid-Texas Coast with flood inundation of 2-3 feet possible. Low-lying coastal roads are likely to be closed, beach roads are expected to be impassable and some shoreline erosion is expected.
The National Weather Service said that low-lying property, including homes, businesses and some critical infrastructure could be inundated along the immediate waterfront.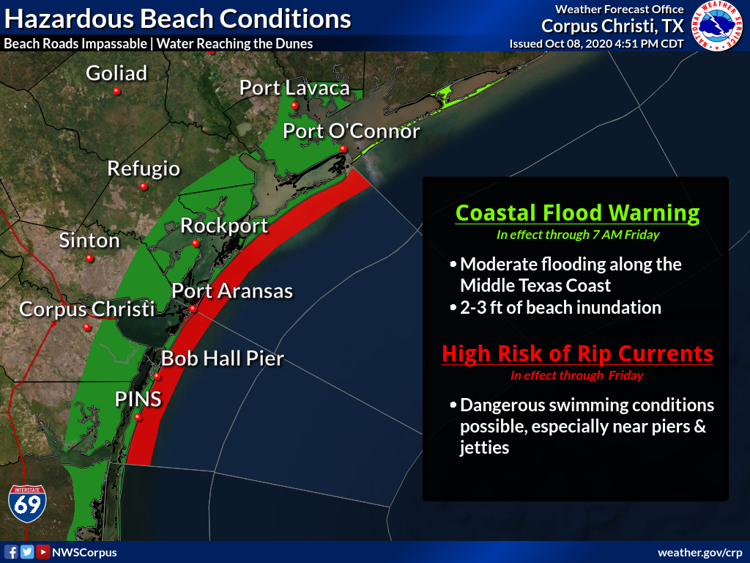 A coastal flood advisory will remain in effect until 7 a.m. Friday and a small craft advisory is in place until 1 a.m. Saturday.
On Friday, winds of about 23-34 mph with gale-force gusts are expected over offshore waters and winds of about 17-23 mph with gusts up to 29 mph were forecast over near shore waters.