Oysters do a lot for the Texas Coast – filter water, provide storm protection, sequester carbon and make for good eating, but the reefs are continuously disappearing.
"We've got to continue to put this resource first," said John Blaha, assistant director of CCA Texas. "When you look at all the data, I mean worldwide, we've probably lost 80-plus-percent of our oysters."
Blaha was among experts and state officials who spoke Thursday afternoon at the San Antonio Bay Partnership's 10th anniversary conference about ongoing reef restoration and the highly anticipated launch of mariculture in Texas.
As baby oysters or spat attached themselves to older oysters they build complex, diverse reefs that provide habitats for other species.
"The estimate is that when oysters build this habitat on an area flat bay bottom, they've created 50 times greater surface area for things to inhabit," said Jennifer Pollack, an assistant professor of marine biology at the Harte Research Institute and founder of the "Sink Your Shucks" recycling program.
But that habitat is also what makes restoration uniquely complicated.
"The real problem with loss of oyster habitat is because of the way oysters build reefs," she said. "When you remove oysters, you're also removing their habitat."
Pollack works to identify locations where reefs have been degraded, develop restoration strategies and study the success of those restoration projects as part of the "Sink Your Shucks" program.
With the help of volunteers, "Sink Your Shucks" places recycled oyster shells on bay bottom at a calculated place and time for new oysters to attach and grow.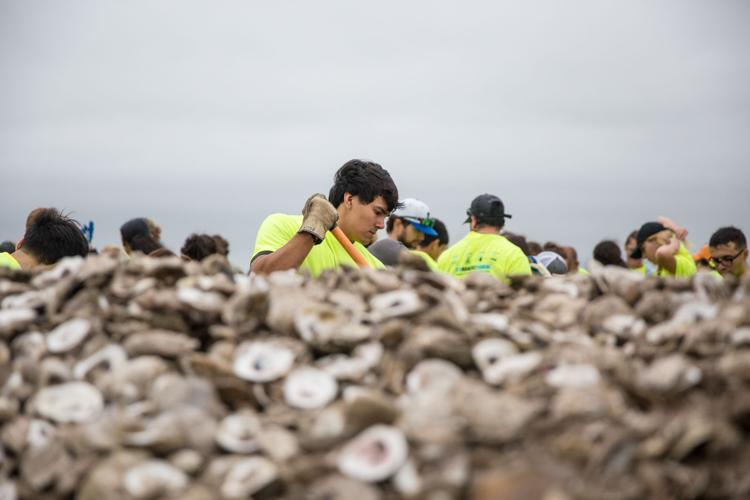 "Typically the shells go to the landfills with the rest of the trash, she said. "When they go to the landfills, it's a really important resource out of place and is key to habitat building that we want to return to the bays."
So far 8 acres of oyster reefs adjacent to Goose Island State Park have been restored through the program, as well as 6 acres in Copano Bay and 5 acres to St. Charles Bay, she said.
Those restorations have come at a time when an array of organizations are restoring reefs up and down the Texas Coast.
Texas Parks and Wildlife has restored more than 500 acres of reefs since 2009, and the Nature Conservancy has implemented large-scale projects, including 60-acres in Copano Bay in 2018.
"There are a lot of groups doing reef restoration in Texas, and there is room for everyone at the table," Pollack said.
State works to establish mariculture
In addition to restoration and conservation, Texas will soon have another tool for oyster management – mariculture.
Last year Texas joined the rest of the Gulf of Mexico in legalizing off-bottom oyster mariculture, which is already a multi-million dollar industry in the U.S.
Rep. Geanie Morrison, who co-sponsored the mariculture bill, referred to the legislation as a common sense, pro-business opportunity to grow a new, sustainable source of seafood.
The mariculture law went into effect in September, when penalties for harvesting undersized oysters were increased in an effort to close commercial loopholes.
The law requires the Texas Parks and Wildlife Commission to establish a regulatory framework, which is underway.
"That is what is happening," Morrison said. "The hope is that after careful consideration, collaboration, this industry will be up and running in the next couple of years."
One of the most difficult parts of the puzzle for the state agency will be deciding where to put shellfish farms, said John Scarpa, an associate professor of aquaculture at Texas A&M University-Corpus Christi.
Scarpa walked conference attendees through the mariculture process on Thursday, and touched on different technologies and cages being used to grow and harvest the oysters in other states.
Shellfish farms will have to go in areas with clean water, but there are also societal and operation factors to consider.
"If I have to drive my boat 40 miles to my site, that isn't probably going to be good economically, but if it is in front of a community that really likes their view of the water, then that probably isn't going to work either," Scarpa said. "So this is really the biggest part for Texas Parks and Wildlife as they go forward: Where can we site these?"