Last week's freezing temperatures caused fish kills along the entire Texas coast although mortalities were primarily reported in bay systems south of Galveston Bay.
The majority of kills were located along the southern shores and undeveloped areas, such as Pringle Lake on the backside of Matagorda Island, according to a news release from the Texas Parks and Wildlife Department.
The quantification of impacts to fish is ongoing, but rapid assessments conducted by biologists indicate that the majority of fish impacted were nonrecreational species, including pinfish, spot, silver perch, gulf menhaden, mullet and other foraging fish, according to Texas Parks and Wildlife. Recreationally important species impacted include spotted seatrout, red drum, sheepshead, grey snapper, snook, black drop and tarpon.
Freezing events on the coast are rare, but extreme cold temperatures can naturally kill fish if they are unable to find refuge in deeper water. Some species are more vulnerable to freezing weather, such as spotted seatrout.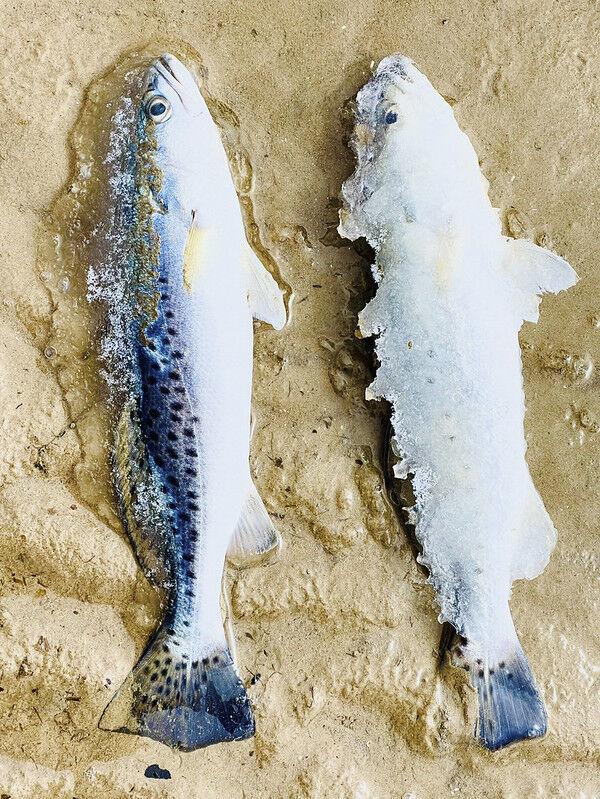 The Texas coast is vulnerable to periodic mass mortalities of fish caused by cold temperatures because there are limited openings between land masses separating shallow bays from the Gulf, according to a report on three freezes in the 1980s that had long-term impacts on fish stocks.
Fish have a better chance of surviving when cold fronts are preceded by gradually decreasing water temperature that allow them to acclimate in deeper waters or move offshore, the report said.
The state parks and wildlife department said it started receiving reports of fish kills last Sunday, ahead of closing saltwater fishing last Monday and Tuesday in deeper areas to protect vulnerable fish that congregate to stay warm in freezing weather conditions.
Biologists with the coastal fisheries division will continue to make assessments on the water throughout the week, the state agency said.
Last week's freeze event was not expected to cause mass mortality because temperatures did not rapidly or drastically drop, Julie Hagen, a spokeswoman for the state's coastal fisheries division, said to the Advocate.
"We're not expecting anything like that," Hagen said. "We have to remember with these fish populations, we're talking millions and millions and millions of fish, so even if you loose hundreds of thousands that is not going to be as detrimental as people think."
While ongoing assessments can provide estimates of the magnitude of this event, a more accurate assessment of the impacts on particular species through routine monitoring will be done in the coming months.
"When it comes to fish kills, you have to compare apples to apples, not apples to oranges," Hagen notes. "You can only compare these fish kills to other freezing weather fish kills."
For many key game species, gill net sampling that the state conducts from mid-April to June will provide informative data.
As part of year-round surveying, biologist will also soon start collecting information from recreational anglers at boat ramps that will provide additional information on the cold-weather event and help inform what, if any, management actions are needed to help accelerate recovery of fish stocks.