Wind carried the sharp smell of pine throughout the Renken's Nursery parking lot Wednesday afternoon as Anabel Mondolfi tied down 17 Christmas trees to her flatbed trailer.
On Thursday, she and her friend Jewel Buchanan picked up another 100 or so.
The Victoria women aren't hoarding trees for Christmas year-round, but rather collecting them to help protect the Texas Coast. They are among volunteers traveling to Brazoria County to donate recycled trees ahead of Dunes Day, an annual initiative to rebuild, restore and strengthen sand dunes at Surfside Beach.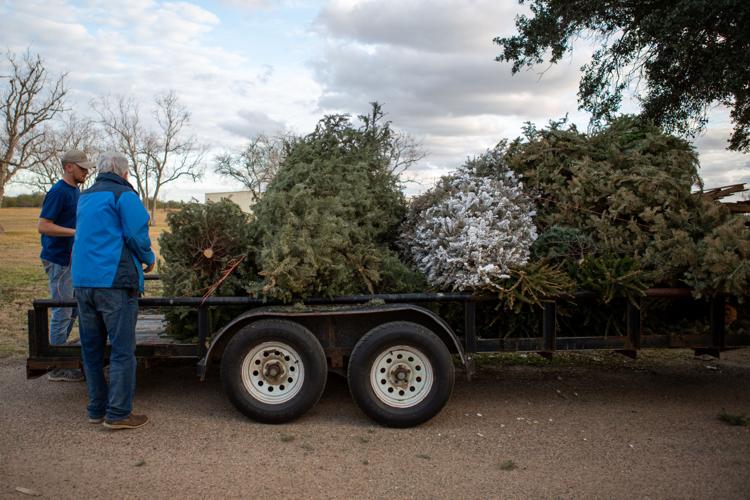 The program was started more than 20 years ago by a county agent after a hurricane hit the region, said Mike Mullenweg, the park's lead interpretive ranger and special events coordinator.
Volunteers and the county's park staff will place the trees along beaches at Follett's Island and the Village of Surfside on Jan. 18, where Hurricane Ike destroyed sand dunes in 2008.
"Hurricane Ike completely wiped them out," Mullenweg said. "We have 19 miles of beach in Brazoria County and there are still very few places where the dunes are tall enough."
Dune restoration process started after the storm, but Mullenweg said they can still use as as many Christmas trees as they can get. Usually about 2,000 are donated, he said.
The trees' branches help trap blowing sand to the dunes and as that sand accumulates, the dunes rebuild at a faster rate than would naturally occur.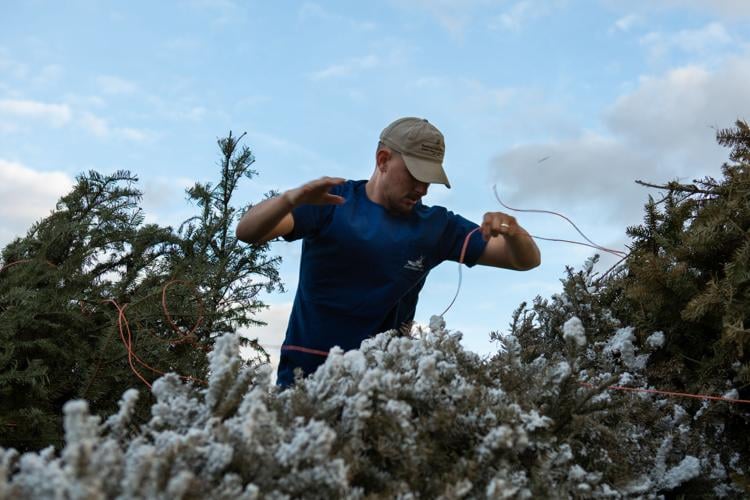 Those dunes help prevent erosion and serve as storm buffers.
The issue of coastal resiliency is personal, Mondolfi said.
"I know that beach erosion is happening and the barrier islands are there to protect not only us but all the fisheries," she said. "It is the only barrier that protects land when we get hit by storms and hurricanes."
Texas has 367 miles of Gulf-facing shoreline and about 3,300 miles of bay shoreline. The state's coastal erosion rates are among the highest in the country with some locations losing more than 55 feet per year, according to the Texas General Land Office's 2018-2019 erosion report.
On average, the state's coastal shoreline is eroding at 4 feet annually.
"Those barrier islands are very narrow and if we loose four, five or six feet each year, there is going to be a time when they disappear and then we will be totally exposed," Mondolfi said.
Buchanan has always purchased a fresh Christmas tree for the holidays, but did not know they could be used to help rebuild sand dunes until this year.
"Usually we take them out and have a big bonfire with the kids and friends," she said. "But it is much better if it can be put to good use."
She and Mondolfi asked friends on Facebook to donate their trees after reading about the program and received a lot of response.
"We really got a lot of people saying, 'Well gosh, we're not using it so we may as well just use it for good,' as opposed to just throwing it in the landfill, which is how I felt about the whole thing," Buchanan said.
The duo started picking up trees Monday, mostly from residents but also from nurseries with left over trees. Room in their truck beds and trailers is running out, but they could collect more trees if others volunteer to transport them to one of the drop off locations in Brazoria County.
"I'm hoping that next year there will be more," she said. "Unfortunately by the time I reached out a lot of people already had their trees down. Like right on the 25th they start taking their trees down, so we missed a lot of people, but I think next year will be better because now we know."