SEADRIFT – John Pistone and RJ Shelly scanned the shoreline for abandoned crab traps Monday morning on a mirror-slick upper Hynes Bay.
White buoys contrasted sharply with the dense coastal marsh, but the traps – buried deep in mud or hidden below the water surface – took skill to spot.
The top of a yellow crab trap could barely be made out on the edge of brush about 60 feet away.
As the boat drew closer Shelly, Calhoun County's coastal and marine extension agent with Sea Grant, waded into the water and pulled the trap out of the mud with both hands. He stomped the wire cage flat like grapes for wine and added it to a growing stack.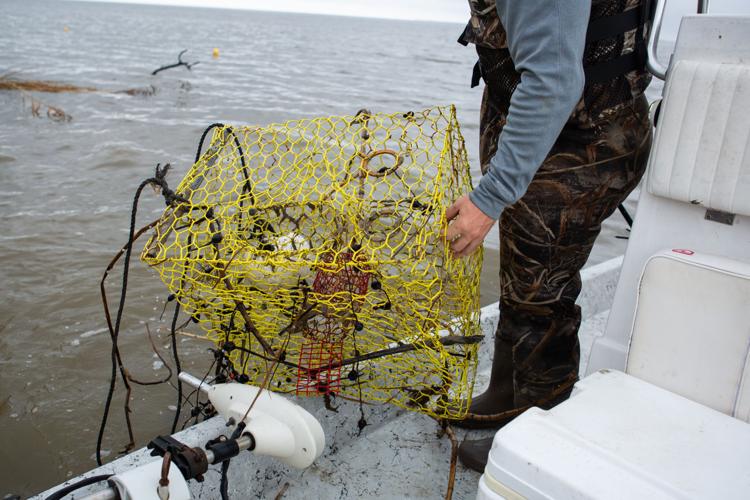 That crab trap is one of thousands volunteers have retrieved up and down the Texas Coast since Friday, when the state's annual abandoned crab trap removal program started.
The Texas Parks and Wildlife Commission has had the authority to close crabbing for 10 days since 2001, starting every third Friday in February.
Crab traps left in the water during this time frame are considered trash. Abandoned or lost, volunteers retrieved them from the waters and throw them in designated dumpsters.
More than 32,700 traps have been removed from Texas waters by volunteers since 2002, according to Texas Parks and Wildlife.
Almost 800 were removed from in and around the West Matagorda Bay shoreline, Powderhorn Lake, Espiritu Santo Bay and East San Antonio Bay in 2019, where the San Antonio Bay Partnership organizes volunteer efforts, according to the organization.
As of Tuesday, more than 900 traps had already been picked up, said Allan Berger, chair of the partnership. He suspects numbers will surpass 1,000 by Sunday.
"The numbers are going to be large, which is again discouraging," Berger said. "I am glad we're picking them up, but not that there are that many traps out here."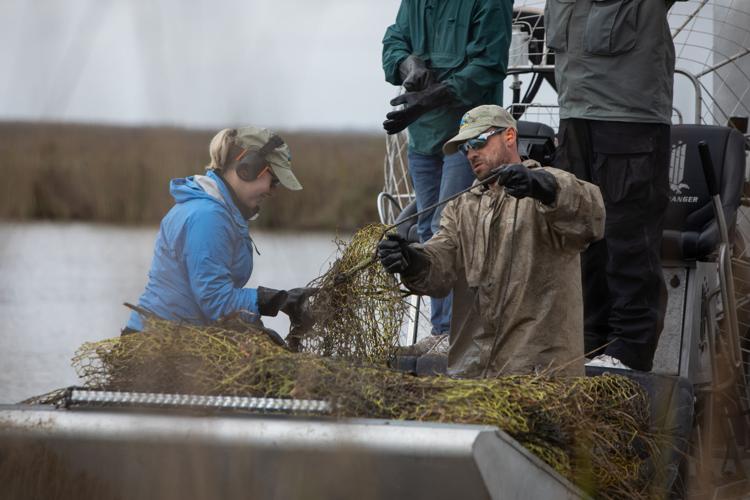 At about $20 a trap, crabbers usually retrieve their cages but sometimes storms can move them into unknown locations or one crabber could be responsible for leaving behind several dozen in one area, Shelly said.
Increasingly more sophisticated technology has been used to locate and track the traps over the years, and this year organizers will be able to tell which crabbers have left significant amounts behind.
"Our data collection this year is going to identify all those folks," Berger said. "Follow up is what we need with the crabbers."
Abandoning crab traps is illegal, but Berger plans to encourage crabbers to clean up after themselves instead of getting them in trouble, he said.
"I'd rather encourage them to do the right thing and pick up the traps, and if that doesn't work we could always call the Game Wardens on them," he said. "But I would prefer an understanding of why they aren't picking up the traps."
Shelly and Brent Ortego, a retired Texas Parks and Wildlife biologist, conducted an aerial survey on Saturday. Shelly flew over Matagorda Bay with a pilot out of Port Lavaca and Ortego flew over San Antonio Bay with a pilot out of Victoria.
Both marked the location of traps in a mobile application that volunteers used to locate, collect and log traps.
"On Saturday the Lavaca Bay Foundation people were down below me," Shelly said. "So I actually could text them and say, 'You're in the right location. Stay there.'"
When a trap is retrieved, volunteers log multiple data points into the app.
Information logged for each trap includes the location where it were found, how it was retrieved, tag information, buoy numbers and whether any biodiversity was found inside, Pistone said.
"Before it's been, 'Let's remove the trash,' but now it's, 'Let's remove the trash and figure out what has been dying in them,'" Shelly said.
Whoopers benefit
Abandon crab traps disrupt otherwise pristine views and can get caught up in motors, but more importantly, take away valuable resources for species such as the endangered whooping crane, which loves to feed on blue crab while wintering in Texas.
"What happens with these traps if they are out here, the technical term is called ghost fishing," Pistone said. "Just because the crab men aren't actively trying to catch crab, the crabs are going to do it regardless."
The majority of the traps Shelly and Pistone retrieved Monday had several blue crabs stuck in them, some alive and some dead.
"You'll have blue crab, stone crab; there have been people who pulled back diamondback terrapins, which is an endangered species," he said. "So these crabs go in there and get stuck and die and them dying tracks more crabs in there, so it is an endless cycle of taking away resources that could be utilized by the cranes."
After co-hosting the Whooping Crane Festival's jetty and beach cleanup on Saturday, nine staff members from the Dallas Zoo and one from the Houston Zoo stayed in Seadrift on Sunday and Monday to help pick up crab traps in the San Antonio Bay Estuary system.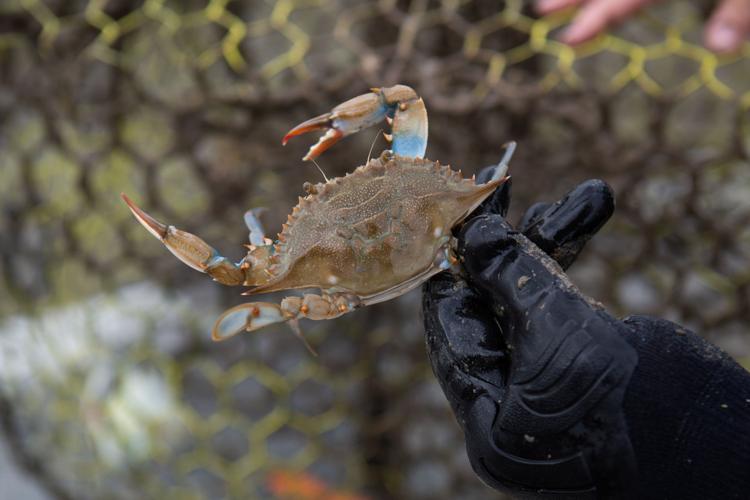 About 200 pounds of litter from wildlife, mostly micro litter, was removed during the cleanup, said Katie White, the Dallas Zoo's conservation engagement assistant manager.
In two days, zoo staff members managed to remove about 240 crab traps, she said.
In addition to the International Crane Foundation, the Dallas Zoo is home to one of six whooping crane breeding centers in the U.S. and Canada. The zoo recently built the Whooping Crane Center of Texas at an abandon ranch about 30 minutes from its main facility to house whooping cranes that cannot be released into the wild, White said.
An incubation center still needs to be built there, but the zoo plans to eventually house 10 breeding pairs, she said.
"Hopefully their young will be able to return to the wild and boost the wild population that way. We just opened up so we haven't had any chicks yet," White said. "We're hoping within the next year or so the birds will get more comfortable or confident with their pairings."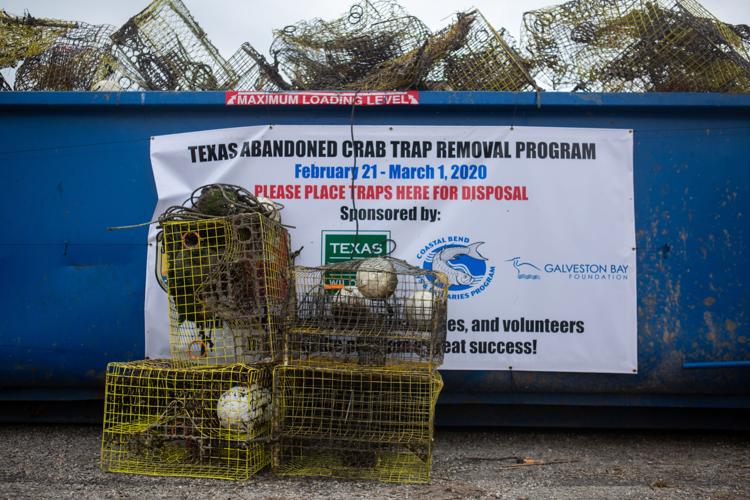 White said the staff was eager to help remove crab traps as part of the zoo's cleanup goals, and for the whooping cranes.
"For 2020 we've got a target of removing 12 tons of liter from wildlife habitat and the abandoned crab traps are obviously litter," she said. "That kind of also goes along with helping save whooping cranes in the wild since the crab traps are no longer being used by humans; they are just having a negative impact on that local ecosystem."
The crab trap removal program ends Sunday, but will be interrupted by a cold front blowing through mid-week.
"We're going to be grounded come Wednesday," Shelly said. "But we've had some really good days with great weather. ... We've removed a whole lot of them."