Ann Sage, 73, of Victoria, builds barns.
She doesn't build the full-size versions that dot local farms and ranches in the area. Rather, hers are small, like the others that grace living room tables and church altars around the world during this time of the year. She builds barns from found and recycled materials and fills them with mostly salvaged figures she finds in her ongoing searches.
The Nativity scenes with Mary and Joseph and other adorers gathered around the infant Christ child in the manger are about family for Sage.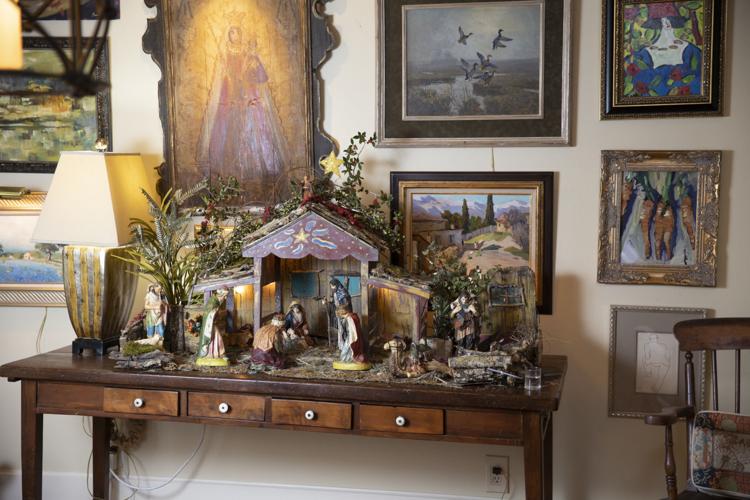 "What I love most is my family, and it's all about family, and the people who come to see this family and the effect it has," Sage said, looking at the Nativity scene in her dining room. "And I get goosebumps when I talk about it."
The first gift Sage received from her mother after she married was a Nativity scene, and she has always loved it. So Sage began making Nativity scenes about 12 years ago to give as wedding gifts. She gives them to friends and family along with a personal note about the importance of the family unit.
"I'm Catholic, and they're getting married, they're joining, and the next thing is to build a family," she said. "It's a great thing to bring out every year, other than a platter or a fork or a knife. It's good medicine."
Sage gives friends Nativity scenes for other reasons, too. About a month and a half ago, she gave one of her creations to Susan Cain in gratitude. Cain had stepped up to help Sage with a situation involving an indigent, elderly woman that Sage had met through St. Vincent de Paul. Sage delivered the gift with a quote from Conrad Nicholson Hilton, founder of the Hilton Hotel chain, which she cut out of the Victoria Advocate: "The practice of charity will bind us – will bind all men in one great brotherhood."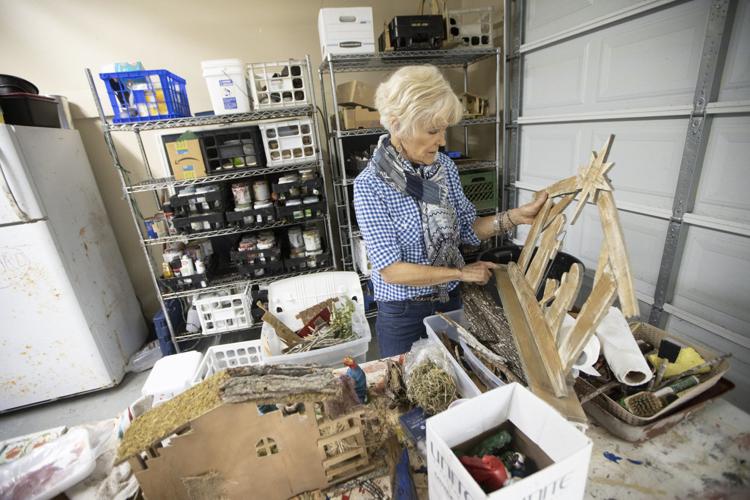 "Susan Cain's is my favorite," Sage said. "Susan is not low on expressiveness. When I brought it to her, the joy on her face was so real. I like knowing it brings people joy."
Cain, who has known the artist most of her life, said Sage's "good sparks the good in others."
"Everywhere she goes, it's like a burst of sunshine enters the room," Cain said. "It's not just that tiny little body, it's the enormous spirit that comes through her voice, her words and her eyes. It's just incredible to be around her."
Cain admires that Sage repurposes these items into beautiful works of art that she shares with others. At her place of business, Armstrong Warehouse and Transfer, she and her employees have started a goal to perform 100 acts of good, which Cain said Sage helped inspire.
Even for nonbelievers, the Nativity scene is about a mother, a father and the birth of a baby, Sage said. The emotion and love that emanate from that scenario, which plays out daily around the world, are powerful.
"And it's about choice after that," she said. "You can choose to love or not to love."
Sage finds the ingredients for her Nativity scenes at flea markets, resale shops, garage sales, eBay and Hobby Lobby, among other places. She embellishes her barns and their surroundings with the "perfect" sticks, bark and foliage found while tromping around her property. She might cut a window in one barn and add battery-powered lights to another. One scene might need a tree while another can use a fence. And she doctors up her figures that come from different sets with dabs and strokes of "wonderful" color.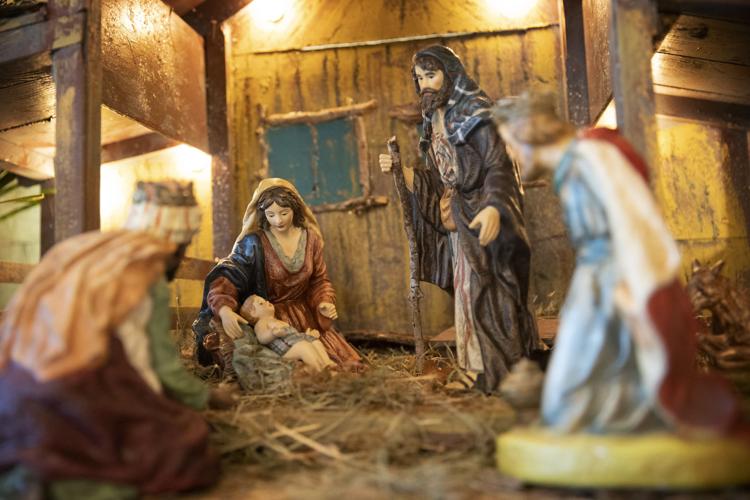 "I love hot glue. You can do anything with a hot glue gun and a saw," Sage said. "And I love tools, and I love tactile things. I love feeling the wood and creating something that when the kids look at it, they make up stories."
Sage made her largest Nativity scene, 58-inches wide by 27-inches tall, for her home about six years ago. The display fills an entire table, which made its way from a convent to a shop in Round Top to one end of Sages' dining room.
"Every time I put it out, I wonder why I still have so much joy putting it out," Sage said. "It's like I'm seeing it for the first time. Every time I look at it, it's more beautiful than the last time I looked at it. It makes me teary sometimes, such a story."
Sage has created 13 "significant" Nativity scenes throughout the years, and four of them went to her children and their families. Her daughter-in-law in California reacted as if Sage had sent her the "Mona Lisa" from the Louvre, Sage said. She hopes her large scene also will stay in the family and pass from generation to generation.
"It really is joyful, such a joyful thing for me to do," Sage said.
Her next project is to build the backdrop for the Nativity scene at the Cathedral of Our Lady of Victory Catholic Church. Rather than hauling lumber into the church, her idea is to paint and stack boxes attached by Velcro for the surroundings for the "beautiful" 4-foot-tall figures.
Sage said her belief system is not something you find in a textbook.
"Here it is – a family had an infant with a message all His life about love," she said. "We are supposed to love each other."