If the ever-increasing heat didn't make it noticeable enough that spring was giving way to summer, the appearance of roadside stands selling Fredericksburg peaches should be all the validation you need. From late May through early August, these Texas treasures are available. Many people believe, especially those from Texas, that Fredericksburg peaches are the best in the world. I'm not totally sure of that, but they are mighty, mighty good.
If you look online, you will find the ripening dates for a variety of these peaches. Pick-your-own orchards abound in the Fredericksburg and Stonewall areas. These make a wonderful weekend family outing. In addition to the peaches, you will also see a truly beautiful part of Texas, and you will have delicious food.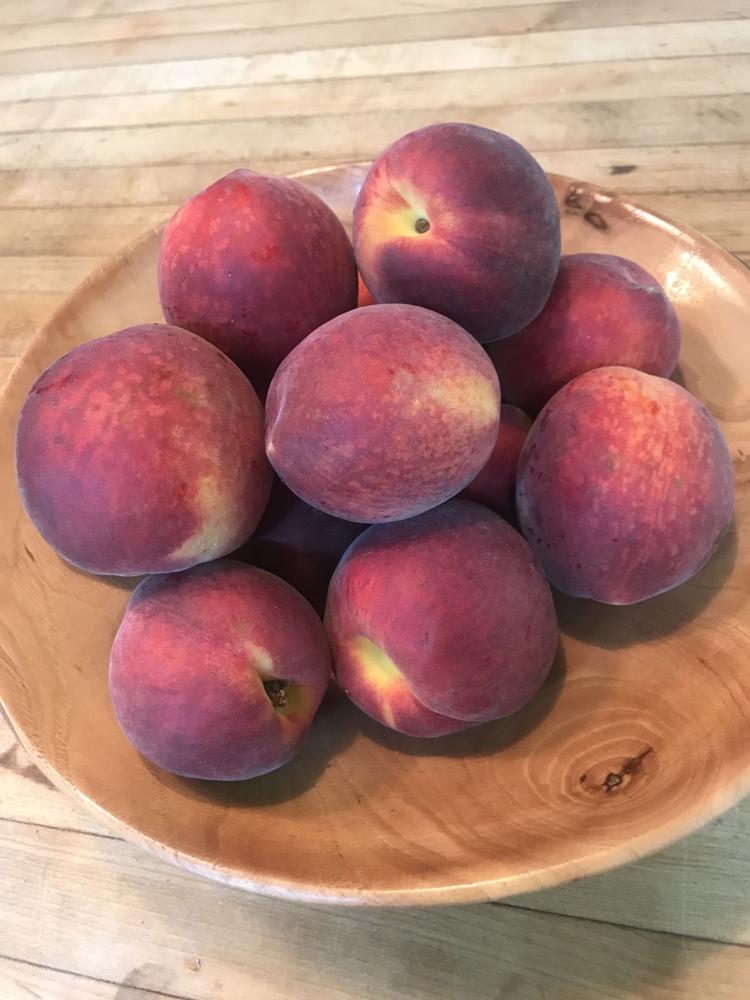 About 40% of all peaches grown in Texas are grown in the Fredericksburg area, which is in Gillespie County. The peaches that are harvested in May and June tend to be the cling peach varieties, which means that the flesh remains attached or clings to the pit. As summer marches on, more of the freestone varieties are harvested. Peaches that are firm to the touch and only give a little are great for canning and freezing. Peaches that give a little more can be ripened at room temperature and then stored in the refrigerator for a few days. In our house, they generally don't last a few days before they are eaten out of hand or cooked in some way.
Peaches are made for desserts. They are sweet but not cloyingly sweet. They are firm enough to retain their shape during baking but soft enough to create a luscious mouth feel. Peach cobblers, peach tarts, peach compotes and, of course, peach pies all come to mind when peaches are in full season.
Louise is the baker in the family. She is so good that generally I won't even try. This weekend, she picked up some Fredericksburg peaches and made the most beautiful pie. The only thing better than the way it looked was the way it tasted. I've included her recipe.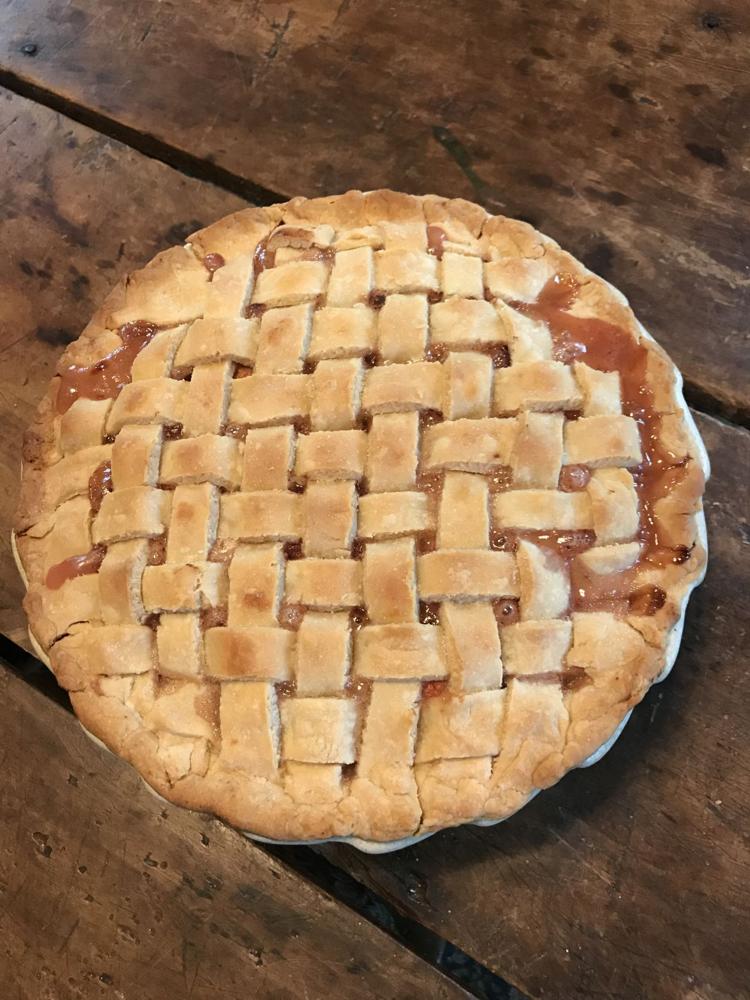 Many peach recipes call for peeling the peach. Louise tackles this with a very sharp paring knife. She achieves great results, but this method is a little too exacting for me. I cut a small cross in the bottom of the peach and submerge the fruit in boiling water for 30 seconds or so, remove from the boiling water and immediately dunk it in ice water. The peel will then just slip off, most of the time.
If you only have 10 minutes or so and you want a topping for ice cream, pancakes or waffles make a peach sauce. With only some sliced peaches, a little water, some cornstarch, sugar and a pinch of salt, nutmeg, cinnamon, and either vanilla or almond extract, you are ready to combine all ingredients except the extracts in a medium saucepan and bring to a boil. Boil for about a minute, remove from the heat and add the extract of your choice. Let cool a while and you have a great topping. If you want something just a little fancier, I have included a recipe for peaches with brown sugar and rum.
Peaches are not just for dessert. They can be prepared as a summer side dish and as a perfect accompaniment for chicken or pork and some varieties of fish.
As a side dish, peaches can be simply grilled. A little olive oil and a dusting of thyme, and medium heat adds a complexity of flavor that really works. Medium heat is the key. Peaches have a lot of natural sugars, and high heat causes them to burn and taste bitter very quickly. The goal is nice grill marks and the peach should be heated through.
For something a little more elegant, top the grilled peaches with a little fresh ricotta cheese or mascarpone cheese and drizzle with a little balsamic reduction.
Maybe you are looking for a meatless or even a vegan meal. Think about a peach and quinoa salad. This is a salad that is high in fiber and the quinoa provides a complete protein. As a bonus, it only takes about 15 minutes to prepare. I have included this recipe at the end of the column.
I am told that this year's harvest of Fredericksburg peaches may be as much as 50% off the normal harvest. This may be caused, in part, by the fact that a number of the varieties did not receive the required number of chilling hours. So don't miss out. Get your peaches now.