The Fourth of July has always been one of my favorite holidays, and for me, there is no better way to celebrate than to find a cool river to float.
We, along with our children and their families, spent the long weekend in New Braunfels, bobbing up and down the Comal River. I have taken the children to float the Comal since they were babies; we have always loved it. There is something therapeutic about feeling the hot sun on your shoulders and the tops of your knees while your caboose is freezing in the icy water in the center of your tube.
This year, we celebrated our bonus grandchild Gary's10th birthday. Having Gary with us made everything old new again. We rode the train in Landa Park, fed the ducks day-old bread and dipped our toes into the rock-edged pools in the park and let the minnows nibble on them. We slid and splashed our way through Schlitterbahn and tapped our toes to the music at Gruene Hall. The look of delight on his face when we walked into Naegelin's Bakery was one I remember seeing not so very long ago on my own children's faces.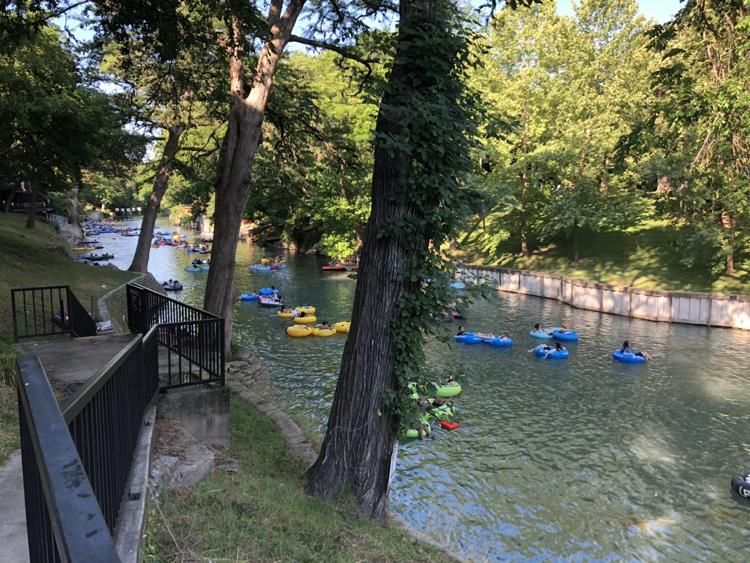 We stayed in a spacious condo at Camp Warnecke, right on the Comal River. I think it is the perfect location for families because it is right on the last bend in the river before the last public exit. Because there are several condo complexes built on this particular bend, they have agreements that allow all the condo guests to share private access to the river at the beginning of the bend and float around to the end of the bend and then exit in the same cul-de-sac. It is about an hour float around the bend, which was about as long as anyone could last in the water without a snack break.
Unless you are a Mom, you probably don't realize the planning that goes into a mini-vacation like the one we just took. One of the great things about staying in a condo is there is a full kitchen; one of the worst things about staying in a condo is there is a full kitchen. What I mean is when reservations are made, you often think it will be easy and convenient to have a kitchen to cook in.
Conventional wisdom tells you that it will be faster, easier and less expensive than going out to eat with a large group, in a tourist town, on a holiday weekend, and for most of the vacationers it is, but not so much for Mom. I probably spent a solid week planning, shopping and prepping, then there was the packing and unpacking. Don't get me wrong, I had a great time, made great memories and I am ready to do it all over again after I take a nap.
We have taken quite a few trips like this throughout the years, and I have learned a number of tricks along the way to make life easier. First and foremost, preparation is the key to success. Anything and everything I can make or do ahead of time I do, from pasta salad and Rice Krispies treats to slicing tomatoes and onions for hamburgers.
Another great tip is to make a slow cooker dinner, like a baked brisket. I popped one in the oven before we headed out for the day and came home to a great meal that fed my starving army of sun-kissed river floaters. As an added bonus, the leftovers made fabulous sandwiches the next day.