The fate of a 27-year-old man came down to 12 jurors sitting elbow to elbow.
Although they had no expertise, the jurors had been given this weighty task because the system had repeatedly failed Alfred Crain Ramirez II.
The jurors weren't supposed to think about whether Ramirez's untreated schizoaffective disorder caused him to aim a loaded, .22-caliber rifle at his parents during an argument and threaten to pull the trigger. But it was all they could think about.
Guilty or not guilty. Those were their only choices.
On Day Four, they chose the latter after their screaming carried into the courtroom.
Eventually, the two holdouts were worn down.
"Judge," Jury Foreman Dr. John P. Soule wrote in angular, all-capitalized handwriting. "We are now unanimous on both counts, but want in the record he needs mental help."
Soule underlined "mental help."
Two million people with mental illness are booked into jails every year, according to the National Alliance on Mental Illness.
Last month, 164 out of 367 people booked into Crossroads county jails had a mental illness.
Experts say communities like Victoria should start mental health courts, which address a defendant's underlying illness rather than punish them for a crime that may be a symptom of their illness going untreated.
They say people who complete them are less likely to be caught in the criminal justice system again because the court partners with the treatment provider, two entities that don't always work together seamlessly.
No one there
When the verdict of "not guilty" came back, Ramirez's attorney, Arnold Hayden, remembered looking around the courtroom, wondering who would step up to help his client next.
But there was no one there.
"I did my job," Hayden said. "The DA's office should have thought about that before trying this case."
Ramirez was charged with two counts of aggravated assault with a deadly weapon, which each carried a punishment of up to 20 years in prison. A conviction also would have made it harder for Ramirez to get certain benefits, such as low-income housing.
When the prosecution didn't offer Ramirez probation, Hayden said he thought it best to go to trial.
Hayden thinks his client would have been well-served by a mental health court, but to District Attorney Stephen Tyler, they are 
The probation department already supervises defendants with mental illnesses well and tells the DA's office when problems arise so a judge can address them in court, Tyler said.
In Victoria, three probation officers are assigned to that task, and they meet with the defendant and a case manager from the local mental health authority, the Gulf Bend Center, every month, said Stacy Murray, a supervisor.
No place to call home
After Ramirez was acquitted, he was released from the jail without medication. He walked about 3 miles home, not knowing that his arrival would prompt his parents to dial 911.
The DA's office had helped his parents, Alfredo, 78, and Evelyn, 61, get an order from the judge requiring Ramirez not to go within 200 feet of them for two years. The police served him with the order that day, and suddenly, Ramirez was homeless.
"It would've been better if they had said, 'You're guilty, but we're going to order you to go to a hospital,'" Ramirez said a few weeks after the verdict was reached.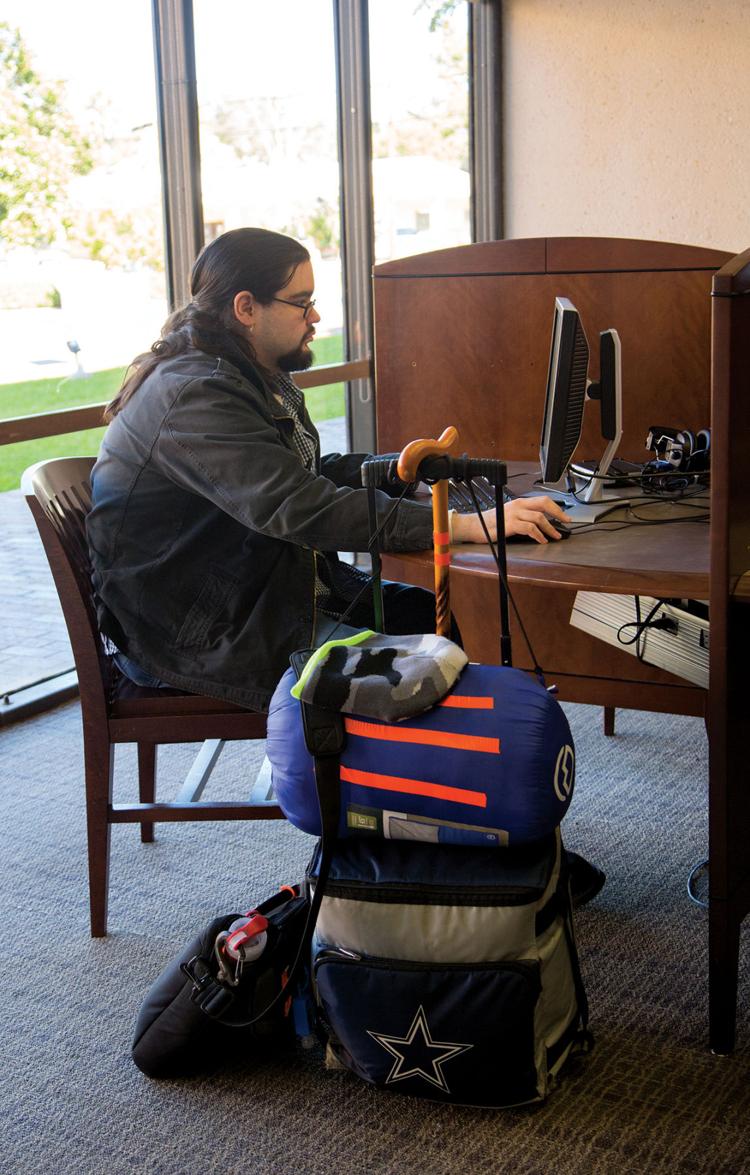 He was at the Victoria Public Library reconnecting with friends he'd met over the internet before he was jailed.
He also was trying to look for jobs and a place to live. Both were difficult because his ID had expired while he was in jail.
Ramirez had $20 to his name then, and he'd never had a job before.
He spent some of that $20 buying reflective tape at Wal-Mart to tape to his clothing, so he wouldn't be hit by oncoming cars at night after the library closed.
His mother, meanwhile, was at home, caught between worrying for his safety and her own.
Although they disagree about what happened that day with the rifle two years ago, they both know few good things have happened since.
"He let the police keep the rifle, and they are going to destroy it. That's the only good thing to come out of this," she said while going through her son's messy bedroom.
Then she found swords, machetes and knives in his closet.
"Some of these, I don't know where he got them," she said.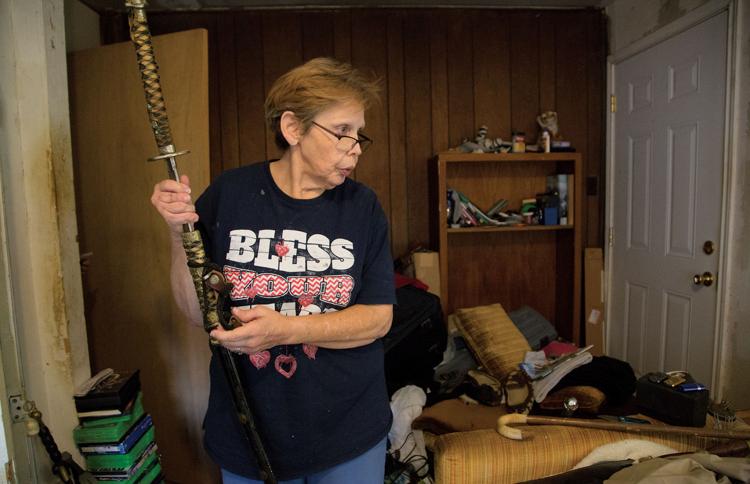 An unfamiliar solution
Although not opposed to mental health courts like the DA, some in the criminal justice system in Victoria haven't given much thought to starting one.
Defense lawyers say the judges would need to agree to it. The judges say the probation department would need to agree to it. And the probation department points back at them.
Others think a mental health court would be too expensive.
"You might be able to get a grant, but no one is picking that money off of a money tree," Tyler said.
In Midland County, which is in West Texas with a population of about 151,000 people, commissioners committed $166,700 from the general fund to keep their mental health court going. This came after it reduced participants' arrests from 180 to five, and days in the jail from 3,135 to 180. Experts say that's typical. The cost to operate mental health courts goes up while a defendant is engaged in programming, but eventually they break even.
The Texas Department of Criminal Justice also has grants available. In 2016, it gave out $3.1 million to 16 counties to support other so-called problem-solving courts, such as drug, DWI, veterans, prostitution and mental health courts, according to the Legislative Budget Board.
Collaborative effort
Others in Victoria have placed their faith in the Gulf Bend Community Collaborative.
The collaborative was started last year by Gulf Bend and comprises representatives from law enforcement, as well as the medical and nonprofit community.
They've been at the Capitol recently asking legislators to fund an $11.6 million, four-year plan to divert people with mental illness from the jails. Their plan calls for mental health case workers and deputies to build a rapport with people with mental illness that could prevent them from going into crisis and being arrested.
"It may be that we redirect enough of these that you wouldn't need a mental health court," said County Court-at-Law 2 Judge Daniel Gilliam, who also presides over Victoria's DWI court.
But Carol Fisler, of the Center for Court Innovation, said it doesn't have to be an either-or scenario. People with mental illness should be assessed at each point in the criminal justice system so they can be diverted to treatment in the community.
Mental health courts can be limited on how many defendants they can serve at one time, said Dr. Fred Osher, of the Council on State Governments Justice Center. Midland's will be capped at serving 25 people at one time so the probation officer doesn't get overwhelmed, for example.
But judges have loud voices, and people will pay attention when they say they know firsthand more mental health treatment in the community is needed, he said.
A cluttered mind
Ramirez's room, which sat untouched as his case made its way to the courtroom, is perhaps the best picture of where his mind was when he was arrested in 2015.
He slept all day on a faded orange couch and stayed up all night.
When he was awake, he heard voices and saw things that weren't there. The only time he left his room was to grab something from the refrigerator. Food wrappers were strewn on the floor. Innocuous child-like belongings, such as stuffed animals and Pokemon cards, sat next to knives and a book about surviving a zombie apocalypse.
Ramirez thinks of himself as a survivalist, so when his mom gave him part of her winnings from a scratch-off lottery ticket, he bought the rifle from Academy Sports+Outdoors.
He says his mom knew about the purchase beforehand; she says she didn't.
Evelyn Ramirez said the argument in 2015 started over a 2-liter bottle of soda.
She was working on the front yard when he asked her to help him look for it, she said.
"I've had both knees replaced and a plate in my back, so I can only do so much before I have to sit down. I guess I just wasn't fast enough for him that day," she said.
She said after her son struck her in the front-yard and at the doorway of their one story home, he came back with the rifle from his room and pointed it at her and husband.
"He said, 'I'm going to blow your face off, both of you," she said.
Ramirez doesn't remember that. He said his mom gave him pills earlier in the day so he could sleep and he was later woken up by police and handcuffed.
To see other police reports over the years, click here.
Settling in Victoria
The Ramirez family came to Victoria from Fort Worth in 1996 originally to care for a sick family member. Then they made the city their home. Alfredo Ramirez retired from the construction industry in 1985. He and his wife, who said she also is being treated for a mental illness, are on disability and their son was on CHIP, or the state's children health insurance program, until he turned 18.
Ramirez said from ages 9 to 18, he saw a Gulf Bend counselor, usually at his home two to three times a week.
Ramirez said that was helpful because after he dropped out of high school, he spent most of his time with his parents, not with people his own age.
After his 18th birthday, Ramirez tried to set up appointments at Gulf Bend, but he had neither a driver's license nor a car, and he said his parents wouldn't drive him.
He said if Gulf Bend mailed him anything, he wouldn't have received it. His mom had the only key to the family's P.O. box downtown.
"I talked to her constantly. I told her, 'I need help,'" Ramirez said. "She said, 'You're fine. You're faking it.'"
His mother disputes that.
Ramirez's attorney, Arnold Hayden, said what probably pushed the jury to acquit his client were letters he admitted into evidence.
One, dated about a month before Ramirez turned 18, from Social Security asked Gulf Bend to share his records with it because he was applying for disability. Attached was a form signed by Ramirez giving Gulf Bend permission to do so. Another was a letter to Ramirez from Gulf Bend after he turned 18 informing him he was discharged from their care because he had aged out of services and indicated he didn't wish to apply for more.
Hayden said he wasn't sure whether there was a mix-up in paperwork, but he wanted "to show he (Ramirez) had tried and that he fell through the cracks."
Tyler, meanwhile, said Hayden deliberately misled the jury by making an improper closing statement, and that's why Ramirez is worse off than before.
Evelyn Ramirez said there's enough blame to go around, though.
"I put my trust in the law, the DA and the 12 jurors, and nothing happened. I have no help," she said.
The last she knew, police were looking for her son because he had threatened to kill himself when he couldn't find a place to live.
"I can't do nothing but wonder how, why and when," she said.
Ramirez is recovering from a cold, but otherwise alive. He is staying at the Salvation Army. He temporarily had a part-time job as a knife salesman.
Two months after he was acquitted, Ramirez still hadn't received any mental health treatment. He said he couldn't get treatment without an ID or benefits, and he needed his Social Security card for that. The card was at his parents' house, which was off limits
None of it makes sense to the jury foreman, Dr. John P. Soule, who held Ramirez's fate in his hands.
Soule has resumed seeing patients at his internal medicine practice in Victoria, but he still thinks about his first and only experience as a juror. He hopes to never be called again.
"There were a couple of nights where I could not sleep," Soule said.
When he learned Ramirez was made no better off by the jury's decision to acquit him, Soule was saddened.
"I'm not surprised at all, but I think that's wrong," he said. "This is clearly a case where someone needs to help this young man who cannot help himself."
Without treatment, the mentally ill become tangled in the criminal justice system. Almost half of the estimated 500 people booked in Crossroad…