Pearlie Mae White is going to be OK.
Eight months ago, the 86-year-old Victoria woman's home was destroyed by Hurricane Harvey. She's not complaining, though.
The Federal Emergency Management Agency provided financial assistance and various charities have stepped in to help her recover from the storm.
"I don't know," she said. "I leave it to the Lord."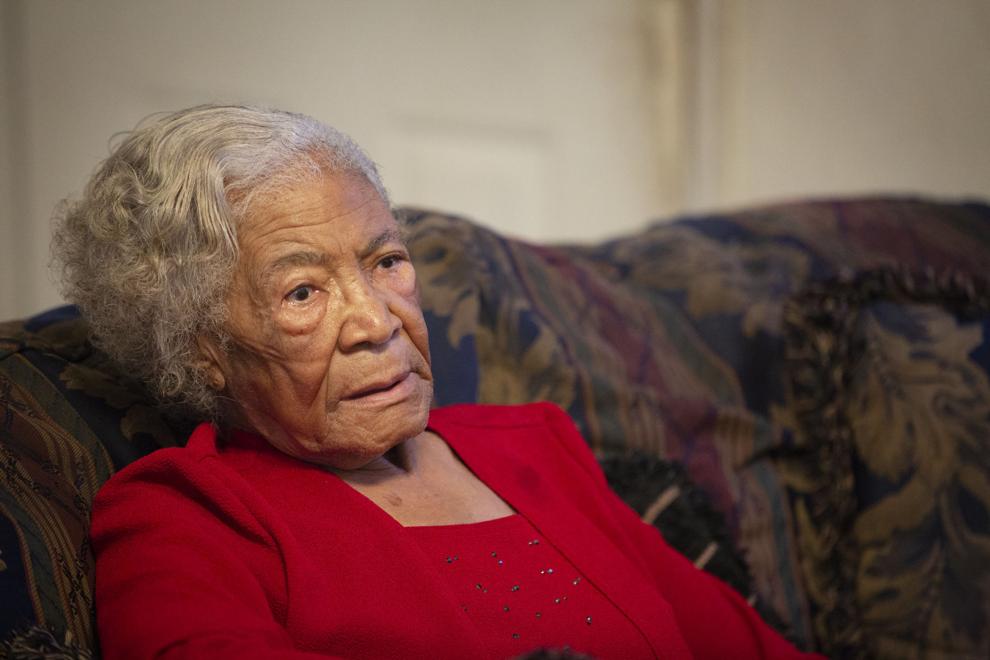 And she thanked God when she heard that her home was still standing.
White lives with her daughter, Inez Perry, and her teenage twin great-grandsons in a five-bedroom mobile home. The tarp-covered roof has come down in several bedrooms from extensive water damage, and her air-conditioning isn't working. Perry, 62, is a former health care worker now on disability, and White gets about $1,000 monthly from Social Security, but they always find a way to get by.
When White was offered the chance to stay in a hotel, she declined: "I ain't never been to a hotel in my life."
White spent her whole life caring for others in Victoria. She worked at the Brownson Home for 40 years and also drove a school bus for 16 years while raising her seven daughters.
The plot of land where she currently lives is near where her husband built an eight-bedroom home. This was the place where all the kids from the neighborhood would go after school. But after he died when she was 58, the home fell into disrepair.
For almost two decades, White has invited her children, 15 grandchildren and more than 30 great-grandchildren over to her home.
"They're all my babies," she said.
She also considers the many children who lived at the Brownson Home as her own. The state-licensed home funded by the estate as directed by the late Catherine Brownson was run by Deaconess Gladys Hall.
White was a cook but often cared for the children in other ways, even taking them to get annual shots with her own daughters or on vacation to the bay. "That's one job I just loved," she said.
She ran into one of her Brownson Home children, Shelia Lawrence, a few weeks ago.
Lawrence, now 62 and living in San Diego, grew worried when she came into town for a funeral and found out White wasn't living in the best conditions.
"All she did her whole life was take care of everybody else," said Lawrence. "She's just a really beautiful human being."
Lawrence moved into the home when she was just 18 months old and has fond memories of White with a big pot cooking crabs right on the beach and watching as the children played hide-and-seek in the hallways.
She started a crowdfunding account hoping to raise donations for her former caregiver as she recovers from Harvey. She even texted the city's mayor hoping to get White some help but said she didn't hear back.
She contacted the newspaper, and the Advocate confirmed through the Victoria County Long-Term Recovery Group that White is getting assistance from a national organization called Samaritan's Purse.
Immediately after Harvey, Samaritan's Purse helped 892 families in the Crossroads, spokeswoman Kaitlyn Lahm said Friday. During the past few months, the organization brought almost 10,000 volunteers to help the state recover.
Samaritan's Purse has started a multiyear rebuild program to help families recover and set a goal of seeing up to 1,000 families get back into their homes through repair or manufactured home replacement.
Lahm said Samaritan's Purse has approved three families for mobile home replacement in Victoria and two families for major home repairs in Refugio.
Additional applications are still in the review process, she said.
White's daughter said the nonprofit is helping them work out issues with the title and already assisted them with the process of getting current with past-due property taxes.
Perry said she still has to sign paperwork but believes Samaritan's Purse will be able to help them get a replacement mobile home.
She said Friday her mother is having a good day. White uses an oxygen tank to help her breathe but is otherwise healthy.
She drives herself to church talking to God along the way. With a smile, she also reminds people from time to time: "I'm here. I'm still alive."