Gabriel Soliz clears his throat and, in a calm but loud voice, advocates for one of his nearly 40 clients.
The 45-year-old former Victoria city councilman took a disaster case manager job with Rio Texas Conference about three months after Hurricane Harvey.
He explains how an elderly Crossroads resident evacuated and was displaced for months after losing their home. The resident was sleeping at a friend's place but is now sleeping in a vehicle with a service dog, he said.
Soliz said the appeal process was delayed because the hearing-impaired federal hotline was not working. He requested eight weeks of temporary shelter for his clients while they figure it out.
Gene Hileman, disaster response coordinator for the conference, responded that the United Methodist Church would pay $800 to keep them sheltered.
Every week, Crossroads families' lives are improved by the work of several churches, nonprofits and social service agencies that serve on an Unmet Needs Committee, which was formed in response to the Aug. 25 hurricane.
The Advocate was invited to one of the meetings led by chairwoman Heather Linville, who also is business manager of First United Methodist Church. Wednesday, everyone met at a small building across from the church. Those in the room signed a confidentiality form and were careful to leave identifying details out of case presentations to protect the surviving families' privacy.
One by one, disaster case managers such as Soliz walked up to the front of the room and politely but firmly explained what it would take for their clients to recover.
They reported how much the family makes; how much was awarded, if anything, from the Federal Emergency Management Agency; and whether the client was insured.
They talked about actions the family has taken to get on their feet and whether they were living in a safe place. All these factors help supporting organizations in the room determine how their agencies can help.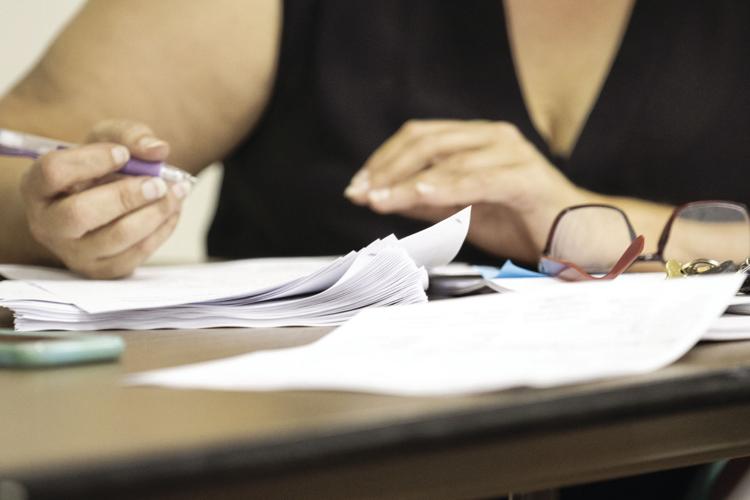 Linville kept detailed notes down to the penny during each presentation.
For many cases, she wrote that Golden Crescent Habitat for Humanity is repairing tarp-covered roofs and that Methodist volunteers will do most of the labor.
About one-third of the committee's funding has gone to roof repairs, she said. Interior repairs and personal property replacement cannot be addressed until the home is secured.
Once a client's roof is rebuilt, the case will come back to the meeting to approve funding for its next step toward recovery.
That's usually when Tony Martinez, with the Catholic Diocese of Victoria, is able to say whether the family qualifies for a house-in-a-box kit – which includes a mattress, basic furniture and bath and kitchen supplies – or if the diocese can cover the cost of another unmet need.
Other major contributing agencies include the Rio Texas Conference of the United Methodist Church, First United Methodist Church, Salvation Army, Victoria County United Way, Society of St. Vincent de Paul and long-term recovery group.
The Rev. Stephen Carson comes in with donations when he can from St. Francis Episcopal Church or the Diocese of West Texas.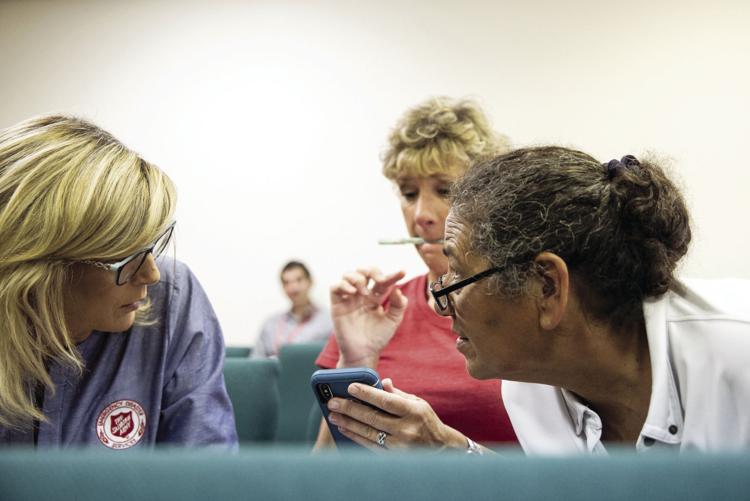 Linville said the Unmet Needs Committee is open to any organization or individual that has the "three M's" – money, manpower or material.
"While we would love someone to make a million-dollar donation, I want people to understand that any amount helps," she said.
The committee is part of the Victoria County Long-Term Recovery Group, but other Crossroads cases are heard because some supporting agencies are able to serve the surrounding counties.
Many of the agencies' materials are housed less than a mile away in a big warehouse.
Inside, Travis Fromme, rebuilding project manager for Habitat for Humanity, points to stacks and stacks of housing materials. Enough roof shingles to repair 250 homes, he said, came from national organization Convoy of Hope.
"We're getting eight more truckloads this week," he said.
In the warehouse is a whiteboard where he keeps a running inventory of supplies and upcoming projects. A few feet away are some leftover home supplies.
"We don't throw anything away," he said. "You never know when you need one of something to finish a job."
The Unmet Needs Committee reports spending three-quarters of a million dollars on recovery work, but this doesn't include the cost savings that volunteer hours mean to each case.
"While money and materials are critical to our rebuild process, volunteers are probably the most valuable resource we have," Linville said.
One hour of a volunteer's time is valued at $24.69. As an example, she said, last week a nine-person team was installing drywall and flooring in a home that had more than 3 feet of water in it after the storm. The team will work six eight-hour days totaling more than $10,500 in labor.
"By utilizing our volunteers efficiently, we are able to stretch our budgets much further; therefore, we can assist more survivors," she said.
And despite the details involved in the work, Soliz said the results are worth it for the survivors, the funding agencies and the volunteers.
"The process – it takes time, but you want to get it right," Soliz said. "Some days it gets frustrating, but we're all going in the same direction."