Victoria County Judge Ben Zeller called the Victoria Advocate "fake news" after the newspaper reported the court decided against a forensic audit to review its handling of Hurricane Harvey recovery spending.
The commissioners voted 4-1 at last week's meeting to proceed with a standard financial audit conducted by a certified public accounting firm, despite repeated calls for a more in-depth, forensic audit by Commissioner Gary Burns and members of the public, that would examine the county's procedures, policies and actions taken after the storm.
In a post Thursday on Facebook, Zeller wrote that the Advocate's headline, which said the commissioners rejected calls for a forensic audit, was "blatantly false." In a phone call Friday, he defended his stance, saying the word "forensic" wasn't used correctly during the meeting.
Zeller said there have been numerous suggestions to the court about what needs to be reviewed, and the court's vote to pursue an audit to examine the financials related to Harvey insurance money with the purpose of finding financial crimes "was, by definition, a forensic audit."
"Whether or not the word 'forensic' was used in our motion doesn't matter, because this financial audit is a forensic audit," he said. "It's clear that many people don't understand the definition of the word and have been using it incorrectly."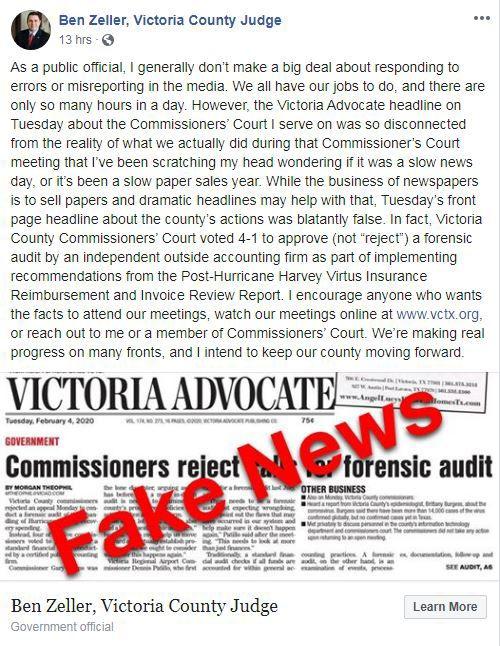 But the discussion during the Feb. 3 meeting centered on two different audits: one done by a certified accounting firm that will review the county's finances with the purpose of finding financial crimes, and one that was consistently called a "forensic audit" that would examine the county's procedures, policies and actions taken after Harvey.
Burns explained that he voted nay because the motion was made for a financial audit, not the in-depth, forensic audit he was advocating for. He said a financial audit will "review invoices and checks," but won't look into what needs to be examined.
"Forensic auditors are trained to look beyond the numbers and look at the business reality of the situation," he said. "That's why I voted no, because the vote was for a financial audit; it was not for this forensic audit."
Doug Cash, a senior manager of fraud and forensic advisory services with Eide Bailly, and Diane Terrell, an audit partner with the same regional certified public accounting and business advisory firm, said Friday that there are clear distinctions between a financial and forensic audit.
"Basically, a financial audit is looking at financial assets and liabilities of the entity you are auditing and ensuring they are reported in accordance with the correct set of standards," said Terrell, who said she has been conducting financial audits for almost 30 years. "But it does not look at controls to the extent a forensic audit would do."
A forensic audit on the other hand, Cash explained, often has a subset called an internal control evaluation. Cash described a scenario during which he conducted an internal control evaluation in a Colorado town. During that , he said, "we looked at every single department of their city, looked at their policies and procedures, interviewed people, looked at how things moved through the system and then made recommendations."
"We ended up doing over 70 in-depth interviews to be able to get that," Cash added.
Further, Terrell said a financial audit doesn't look at the "whys, policies and procedures" in place behind the finances.
"Sometimes you'll give a financial auditor five boxes of documents and they'll sample it; that's their job," Cash added. "You give those same five boxes to a forensic auditor, and they'll look front and back at every single document in all five of the boxes and more."
David Holt, a certified public accountant and certified fraud examiner based in Seguin, echoed Cash's understanding.
"Generally, getting an opinion on financial statements with a financial audit is overall big picture stuff," he said. "But when you get into forensic auditing, it gets very pointed and specific toward people, money, and improper use of money and procedures and actions."
Sean Kennedy, Victoria County's treasurer, said during the Feb. 3 meeting that he agreed with Burns that the audit should be done by a firm that offers more than what a certified public accounting firm does because he and the county auditor already have checks and balances in place to review the county's finances. He said bringing in a certified public accounting firm to look at the finances would be "a very short audit."
"If you truly want to look for something, you need to bring in somebody that's going to look at the construction manager and the work that was done," Kennedy said at the time. "That's where there might be some fraud."
Burns on Friday defended the Advocate's coverage of the meeting, saying it was clear that he and Kennedy differentiated clearly between the forensic audit and the financial audit that was ultimately voted on.
"I think the paper was accurate," he said. "I challenge anybody to find anything in this whole series of stories that isn't true."
During their meeting on Monday, commissioners are scheduled to determine the procurement method for the audit, now labeled on their agenda as a "forensic audit."
Cash said when considering a financial audit versus a forensic audit that at the end of the day, "information is power."
"And the more information you have, the better," he said. "Questions are answered, and I can say that the only way you're going to get all the answers is to look at everything."