Victor Marshall has been at the forefront of a lot of change in his lifetime.
Marshall was only the second black football player to play for the Victoria College team. He graduated from F.W. Gross High School, the school designated for black students until city schools were integrated.
And Tuesday, Marshall saw a change that came about because of his work: a road in Victoria honoring Martin Luther King Jr.
Marshall, however, shies away from taking credit for his nearly 40-year effort to recognize the civil rights hero.
"It was no hard work; it's just trying to get something done that you think should be right," he said.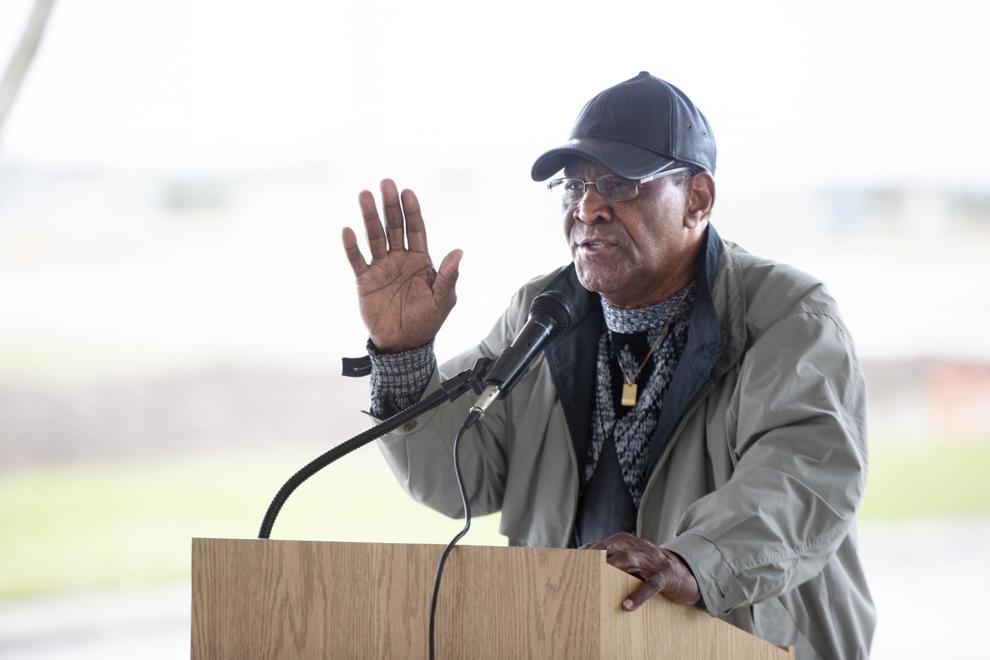 Marshall, 77, joined city officials Tuesday to formally dedicate the Martin Luther King Jr. Memorial Highway, which will cover Loop 463 between the Navarro Street overpass and U.S. 59 Business overpass.
Marshall has been fighting for this recognition for King since 1982, when he first approached Victoria's City Council and suggested that they rename a city street for King. Marshall was rebuffed. Officials claimed residents thought the U.S. Postal Service would lose their mail if a street's name were changed, and one resident said his property value would depreciate if his street were named after a black man.
"I was upset because there was not a valid reason not to and they were just looking for excuses," Marshall said, reflecting on the obstacles he faced 37 years ago.
In 2017, Marshall decided it was time to try again, and this time he found a more receptive Council. Elected officials created a committee to explore the idea and ultimately decided to designate a portion of Loop 463 as a memorial highway in King's honor.
Hundreds of U.S. cities have renamed streets after King, and still more have affixed his name to parks, schools and other buildings. Derek Alderman, a geography professor at the University of Tennessee, said there are at least 955 streets in the U.S. named for King, according to his most recent research in January 2018.
Alderman says such a step allows communities to create a permanent, physical marker honoring the civil rights hero and his impact on American history.
"Street naming is the kind of thing that some people may dismiss as not being that important," Alderman said. "But in fact it has a long history in this country of being a very common, very powerful way of memory-making."
Alderman placed renaming streets for figures like King as part of the country's ongoing conversation about whom to remember and honor in public spaces. The nationwide discussion has moved many cities and communities to remove statues or names honoring Confederate soldiers. Texas officials decided last week to remove a plaque in the state capitol that wrongly states the Civil War was not fought to preserve slavery.
Jim Wyatt, Victoria's first black councilman, spoke at Tuesday's ceremony to applaud the memorial highway. But he also called on Victoria, the state and the rest of the country to do more to address persistent racial inequity.
"I want to make sure that we understand that it is a continued struggle," Wyatt said.
In reflecting on his own life and the struggle for racial equality in the U.S., Marshall said progress has been made, but not enough. Marshall said if he had lived in an earlier era, he would have had a much more difficult life as a black man in the U.S.
"I think if I was back in those days, I would not have survived because I would have been mad and I probably would have defended myself or tried to make it right," he said. "I probably would have ended up maybe hauled off into a pasture somewhere and they never find me for a couple years."
The bigotry that still permeates the U.S. came out in full force in online comments after the memorial highway was announced. Dozens of Facebook users posted disparaging responses to a news outlet announcing the change.
"This is a joke, right?" one user wrote. "He's already got a post office dedicated to him."
"I feel like there are many other people it could be named after ... How about someone who pertains to this area and has done great things for us locally," another commented.
Alderman, the expert on streets named for King, said such a response could be a "dangerous tendency."
"There is a tendency in a lot of struggles ... where King is represented as somehow an outsider," Alderman said. "I'm not suggesting that King is from Victoria, Texas. But he had an impact on most every place in the United States and arguably the world. And to suggest that somehow his name doesn't belong in a certain community is to almost deny the consequences and contributions of the civil rights movement within that community."