At the construction site of the city's long-awaited Placido Benavides Drive on a recent morning, the sun was hot, and progress on the $9.2 million road was clear.
"It's coming together very nicely," said Ken Gill, the city's engineer, of the project. "People are looking forward to this."
The Placido Benavides street extension project, which will connect Navarro Street to Salem Road with almost 2 miles of new roadway, is well underway. The finished road will consist of a two-lane concrete section with an 8-foot wide sidewalk for walkers and bicyclists.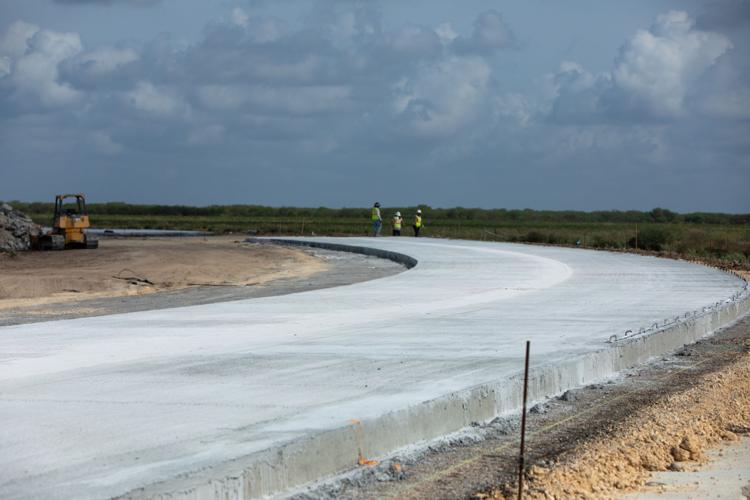 The project is designed to relieve pressure on Navarro Street by having another road for drivers, Gill said. The project also includes the installation of 6,400 linear feet of 16-inch waterline, 7,350 linear feet of 12-inch and 16-inch sanitary sewer lines, and a range of diameters of storm sewer lines.
The work began in December 2019 and has a 420-day completion timeline. The project is slated for completion in spring 2020.
"It's coming together well. Everything is on track," Gill said.
Gill said in late August that the utilities portion of the project, which has included groundwork for the waterlines, storm sewer lines and sanitary sewer lines, is about 90% complete. The focus of the work now is surfacing, he said.
Aside from relieving traffic on Navarro Street, city officials have said they hope the project will pave the way for more development. City Manager Jesús Garza said he is glad to see the road coming together to bring about growth in the city.
Because most of the area surrounding the planned road is undeveloped, Placido Benavides Drive will create opportunities for growth as hundreds of acres become available for development. The 8-foot wide sidewalk for walkers and bicyclists will also be a benefit for the community, Garza said.
"I think it will be very beneficial to have this new road and a space for people to walk and bike along that area," he said.
The name for the new thoroughfare will also connect a piece of Texas history to city residents. The road is named after a man often labeled by historians the "Paul Revere of Texas" for his role in the Texas Revolution.
Placido Benavides moved to Texas from Mexico in 1828. He lived and worked in Victoria and married the daughter of Martin De Leon, the first alcalde, or mayor, of Victoria.
He was later elected the second alcalde in the community's history, and earned his recognition by spreading the news of the Mexican army's approach before the Battle of Coleto in 1836.
Gill said that it was a good choice to name the road after the historic figure.