Stronger-than-average voter turnout and citywide support helped Rawley McCoy clinch enough votes to become Victoria's next mayor and avoid a runoff in Saturday's election.
McCoy's outright win Saturday night was unexpected given that he faced three opponents in the race. To be elected mayor, candidates need more than 50% of all votes cast, and with four candidates in the race, the likelihood of one candidate getting majority support seemed low.
The lifelong Victorian was elected as mayor Saturday with 51.45% of the vote, 26.2 percentage points ahead of the runner-up in the race, Vic Morgan. McCoy's comfortable win was due in part to decent voter turnout for the local election. More than 12% of voters showed up to vote for mayor, one of two City Council seats or a seat on the Victoria Independent School Board.
Although that turnout rate is quite low compared to turnout in statewide or national races, it is on par with or slightly better than previous local elections in Victoria. In the last mayoral election in 2016, when Mayor Paul Polasek defended his seat against Richard DeAses, fewer than 8% of voters showed up to the polls. In 2013, when there were five candidates vying for mayor, 15% of voters cast ballots. In 2010, about 10% voted. A 12% turnout rate for Saturday's elections puts the 2019 race at the higher end of turnout, although it's still drastically lower than the 50% of voters who showed up in the midterms.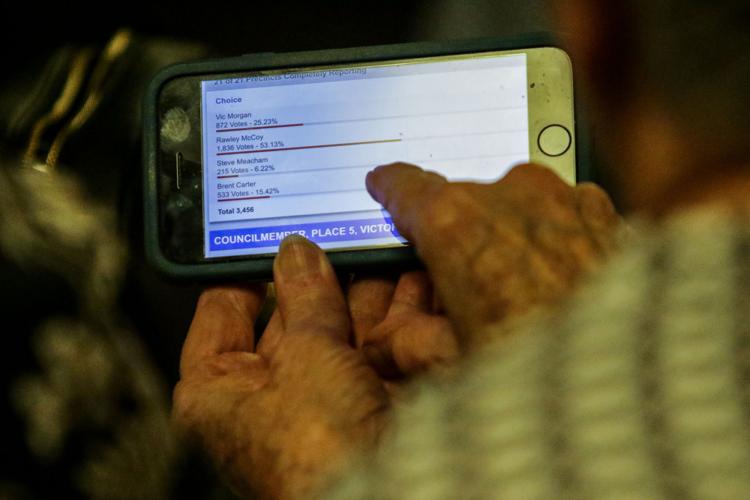 McCoy, 68, also credits support throughout the city as one reason for his win.
"My job is to truly represent every single person in the city of Victoria, and when I would begin talking to people and interacting with people, I tried to make sure that I spoke with people from all areas of the city," McCoy said.
Of the 21 precincts within city limits, McCoy took the plurality of votes in every one, according to the election night returns. That support included neighborhoods in the southern parts of Victoria, which in the past two mayoral elections saw lower turnouts than Saturday.
"I didn't make crazy promises or anything to people," McCoy said. "I told people, 'I'm going to listen to you. I want to hear what you have to say. I'm going to listen to you because your opinions, your concerns are just as valid as anywhere else in the city,' and I think people took that to heart."
McCoy said he also thought his career in Victoria helped him communicate with voters. McCoy is an architect and founder of Rawley McCoy & Associates, which is behind some of the most well-known buildings in Victoria, including Victoria College's Emerging Technology Complex and the Leo J. Welder Center for the Performing Arts.
Victoria's next mayor also spent more money on his campaign than any other candidate. McCoy spent almost $34,000 on his campaign as of April 26, according to his most recent campaign finance report. The candidate invested in Facebook and other forms of advertising as well as events with voters to get out his message.
McCoy will take the oath of office at Tuesday's City Council meeting.