Seven anaqua trees line the front of John Fossati's lot on Commercial Street in Old Victoria.
After American Electric Power cut the branches above and surrounding a power line that runs through their canopies, he's debating having them cut down the tree completely.
"These guys just come in, and they basically cut my trees in half," Fossati said.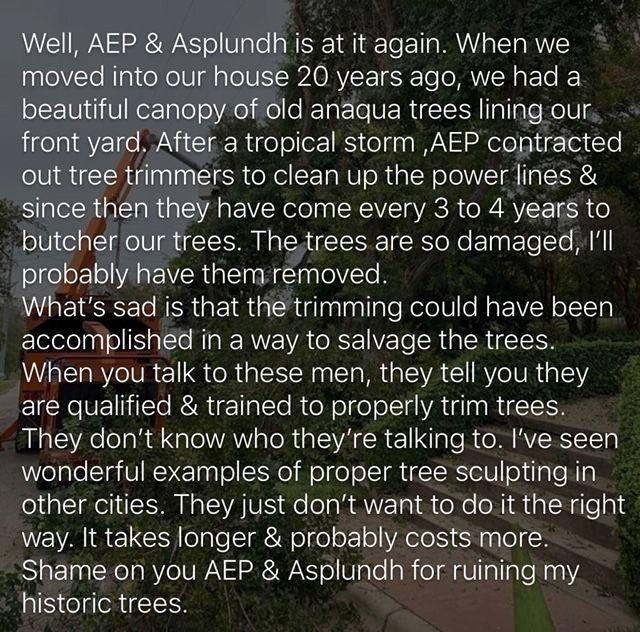 The trimming is part of AEP's normal rotation of trimming vegetation surrounding distribution feeder lines connecting to its Victoria Power substation. During a meeting Wednesday with city officials, Vee Strauss, a spokeswoman for AEP, said she stressed the necessity of trimming around the lines for safety and reliability of power.
"We've had a multitude of outages out of that station," Strauss said. "The necessity of trimming is for outage prevention."
Additionally, she said branches touching the line is a public safety concern.
She said the trimming, which began about three weeks ago, will be completed next week.
"It's not the entire line that's being trimmed out, just the major backbone of the system," Strauss said.
It's been at least 5 years since the last time that section had been trimmed, Strauss said, and the next trimming will occur next year around distribution feeders to the Leary Lane substation.
"I understand why they do it but there's a way to do it to allow the power lines to be able to go through the middle of the canopy," Fossati said.
Fossati said he's seen trimmers in other cities retain the shape of the tree while clearing a path for the lines.
"We're aware of the sensitivity of the historic area," Strauss said. "Keep in mind we try to get a clearance of our power lines up to 10 feet ... that is the standard but we probably don't have that in this area. We try to do up to 5 feet if possible."
Fossati moved into the house in 2000. He said he became unhappy with AEP's trimming practices about 10 years ago.
He said the damage is particularly disappointing after Hurricane Harvey, which caused him to lose one of the trees, which he said had been there for about 100 years.
"These trees have been there since before the house was built back in 1930," Fossati said. "We lost so many during the storm and now they're coming in butchering the rest of them."