Both Victoria County officials and representatives of the Virtus Group, the company facing scrutiny over the county's spending and management of Hurricane Harvey recovery money, are scrambling to verify what work was done after the storm.
Luis Garcia, a national project coordinator with the Virtus Group, now called Commercial Restoration Company, and Doug Kerr, a national project coordinator and superintendent with the company, were present at Monday's Victoria County commissioners court meeting.
County Commissioner Kevin Janak introduced the representatives after updating the court on the progress of the work group. He said that back in March when the work group started, it "didn't know where we were, what needed to be done." He said the group has been conducting an extensive review that includes reviewing insurance documents, scopes of work, invoices and supplemental change orders.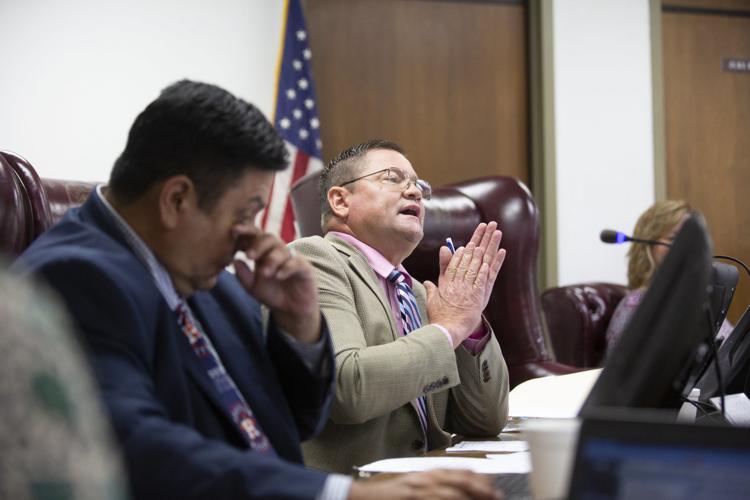 He said while it has been a slow process, and a "frustrating" one for some members of the public, the work group does not want to rush it.
"We've accomplished a huge feat, and we're still not done," he said.
In late September, Janak asked all county departments for input regarding work that is left undone but was possibly paid for after Harvey. He said among the responses, he has been told about projects that are not actually hurricane-related.
"There's lots of misconception there, that 'this was hurricane-related, this is what Virtus was supposed to do, but Virtus didn't do it,' while, that's not really the case," he said.
Janak said the work group will communicate with department heads to clarify any misunderstandings. Then, it will supply the court with remaining projects, and the court will determine if the work will be done by the county's facilities manager, by airport maintenance or the Virtus Group.
Garcia said he and his team have been "diligently" going through scopes of work. He said he realized some things were on lists early in the recovery process, while "there were some changes that were made either as the work was being done or during different types of meetings." He said he and his team will review what work the Virtus Group did in every county building and compare it to an accurate scope of work.
"So we are presenting the documentation that we need to support the findings between our team and their team," he said.
Then, he said, Virtus will submit a bill that reflects an agreed-upon scope of work and completed work within the county.
Janak said previously that the county is withholding an additional $352,000 likely owed to the company to "protect the taxpayers as we confirm that we owe it to them."
County Commissioner Danny Garcia asked Janak for clarification on work the Virtus Group was supposed to do but didn't complete. He said there were items on the list for Virtus to repair in his precinct, but the county ended up doing the work.
"Decisions were made prior to February to not put that on Virtus' list," he said.
Janak assured him that the company has not been paid for any work it did not perform.
"We're here to get it right, and we will get it right," Janak said Monday.
Logan Johnson, 17, was among numerous local 4-H ambassadors present to share information about 4-H and thank the court for its support. Johnson told the court that more than 6 million people around the county will celebrate 4-H this week.
"This is a week for our youth to showcase the great things 4-H has to offer to young people and highlight the incredible 4-H youth in our community who work each and every day to make a positive impact in our community," he said.
The ambassadors also thanked the many volunteers, supporters and donors to 4-H, and said they will deliver homemade baked goods to groups that have shown their support to the program throughout the year.
Additionally, 4-H families have been collecting old denim donations in coordination with the Blue Jeans Go Green program, which recycles blue jeans into something new, for this year's "One Day 4-H" event. Donations of denim can be dropped off at the extension office until Oct. 15.
"You all are the future of Victoria County," Janak said to the ambassadors.
County Judge Ben Zeller was not present at Monday's meeting.