John Lamas received his first professional haircut Thursday morning. His mom, 39-year-old Joanie Martinez, has attempted to trim his hair at home but said her son, who has autism and ADHD, would scream throughout the process.
For Martinez, watching him get his hair trimmed by Fernando Muñoz, who co-owns King of Kings Cuts on Laurent Street, was an experience that almost brought her to tears.
"For a mom, a single mom, it's just the most amazing thing to see," Martinez said.
How often do you volunteer?
Lamas was sitting in one of three barber chairs in the gym at First United Methodist Church on North Bridge Street. Haircuts by certified salon artists and barbers were one of several services offered Thursday morning at Day of Care, which provided showers, clothing vouchers, basic care packages and lunch for homeless and low-income individuals.
Lisa Griffin, director of homeless programs at Mid-Coast Family Services, said a January count of area homeless found 119 individuals. She estimates 400 people in Victoria are either homeless or at-risk of homelessness.
Johanna Rohan, 2-1-1 community resource coordinator and Day of Care organizer, said she expected about 200 people to receive services at the event. Rohan said the last Day of Care was in 2012 and she figured it was time to remind the community of local resources available to them.
Martinez said she was attending to learn about resources that could help her two children.
For service providers such as King of Kings Cuts, the event was an opportunity to give back to the community. Muñoz said the barbershop hasn't done events like Day of Care before, but he hopes to do more in the future.
"King of Kings represents Jesus Christ, and this is why we're here: to serve His people," Muñoz said.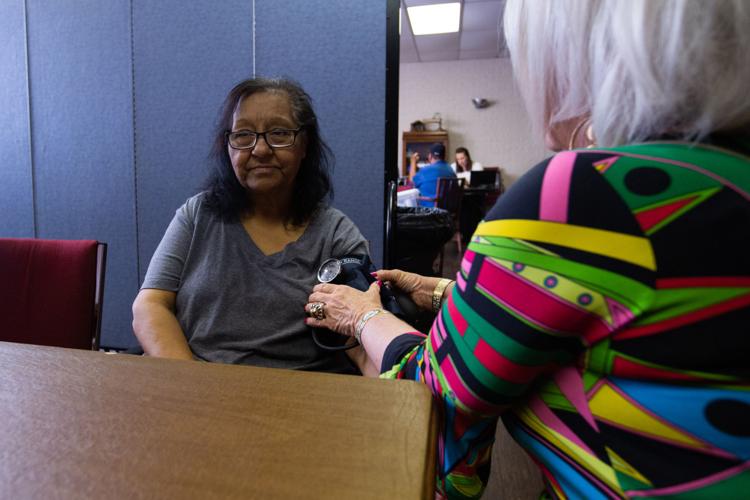 The Day of Care coincided with a monthly free clinic hosted by the First United Methodist Church. Services provided include health screenings by the DeTar Family Medical Residency program and Wesley Nurse program.
Kathy Frels, a Wesley Nurse who works at the First United Methodist Church, said the alignment of the two events helps all organizations involved to better serve community members such as Olivia Quiñonez, who has diabetes.
Beyond the free medication and service she receives, Quiñonez, 63, said what's brought her back to the clinic for the past three months is the quality of service.
"The care is excellent and the staff is outstanding," Quiñonez said.
---
The photograph captions on this story have been updated to correct a name misspelling.