WACO – Linda Benson is used to feeding people.
By day, she works in a cafeteria at Baylor University, where she keeps college students fed and cared for.
When she leaves work and heads back to her home in North Waco, she'll usually stop by Jubilee Market, the nonprofit grocery store that opened there in December 2016.
The grocery store, one of more than two dozen initiatives from the longtime nonprofit Mission Waco, has quickly become a neighborhood staple and emerged as a model for a small-scale, community grocer that, so far, has withstood competition from larger chains.
"I like it because the people are friendly, they help you out if you come here for the first time, and some of the prices you can't beat," Benson, 60, said.
Community grocery stores like Jubilee have become an increasingly rare presence in communities across the U.S., as they've been replaced by large, retail giants like Walmart. In the absence of locally owned, neighborhood stores, there's been an explosion in dollar stores and convenience stores, which offer food at affordable prices but often have no or limited fresh food.
Community stores have virtually disappeared from Victoria, where a group of residents in the city's Southside community has taken interest in Mission Waco's model, as they work to find new ways to bring businesses and other assets to the neighborhood. Annette Yancey, 67, a longtime Southside resident, remembers raising her children in a neighborhood with two grocery stores, a laundromat, and a corner store that sold snow cones to her kids.
"We had everything we needed within walking distance," Yancey said. "I couldn't pinpoint when, but I feel like people just sort of abandoned and forgot about the Southside."
Yancey is part of the Southside Community Coalition, a loosely organized group of residents and community leaders in the neighborhood. Jubilee Market's model has become a blue-sky goal for the group, which is watching the store closely to see if it's found a path to success.
Victoria isn't the only city looking at Jubilee Market. Visitors from throughout the state have traveled to the store. They've toured the Mission Waco's neighboring cafe and adjacent aquaponics garden that sells fresh basil to local restaurants to learn about the nonprofit's reach in this Texas city of about 138,000 people.
After more than three years in business, and thanks in part to a jump in sales during the COVID-19 pandemic, the store is projected to break even in 2020, said Jimmy Dorrell, the co-founder of Mission Waco. If Jubilee stays successful, it could provide a road map for other cities – including Victoria.
Bringing a grocery store to a food desert
Five years ago, the roof over the vacant building at the corner of North 15th Street and Colcord Avenue in Waco caved in.
The damaged roof was just the kind of price cut Jimmy Dorrell was looking for.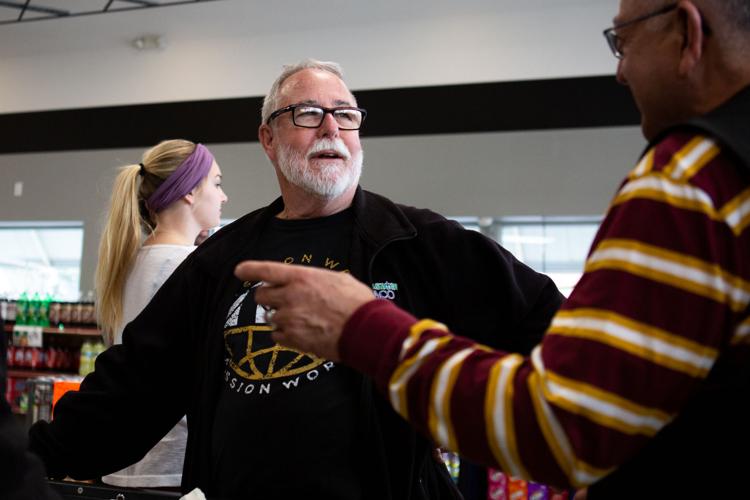 Dorrell is the co-founder of Mission Waco, the Christian nonprofit he started with Janet Dorrell, his wife, in the 1990s. Dorrell retired from his role as president of the nonprofit in April, but has spent decades working and living in the North Waco neighborhood, where 36% of residents live below the poverty line.
One thing the neighborhood lacked for years was a grocery store, or really any way to access fresh, healthy food. In North Waco, the closest H-E-B was more than two miles away, and the only local option were corner stores. When the local county health department studied food pricing throughout the city, it found the corner stores in North Waco marked up staples such as rice, beans, bread, milk and eggs by up to three times as much as they sold for at a regular grocery store.
When the building's roof caved in, the owners offered Dorrell a lower price that the nonprofit could pay. Dorrell took the idea to the community, and at a neighborhood meeting, a majority of the 70 residents who showed up backed the plan to turn the vacant, 6,500-square-foot building into a small grocery store.
It took almost $650,000 to gut and renovate the store to get it ready for opening. The startup costs were subsidized with sizeable gifts from Walmart, Pepsi and Joanna and Chip Gaines, the Waco residents-turned-reality television stars. But along with the big dollar donors, the store sold $25 "shares" to members of the neighborhood and anyone else who wanted to back the project.
Since the store opened in late 2016, Dorrell said he and other Mission Waco leaders have learned a lot. They've started to stock specific items requested by customers, including cactus and oxtail. They've remained committed to their initial decision not to stock liquor, cigarettes, or lottery tickets, but still sell regular, albeit unhealthy, food items like potato chips and sodas, Dorrell said.
'It's better than H-E-B'
Kesha Johnson, a mom of two, says she comes to Jubilee almost every day.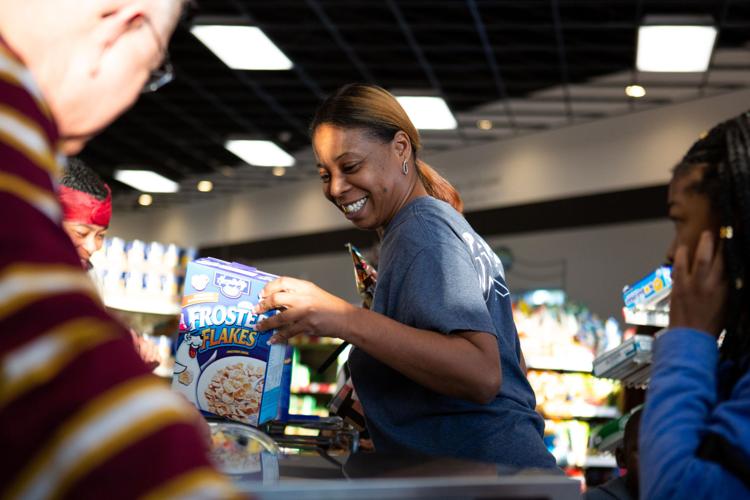 The reason is pretty simple: It's cheap, and for every $25 she spends, she'll get $5 back on her Oasis loyalty card, a discount available only to residents who live within one mile of the grocery store.
"It's better than H-E-B, and I mean, the people here are friendly. I know the guy that runs it," Johnson said.
During her family's pre-dinner shopping trip on a Saturday in March, Johnson's two kids, plus the cousins and nieces who were staying for a sleepover, wandered the aisles, hopefully trying to sneak cans of whipped cream and a bag of Bugles into the shopping cart. Instead, Johnson filled the cart with everything she needed to make barbecue chicken for the family dinner.
Johnson and other shoppers said Jubilee is a regular part of their shopping routines, creating a loyal customer base in a challenging industry. Even large, retail grocers like H-E-B operate with thin profit margins, so for a nonprofit store like Jubilee, the question is not just whether the store could raise enough money to open its doors, but if it can earn enough money to stay open.
Shoppers such as Johnson said they patronized Jubilee because they liked the atmosphere and because the prices were cheaper or competitive with the larger stores in the city.
Both of these factors are key in determining whether a supermarket that opens in a food desert will actually stay open, said Tamara Dubowitz, a food policy researcher at the Rand Corporation, a global think tank.
"A lot of that research has shown that the physical locality of a grocery store is just not enough," Dubowitz said.
Dubowitz has studied food deserts, and grocery stores that have tried to open in them, and said simply opening a store in an area where there previously wasn't one won't keep the operation afloat.
"Stores that have had a community-centered framing have been much more successful than stores that have not prioritized their communities," she said.
Robert Lopez, then the assistant manager of the store, who recently became the manager, said he made a point to build relationships with customers and offer them a sense of community.
"If our customers give us $7 in quarters and dimes, we take it," he said.
Like many of Jubilee's employees, Lopez started as a volunteer. Today, the store has seven part-time employees as well as lots of volunteers who pitch in.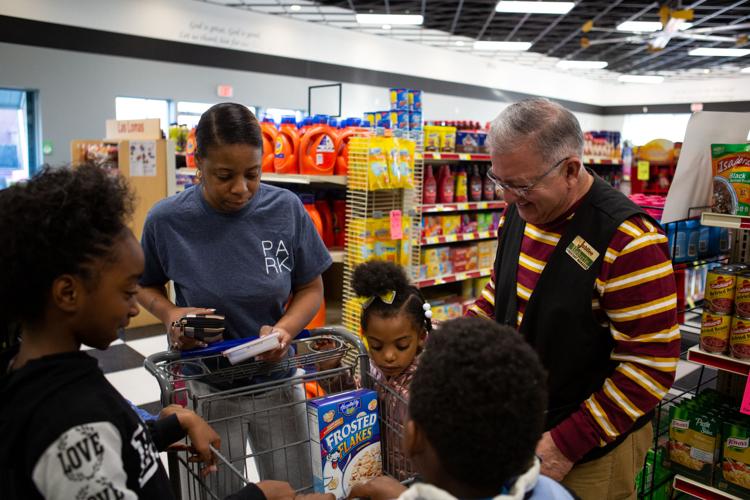 In addition to shoppers like Johnson, locals who shop at Jubilee regularly, the store's model also relies on middle-class residents from other neighborhoods in the city to support the store, either through occasional shopping trips or through donations.
Although an unusual arrangement, Dubowitz, the food policy researcher, said the solution sounded like a Waco-specific system that was working for Jubilee.
"It sounds like that is something that is totally working in this community," she said.
The view from the Southside of Victoria
Victoria's Southside neighborhood does not have its own grocery store. That's not unusual for most neighborhoods, but residents there say the disappearance of the grocery store is just one of a number of community assets that have closed in the past 40 years.
A 2017 analysis by the U.S. Department of Agriculture shows that most of the Southside neighborhood meets the definition of a food desert because most households are low-income and the closest grocery store is more than a mile away. Census data also shows at least 20% of households don't have a car. Together, these factors make accessing food difficult for families, according to the federal government.
Throughout the Southside neighborhood, more than a quarter of residents live below the federal poverty level, according to census data, a far higher poverty rate than other neighborhoods in the city.
Yancey, who raised three children in the Southside and is now the resident manager at Perpetual Help Home, said a grocery store, a laundromat, and a new playground were all investments she wanted for her community.
Bethany Castro, an organizer and member of the coalition, said it's clear the group still has work to do to bring in more community members to the conversation, a key part of Jubilee Market's model.
"One of our biggest struggles has been getting more voices involved so that we really do know what the community wants," Castro said.
And before the coalition is able to tackle a project as big or ambitious as a grocery store, the coalition needs to determine how it can accept donations, apply for grants, and generally handle money. Castro said the group is exploring several options to do so.
In Victoria, as in Waco, the question for some residents is not just access to food, but access to healthy food. Diet-related diseases, like diabetes and heart disease, are prevalent throughout the U.S., and particularly in South Texas.
But opening a grocery store in a food desert won't automatically make the community healthier. Americans of all incomes have worse diets than other wealthy nations, and although grocery stores typically increase access to healthy foods, they usually contain packaged foods as well.
"I would say that if you're looking for health and well-being that looking at a grocery store as more of an asset to the community and less of a place that's going to potentially make diabetes go away, is much more realistic," Dubowitz said.
'Located in the middle of the need'
The pandemic and the ensuing economic fallout have upended much of the country. More than 125,000 people have died in the U.S., and thousands more have been hospitalized by the respiratory disease.
The immediate and subsequent impacts of the virus and the way the U.S. government failed to contain it are visible in dozens of places, but one of the most common and worrisome visualizations has been photos of hundreds of cars waiting in line at food banks, the vehicles filling parking lots and backing up roads in cities throughout the country.
Most Victoria organizations that provide meals or groceries have said the need has either doubled or tripled since the pandemic began. One research paper found that nationwide, the rates of household food insecurity has doubled since the pandemic began.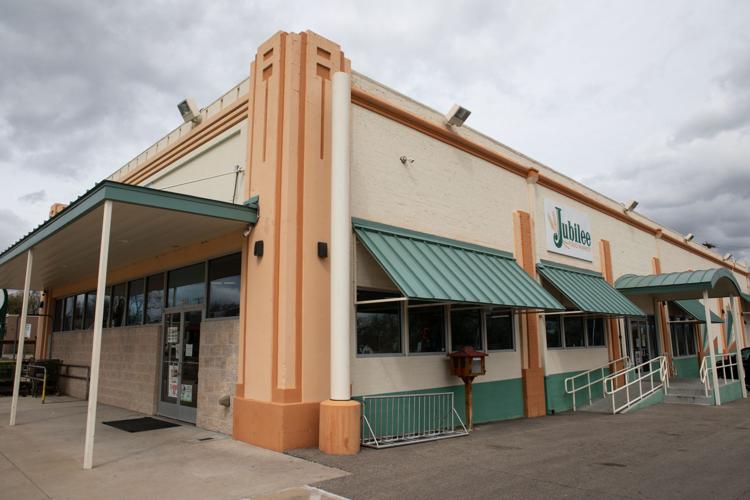 For now, the Jubilee Market may be one of the few organizations in Waco that has come out of the first few months of the pandemic in a better financial position. To break even, the store needs to sell about $65,000 worth of food in a month, Dorrell said. Since the pandemic started, sales have well exceeded that, due in part to worried shoppers stocking up in the early days of the pandemic. Although Dorrell said it's too soon to officially declare the store a success, it's definitely on stronger financial standing than he expected at this point in the store's lifespan.
Beyond the financial bump, the pandemic has highlighted a core part of Jubilee's mission.
"It put us in the profile of who we are," Dorrell said. "We were located in the middle of the need."
In Victoria, the pandemic has meant a halt to the Southside coalition's in-person meetings. But over virtual calls, group members have continued to meet and focus on the community's more immediate needs.
"I think COVID has turned our attention to what are the needs now," Castro said. "A grocery store three years down the road is not going to feed somebody that's hungry now because their parents haven't been working, or they're not able to go to summer school."
In the long run, however, the coalition's members dream of a grocery store, a goal that might be made more feasible if Jubilee paves the way.