Vickie Martin-Hull considered canceling her trip to Victoria from Lawrence, Kan., a week before she and her husband were booked to fly.
That was in February, before COVID-19 upended ideals of normalcy – when people still traveled at leisure.
But Martin-Hull had a lot to consider. She had spent years contemplating the idea of visiting Victoria, where her father, Billy Ivil Martin, lived and died under the alias name of Eric Steven Cain after fleeing Kansas in 1962.
A 63-year-old journalist turned family and marriage counselor, Martin-Hull wanted to understand not only who her father was, but more importantly what his life said about who she is.
"It was kind of a now or never, you know? We're not getting younger. … The more dots I could fill in, that felt like information that could tell me more about my whole picture – my whole being," she said. "It is about identity. We don't even really think about that, about how fragile our identities are."
Life of searching
In 1955, Martin-Hull's father married her mother, Sharon Stout, in Hutchinson, Kan. The couple soon had four daughters, with Vickie being the first born on May, 30, 1956. The Martins' divorce was finalized on Christmas Eve of 1960 according to court records, before their youngest daughter was born.
Martin-Hull was about 5 years old when her father disappeared.
She spent her life wondering why. Gradually, she learned snatches of information. In 1962, Martin had a son with another woman, whom he abandoned after she gave birth to their child. Regarded as a highly skilled mechanic in Hutchinson, he had his own business, which he left that year, along with the life he had led there.
She subsisted on these meager facts for several decades, while struggling with the shame of abandonment and unanswered questions, she said. Her father was a taboo subject in the family.
"All my life, I've never known what happened to him, and nobody really wanted to talk about it," she said. "I didn't know anything about that whole half of myself."
In 2005, she learned why her queries hadn't yielded answers when she got a call from her father's sister-in-law, who was married to his brother.
"I would have never found him because I was searching under his wrong name – his legal name and not his fake name," Martin-Hull said.
Her aunt gave her Martin's alias name, address and phone number, she said. She thought she would call immediately, but a few months passed before she picked up the phone.
The conversation was short when she finally did, she said. She told him that she forgave him and asked him to jot down her information in case he ever wanted to reconnect.
Martin never called. He died about four years later, in 2009, according to his death certificate.
"When I learned my father was dead, hope died," she said. "I always held out hope that there could be an apology or reconciliation."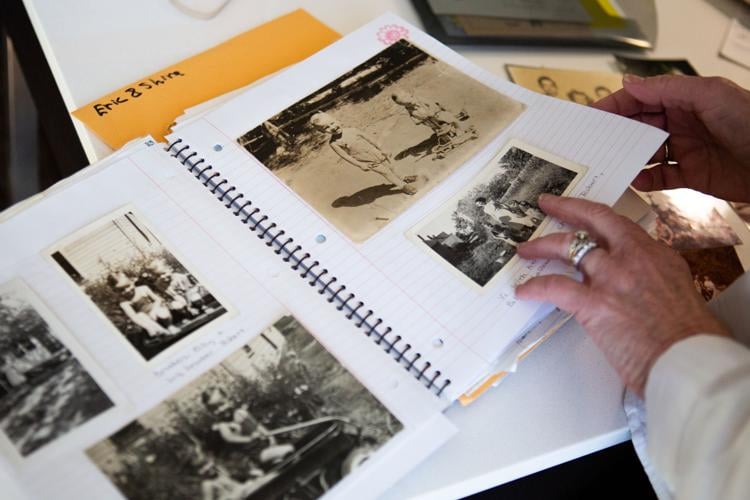 On the Friday morning of her visit to Victoria, Martin-Hull stood over a stack of records and a photo album crafted in chronological order in her hotel room at the Hilton Garden Inn.
There were birth and death certificates, marriage licenses, tax records, handwritten timelines and annotations – a mountain of her meticulous, almost compulsive dedication to figuring out the truth about her father.
She learned that he wedded a Victoria woman named Shira Waer, who died a few months after he did, and of the house they lived in on Chukar Drive, where he ran an electronic, mechanic and tool repair business of some sort.
She learned in a Victoria Advocate article that he had tried to help a friend try to find his long lost love. In another news article, she read about his time spent playing bingo.
She also learned that he died at 75 years old from cancer at the Retama Manor Nursing Center.
When cross-referenced with Martin's birth certificate, the only accurate information on his death certificate are the location, date and cause. His birth date and name are wrong, as well as his parents' names, which are composed of pieces of their real names, his sister's name and his alias name.
"It sounds like what is called identity manipulation or synthetic identity," said Donald Rebovich, director of the Center for Identity Management and Information Protection at Utica College. "This is something that is not uncommon, so he decides he is going to just leave everything and move somewhere and hide and create a new identity and live in that identity."
While the facts gave Martin-Hull some clarity, they also sparked new questions: Why Victoria? Why a new name? Why Eric Cain? How did no one find out about his past, or did they? What did he do with his time? What was he like?
She came to town with those questions, and with photographs of him in Victoria that she had been given by Waer's brother, her father's sister-in-law and a few more of his family members who are no longer alive.
"I think that if my siblings were here, they would be egging me on to affirm and validate that we all were real," Martin-Hull said. "And that is what I have been after my whole life. I just need to be legitimized. I just needed to be real and to feel like I mattered."
According to the U.S. Census Bureau, 19.7 million children, more than 1 in 4, live without a father in the home.
There is no reliable data on how many children and adults do not know their mom or their dad – how many have never met them or were abandoned by them and left to wonder whose identity they share.
As Martin-Hull conducted genealogy research online, she found a whole network of people who were also looking for their parents gathering in places like DNA Detectives, a Facebook group with more than 131,000 members dedicated to paternal genealogy.
Every story is different, but the effects bear resemblance. A father's absence, in particular, is a heavily studied topic. Researchers have found that it has strong effects on children's social-emotional development and fosters psychological harm, which persists into adulthood.
"There is a lot of shame wrapped around not understanding your identity, and there is complicated grief," Martin-Hull said. "That is why I went to therapy, to try to get that shame off because that is a big old burden in itself."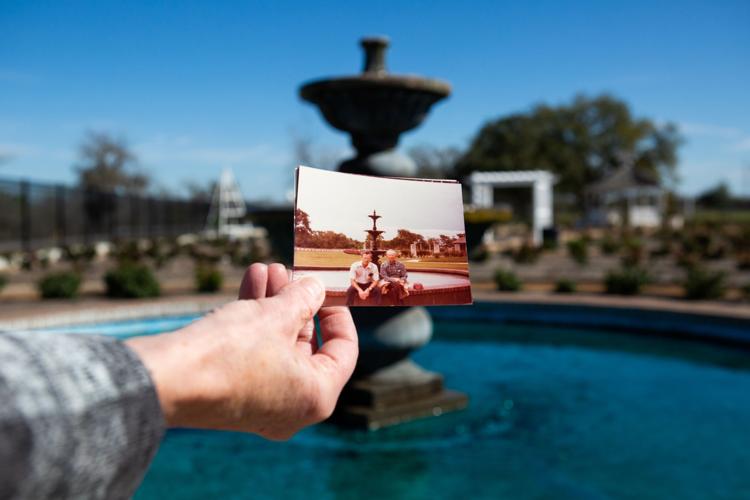 Integrating the selves
In the Memorial Rose Garden at Riverside Park, Martin-Hull held up a photo taken in 1984 of her father sitting on the ledge of the fountain, which has aged and undergone changes in the years since.
"It is like OK, now I have that dot," she said. "It gives credibility to the story and just validates that I am not making this up. I have evidence that he lived here because I've now gone and seen it."
She added more dots when she passed by his home on Chukar Drive and the nursing facility where he died. At the Victoria County Courthouse she learned how his estate was settled. That was a new dot, too, she said.
Martin-Hull had hoped to find someone in Victoria who was still alive who knew her dad, but neither she nor the Advocate located anyone.
Households on Chukar Drive bear many new families. One longtime resident remembered Martin and his wife, known as the Cains, but he could not recall anything about them aside from the fact that they lived there in a still-standing modest home.
Martin-Hull did not find all the answers she was looking for in Victoria, but the dots she did connect brought a sense of peace.
Her childhood mind – the one that still wondered how her life would have been different if her dad had been present – and her adult mind became more synchronized, she said.
As a child, she told herself that she would have had everything his abandonment robbed her of if he had just been there.
"The adult me goes, 'Oh, you also missed out on some things you'd be thank ful you missed out on,'" she said. "This is helping to integrate that child's fantasy mind with the adult reality mind, and that is how you heal."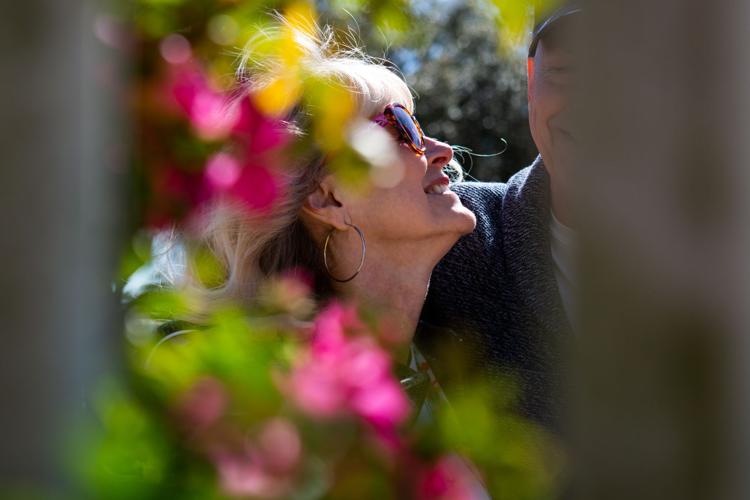 Back in Kansas
Two weeks after Martin-Hull and her husband, Bert Hull, returned to Kansas, she said she had felt "an amazing psychological transformation."
"I don't feel the shame and the sadness that I have always carried around with me, and I just don't need him to validate me anymore," she said. "If things come to me now, like if somebody comes and wants to say to me, 'Hey, I knew him,' I might want to hear what they have to say ... But as far as me continuing to search for things, I am done."
Martin-Hull said she tries to live her life as a humble person, but also has realized that she has managed to make the most out of the difficult childhood she was handed.
She has had a fulfilling career and three kids and five grandkids with her husband, who was her high school sweetheart.
In late March, they celebrated 45 years of marriage.
"It just kind of goes to show you that there is nature and there is nurture, but there is also choice," she said. "Even if you've been handed a bad luck of the draw in a lot of ways, you can still do something with yourself that you can be proud of."