Even though she didn't know her father, he was out there somewhere.
That thought comforted Mary Powell as she grew up. Her mother refused to disclose many details about her father, other than he was in the Navy and stationed in Long Beach, Calif., in 1961.
Little more than a month ago, Powell submitted her DNA to be tested in an ancestry database. Her daughter-in-law bought her the $100 DNA kit as a gift.
Mary Powell and Walter Arnold Sr.
Click and slide the blue slider to compare Mary and her father, Walter: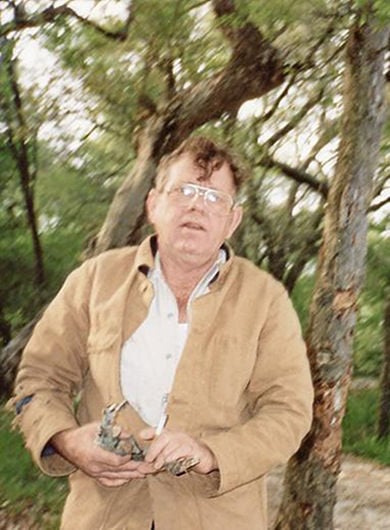 When Powell learned her father's name was Walter Arnold Sr., she searched the name on Google, hoping she'd find a face similar to hers. Instead, she learned that Arnold had been murdered at his home in Victoria in 2008. Even worse, police hadn't found his killer.
"It sounds silly, but I want to fix this," she said.
An administrative assistant at a hospital, Powell shut her office door to hide her tears from co-workers.
"I'm devastated," she said.
At least 20 other families in Victoria County share similar feelings. That's how many homicides have gone unsolved in the county since 1995.
Some families feel neglected while law enforcement insist they're still chasing down every lead.
The Victoria Police Department is handling Arnold's case.
The police department has a homicide clearance rate of 81 percent. Chief J.J. Craig calculated the homicide clearance rate by dividing the number of homicides since 2002, 59, by the number of homicides cleared, 48.
For the most part, for a homicide to be cleared, a suspect has to be arrested.
Craig said he needed more time to calculate the department's homicide clearance rate before 2002.
Eighty-one percent is higher than both the state and national homicide clearance rates.
Nationally, the rate has declined since the FBI began tracking it in 1965.
William King, a professor and associate dean of Research and Program Development at the College of Criminal Justice at Sam Houston State University, said that's because of an increase in homicides involving strangers, drugs, gangs or firearms.
"Mom kills Dad, Dad kills Mom: Those are generally easy to solve," King said. "For these, there's a stronger motivation for witnesses or participants to not talk."
District Attorney Stephen Tyler said that at least in Victoria County, most unsolved homicides fall into that category, and law enforcement must prioritize.
"It's not a Sherlock Holmes story where you can deduce everything by a swatch of cloth or something like that," he said. "Most of the time, crimes are solved by people who are paying attention and share that information with law enforcement."
Tyler added that many witnesses wish to be anonymous.
"Witnesses always think, 'Well, it doesn't involve me, so it's not my business.' But it is your business. What's happening in your neighborhood, what's happening in front of you, is your business," he said.
But there are a few steps law enforcement can take to increase the odds of solving a homicide.
A study published in National Institute of Justice in 2002 found that murders were more likely to be solved if detectives get to the scene within 30 minutes and if more than one detective is assigned to the case.
The Victoria Police Department has 17 detectives. Four investigate assault crimes, and their average caseload is 87, Lt. Eline Moya said.
Craig said that about eight months ago, he asked two of those four to take another look at the unsolved homicides in between investigating their other cases.
"We don't forget," Craig said. "The way I see it is one life lost is one life too many."
Arnold was found dead in his home in the 700 block of Morninglory Lane on Dec. 4, 2008.
His son, Walter Arnold Jr., who carried on his plumbing business, remembers the day well.
An officer stopped Arnold before going inside his father's one-story home. When he learned his father was dead, Arnold fell to his knees in the front yard.
The elder Arnold had recently learned he was cancer-free. His family was planning to celebrate, but now, they've split in two.
The younger Arnold; his wife, Darlene Arnold; and his sister-in-law, Constance Kalina, suspect a person who had access to the home and called police that morning. They think that man was drunk when he killed Arnold and stole thousands of dollars from his safe.
They said that person made both incriminating statements and extravagant purchases after Arnold's death. They recalled hearing from a police detective that there was a one in 80 chance that the man's DNA was underneath the elder Arnold's fingernails. Arnold's cause of death is listed as strangulation.
They also think police haven't followed up on credible leads or interviewed witnesses willing to talk to them.
"It shakes your faith a little bit in the community that you live in," Kalina said. "This is our community, too, and he was a good person. He didn't deserve this, especially after he had beaten his fight with cancer, and he was in a weakened condition when all this happened."
Tyler, meanwhile, said the case isn't as strong as the family thinks.
He said the detective assigned to the Arnold case was dedicated and thorough.
Tyler didn't remember finding any DNA under Arnold's fingernails, and if there were, a one in 80 chance does not rule out many people, he said.
Tyler wanted to know more about how the strangulation happened. He said that just because that person called police to report the death doesn't mean he was there at the time it happened.
The safe? If there were an inventory of what was in the safe, police could have looked into whether anything was taken. But there's wasn't one.
"I understand he is suspicious, and I don't think I'll ever make him not suspicious, but I have to eliminate all those other possibilities in the minds of a juror," Tyler said. "If I can't eliminate reasonable doubt in my own mind, it's hopeless to move forward."
Police officials declined to talk about the case because it's ongoing, but the younger Arnold hopes doing so will bring him closure.
It costs him $200 every year to maintain a website he set up in 2011 for tips, justiceforwalter.com, but he can't bring himself to shut it down.
He only recently stopped paying for his father's cellphone service. He kept it on for eight years simply because he liked to hear his father's voicemail.
His voicemail was, "Leave me your name or your goodies, and I might call you back or I might not."
The elder Arnold had an ornery sense of humor like that. He liked to go on hunting trips, cook during the holidays and play cards. Several photos of him throughout the years were displayed across a glass table in his son's living room recently. In many, the 68-year-old is wearing either an sleeveless T-shirt or a bowler's shirt and grinning ear to ear.
The younger Arnold couldn't find his favorite photo, though. That one, he said, depicted them working together when he was just 4 years old in San Antonio.
"I always loved my father. He would always tell people that we've been working together since I was in diapers, and that's pretty dang close to it, you know?" he said.
Arnold thinks his father would have liked to have met Powell.
Powell said she's looked off and on for him her entire life and was pushed to try again by her daughter-in-law. She didn't want to end up disappointed again.
She's more than a thousand miles away but ready to pack her bag and board an airplane.
"If I have to come to Texas and do whatever I have to do, I'll do it," she said. "I want them to know this isn't going away. This is my dad. I finally found him, and now I need to know what happened to him."