EDNA – Trey Ganem, 48, sees dead people.
He started seeing those no one else could see around age 5 growing up in Victoria, so he and his mother made a trip to a local priest. His family believed this was not supposed to happen – that it was the work of the devil, he said.
"And it was hard for me because I was still seeing them, so it just started scaring the crap out of me," Ganem said. "I was 5, so I couldn't tell you what they wanted yet. I just knew that I could see them, and they would show themselves to me."
Do you believe mediums can talk to spirits?
After attempting to squelch the visions most of his life, Ganem, now of Edna, started SoulShine Industries, a custom casket- designing business, almost four decades later. This was also when he started hearing voices no one else could hear.
While his casket-designing business has experienced steady growth, a recent development will help catapult his craft – along with his lesser-known gift – into an entirely different realm. Next year, the A&E Television Networks will air 12 episodes of a new show, "Trey the Texas Medium," about Ganem's clairvoyance and channeling gifts as well as his extraordinary casket craftsmanship.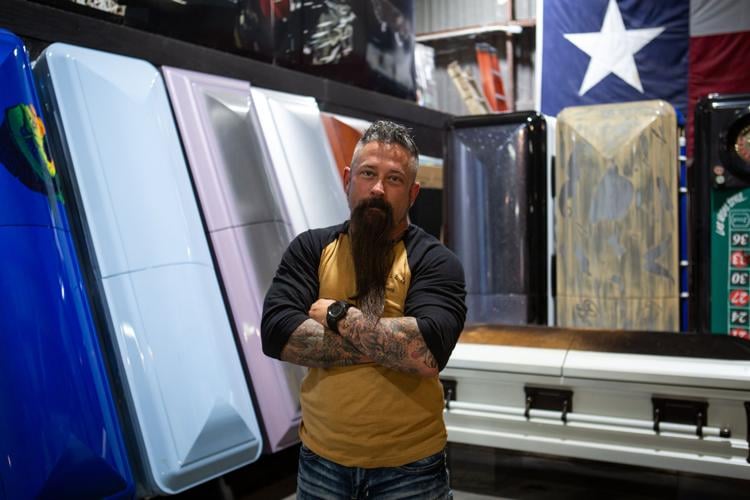 "I don't look like the typical medium. I look like a biker dude. I don't have a crystal ball, and I don't flip cards," Ganem said. "I just get stuff you won't get anywhere else, very specific things."
How does a casket designer and medium from Edna get a national network show?
Ganem made a custom casket for Victoria rapper 50 Pak that led to a spot in a Vice television documentary, and he caught the attention of Anthony Zuiker.
Ganem was driving down the road when he received the first telephone call from Zuiker.
"I'm Anthony Zuiker, and I want to make a television show," Zuiker told him.
"Anthony Zuiker. Do you know who I am? I came up with the show 'CSI,'" Ganem recalled.
"Oh, OK," Ganem said. "Hi!"
The two met for drinks and dinner at an Italian restaurant in Austin to discuss possibilities for the show. While Ganem described his custom caskets, one of Zuiker's old friends decided to make an appearance.
"A black man with a cane is standing behind you smoking a cigar, and he says he was your professor," Ganem told Zuiker.
Ganem said Zuiker then asked, "What? Are you kidding me?"
Zuiker had no idea Ganem was a medium, too. Ganem also heard a name that sounded like it had jumped off the pages of "Lord of the Rings," so he announced that, too. Zuiker was further floored.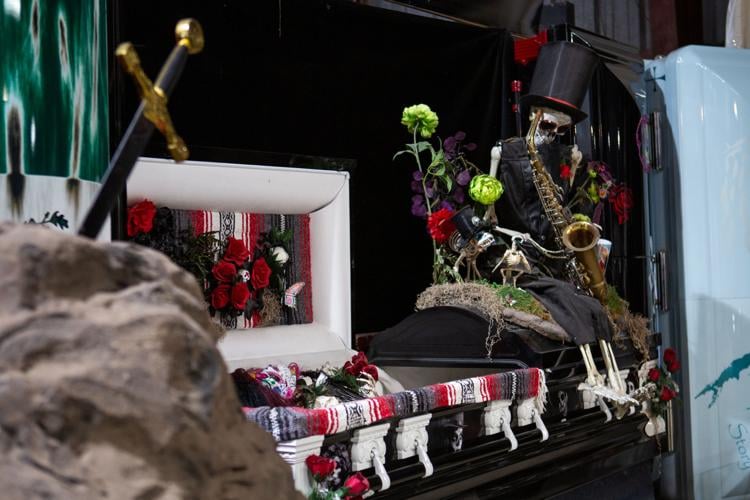 "My wife doesn't even know that," Zuiker told Ganem. "That's the name of the main character in the New York Broadway play I'm writing right now."
Zuiker immediately called television producer Jimmy Fox with news that their casket designer was also a medium.
Zuiker accompanied Ganem to his shop in Edna the next day and filmed Ganem visiting with a woman who had recently lost her 3-year-old son. "Your dad was there to receive him," Ganem told the woman.
Zuiker left with his clips and called three weeks later with the news that A&E wanted to produce a show.
"It's never happened this fast before," Zuiker told Ganem. "They don't want your caskets, though; they want your readings."
Three weeks later, the film crew arrived to shoot a sizzle reel to take back to the network for a final decision. Until the filming, Ganem had engaged mostly in casual social reading. He and his wife, Michele Ganem, would go to a restaurant for dinner or a bar for drinks, and he would see and hear figures calling him over to deliver messages to their loved ones. He usually obliged. During initial filming, he learned he also could reliably read more formally on point.
As it turns out, the network wanted to shoot a concept never before explored on television – Ganem receiving a request via telephone for a casket, delivering a reading to the family, custom-designing the casket and revealing the casket to the family.
"You mean you want me to do what I really do?" Ganem asked. "I'm all in!"
The film crew shot a dozen episodes during the course of about 14 weeks in Edna, Victoria and Austin. They returned to shoot b-roll of Ganem having fun with his family and flew the Ganems to Los Angeles to tape voiceovers. Each 30-minute episode includes two or three readings.
"Our show is non-scripted, so it's the hardest show they have ever filmed," Ganem said. "We don't know when someone is going to die and need a casket. So they filmed the full process. There is no acting. It's 100% real, unlike most 'reality' television shows."
Well, usually they do not know when someone is going to die.
Ganem chalked up other unusual experiences to coincidence until he could not ignore their frequency and similarity any longer. In addition to seeing and hearing people others cannot, Ganem has premonitions that he jots down in a notebook.
In 2014, Ganem worked feverishly for three days to design custom caskets for five Edna children who died in a fire. The day after the service for the children, he settled into his office chair, both emotionally and physically exhausted from the project. He heard a voice: "Build an Incredible Hulk casket." So he did.
For three months, he sewed the upholstery on a countertop in his house. When he finished, the Hulk's green fist extended from the 4-foot, 6-inch casket and lit up. And then the telephone rang.
A funeral director from Oklahoma on the other end of the line was inquiring about the superhero caskets his secretary had seen on the news.
"Can you do one for me?" the funeral director asked.
"What are you looking for?" Ganem responded.
"The Incredible Hulk," he said.
"I'm looking at it," Ganem told him. And he sent him an image of the casket.
Ganem learned that a young boy had been diagnosed with cancer three months earlier when he had started building the casket, and Ganem received the call from the funeral director the day the casket was finished.
"It happened again and again," Ganem said.
A blue Super Mario Brothers casket, a Superman casket, a Dallas Cowboys casket and a casket for a young girl from New Mexico who visited Ganem before she was killed in a drive-by shooting.
Ganem invites those wary of mediums to talk to him.
"I just know I believe in God, and he has given me this gift to help people heal, and that's why I use it," he said.
"Trey the Texas Medium" is expected to debut in February.