The sturdy voice of Rudy Vargas Jr. carried through Queen City Park just before lunchtime last Monday, drawing a crowd of faces familiar with his mission amidst the merciless summer heat.
Vargas, a 39-year-old Yorktown resident, is better known as "Turtle" on the streets of the Crossroads and among about 135 men in 36 penitentiaries across the state and country, to whom he writes letters every day.
As the founder and president of Heaven Scent Baptist Mission, Vargas pokes his head in at Christ's Kitchen on most Mondays and invites anyone who is willing to listen to his service, followed by a meal and occasional clothing or hygiene handouts. But his work with Victoria's homeless is only a fraction of the mission he has built.
Vargas' organization, which became a federally registered nonprofit in 2017, started as a dream in 2005, while he was serving a seven-year sentence at a maximum security prison in Tennessee Colony.
Since then, the nonprofit has grown into ministry for the incarcerated, the homeless and youth trying to navigate a world of inherent adversity.
"I am trying to teach them to know what life is supposed to be," he said. "I wanna just train people to live for God, and with that come jobs, success, a better life for your kids, more purity and upstanding citizenship."
Vargas would not be preaching or running his own nonprofit if the criminal justice system had not broken him and brought him back to God, he said.
"I'm not perfect, but the Lord brought me a long way," he said. "You know how they say knowledge is power? It is, man."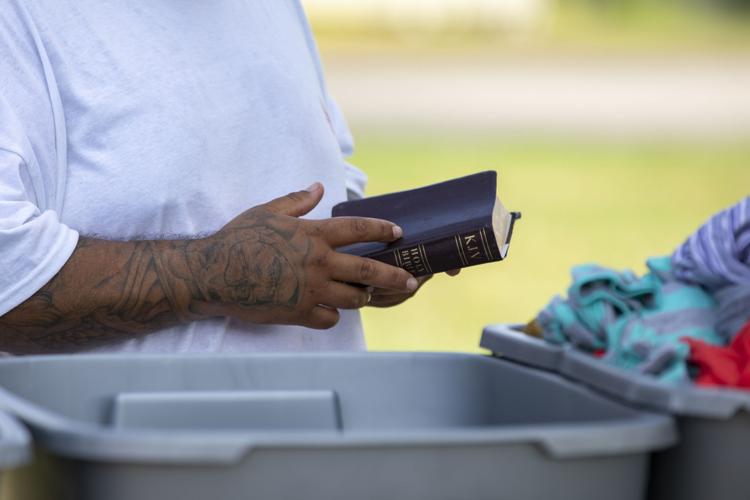 Lessons learned
Vargas grew up in North Side, Fort Worth, a rough neighborhood where he recalls his friends returning from summer break before sixth grade with new haircuts, clothes and gang affiliations. His parents divorced when he was 2 years old, and most of his childhood was split between a mom working multiple jobs to raise five children and a dad who tried to instill good life principles that just would not stick.
"I wasn't trying to hear it, you know? I'd run wild all my life," he said. "Even my mom used to tell me, 'Don't you want anything in life?' and 'Don't you care about anything?'... I would look up at her and be like, 'No, I don't care about anything.'"
Vargas was kicked out of public high school his freshman year and later saved by God at a private high school at 13 years old, he said. But his enthusiasm for a Christian life faded when no one around him reciprocated his excitement about what he interpreted as a defining moment.
"I graduated from that private school and went back to my world," he said. "I only lasted so long before I went back into the drugs, the stealing. The shoplifting escalated to burglary of vehicles, burglaries of homes and then burglaries escalated to strong-armed robberies."
Vargas had a code with crime, he said. He did not steal from family members or people around him as a way of distancing himself from the effects.
"I was more faceless," he said. "In my mind, I would fix it, like, 'Hey, I am just going to work – clocking in, going to get this money and then I am going back to my life.' It was a job and fueled by drugs and alcohol. It got a little more vicious every time."
Vargas had a son at 19 years old, and he tried to make changes but could not escape his lifestyle. He eventually separated from his girlfriend and their son in Goliad and went on a "crime spree" in Fort Worth, where he picked up an aggravated robbery with a deadly weapon charge.
The felony conviction came in December 2002 and resulted in a seven-year state prison sentence, according to Tarrant County records.
"God had to break me somehow," he said. "What we are, compared to what he wants us to be, is something I couldn't really fathom at that time."
When he was released early in 2008, Vagas found himself on the streets of Fort Worth, disillusioned by false expectations for his return to the free world.
Unable to find work, he bounced from couch to couch and started dealing drugs again to survive, he said. In less than a year, he received another charge, this time drug-related, which resulted in a five-year state prison sentence.
"While in prison this time, I did associate with a gang," he said. "I turned my back on God because I decided that prison was going to be the best thing I ever do, and that is when I started getting all these tattoos and basically gave my life to the system."
But something was missing. Vargas started sneaking to church services and attended a Reconcilers Motorcycle Ministry program about a year before he was set for release. During that program, he said, he felt "the Holy Spirit pressing."
"I said, 'God, I am not going to promise you nothing ... but I'll try,'" Vargas said. "Within two weeks, I was already preaching on the rec yard."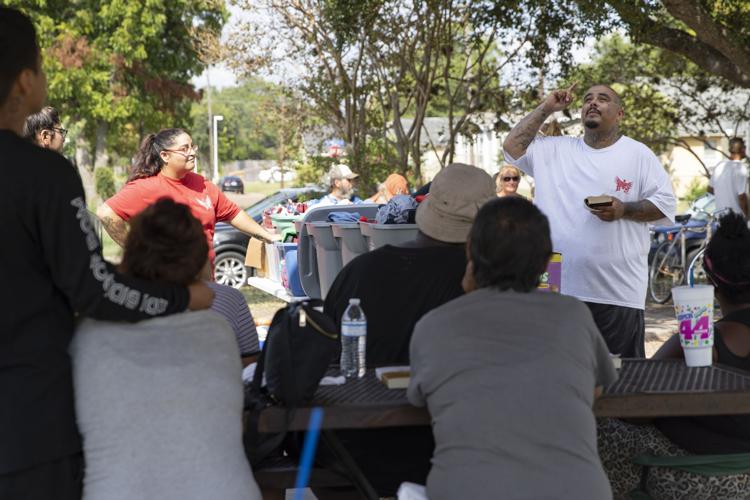 Growing mission
Vargas started sending letters to men he served time with upon his release in 2014 and went on to preach at the prison in Cuero after moving back to Yorktown to take care of his father. He has since started teaching at the prison in Kenedy twice a week.
"What we do is try to meet a need that is missing support," he said. "What I was doing on the yard, I want them to do it on the yard and in the day rooms. I want them to do it everywhere."
When he is not writing personal letters and newsletters to the incarcerated or preaching in Kenedy, Vargas works on his youth and street missions with the help of his organization's members in the Crossroads, Fort Worth and Dallas. He has a landscaping business on the side to cover bills, but the mission is his life, he said.
"I am like the janitor of God's Kingdom," he said. "I do things that nobody wants to do, like scrape his toilets or mow the grass, but it is so needed, and I wish someone would have done this for me because that probably would have saved me from a world of pain."
While the street ministry started in 2016, the youth ministry is relatively new. He and his wife teach both boys and girls Saturdays.
In every avenue of Vargas' mission, letdown and frustration are inevitable, he said. But his life, he said, proves that people on the streets and in prison or in county jails can change.
"I strive to see them do good, but I have to remember that they belong to God and I can only do so much," he said. "When they fall or mess up or relapse, it hurts, and I want to say something crazy to them, but I don't.
"Instead, I say, 'We still love you, we're still here and we're not going to stop riding with you.'"