John Pierce and his 9-year-old son, Miles, have been exploring the stretch of Coleto Creek behind their sleepy 7½-acre property for years, often returning from their adventures with pieces of the past.
Inside Pierce's home on Tranquillo Drive, those finds are on full display.
A collection of sand glass, mostly from Rockport, overflows on a table near the kitchen. Neatly framed arrowheads hang in the rustic living room, and bowls chock-full of petrified wood, teeth and other small treasures are scattered about.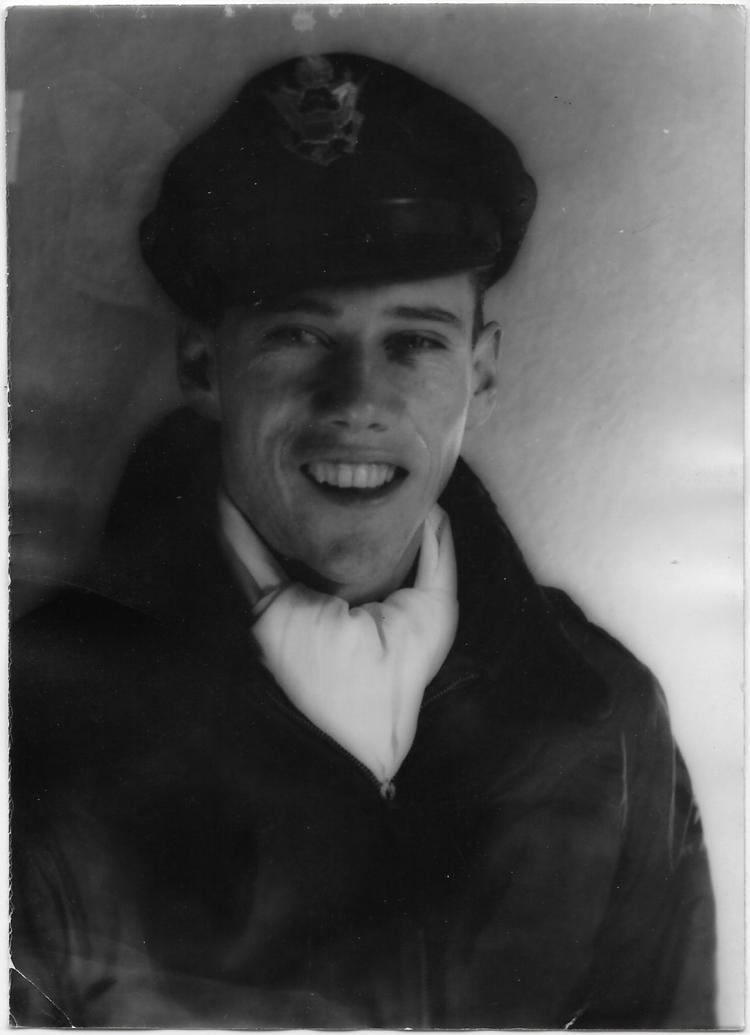 A military dog tag sat in one of those bowls for more than a year, engraved with the name of a man they have never known – Theodore R. Blair, a decorated WWII and Korean War veteran from California who died in 1990. Miles found the single tag lying in the sand a few hundred yards from his house.
After a failed initial internet search, the Pierces put the tag back in a bowl, where it remained until a few weeks ago, when they tracked down the original owner's son.
Thomas Blair was sitting at his computer in Lancaster, Calif., when he got a call from Pierce, his girlfriend and her cousin, who were going down a list of phone numbers in the White Pages trying to find him.
"I was a bit taken aback," he said by phone from Southern California. "I thought we had all my dad's Air Force artifacts."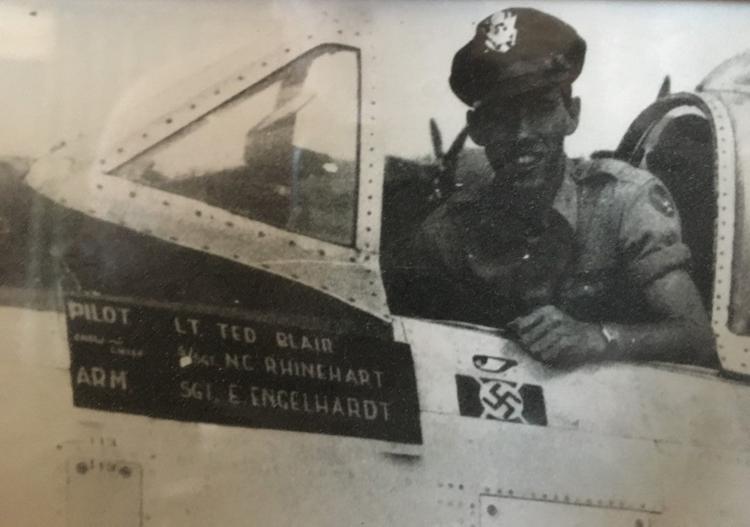 Blair, 71, who also served in the military, said he found himself sifting through notes his mother hand-wrote about the 13 years his dad served as a P-47 Thunderbolt pilot in the U.S. Army Air Force.
"I hadn't really looked at a lot of this stuff that my mom wrote up. I don't know why," he said. "It was tucked away, and my dad would always say, 'There is no time like the present.' You know, memories are interesting, but the past is gone."
Blair enlisted in the U.S. Army Air Forces in 1942, when he was 20 years old, according to those notes. He had heard the attack on Pearl Harbor live over the radio a year before. Listening to that bombing really affected him, his son said, and contributed to his and his brothers' enlistments in the U.S. Army Air Force.
Blair trained all over Texas, including a two-month stint at Aloe Army Field in Victoria from April to May 1944. The field was established as an advanced flying school for single-engine training in 1942 and inactivated in 1945.
His son said he thinks his father must have lost the tag while training at Aloe, which would mean it has been in Victoria for 75 years.
The tag was likely one of the first that Blair received upon enlistment, his son said, because the address of his father's house on Stafford Avenue in Huntington Park, Calif., is listed below his name.
"It is pretty amazing, really, to find that and find us. The people that would take the time to do this instead of just discarding it or throwing it in a drawer – what considerate people," he said. "That is what gets me."
Blair was a first lieutenant while flying a P-47 Thunderbolt over parts of Germany during the tail end of WWII and went on to earn the rank of captain while stationed in Freising, Germany, his son said.
The pilot retired early, in 1955, when he had to have eye surgery and could no longer fly.
"He wore glasses for the rest of his life," his son said. "It is sad because I think he would have stayed in the service. He really liked what he did."
Theodore Blair died of a stroke at age 68.
Pierce mailed Blair's son his military tag Monday.
Miles said he will miss looking at the piece of history, which he considers to be his "coolest" creek find, but he knows the tag belongs in California, where it will be with the rest of Blair's service tags, medals and memorabilia.
The elder Pierce could not agree with his son more.
"It is definitely a moment of joy to be able to give that back to someone it really belongs to from such a distant place," he said. "As much as that creek fluctuates, and all the sand in there, to find anything like this is just really amazing.
"This is a very important area in Texas history. I mean, they had battles on Coleto Creek, and you never know what you're going to find."