Grandparents and parents held up cellphones in the Victoria Community Center on Tuesday evening and snapped photos of their children and grandchildren atop Asian elephants and ponies at the Al Amin Shrine Circus' opening night.
April Cloud was among those grandparents. She watched her 14-year-old granddaughter, Creasi Gohlke, riding an elephant and documented the moment on her phone with a smile.
"We drove in from Seadrift for this," Cloud said. "Just to get her out and see the animals that they have."
Should city of Victoria follow its ordinance that bans the exhibition of wild animals for a fee outside of a zoo, prohibiting a circus?
The Shrine Circus, produced by Carden International Circus, is one of few left in the country that still trains and uses elephants in its touring, three-ring, two-hour show. Dozens of families waited in line Tuesday to ride the enormous creatures, which are between 48 and 53 years old. Tigers, dancers and acrobats are also part of the colorful gig that has benefited the Al Amin Shriner Temple in Corpus Christi for decades.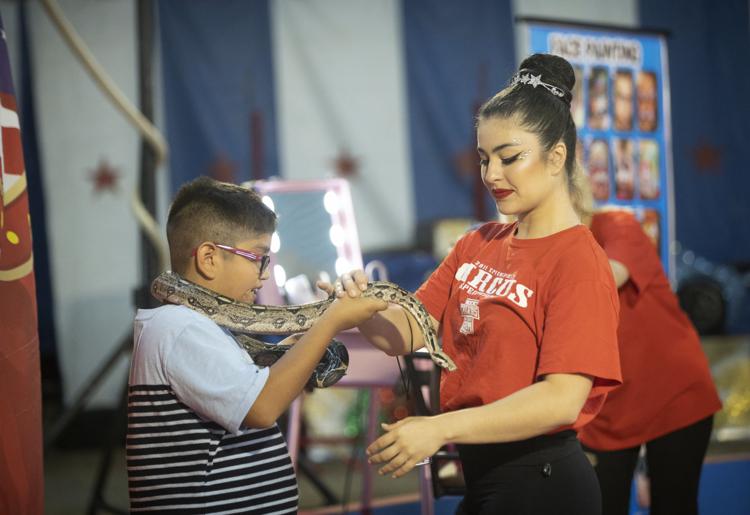 But not all are entertained.
Representatives from People for the Ethical Treatment of Animals sent an email in July to Jesús Garza, Victoria's city manager, asking the city to reconsider allowing the family- owned circus to bring wild animals to town.
Melanie Johnson, a PETA representative, cited Victoria City Code Sec. 4-5 in the email, which states "no person shall keep, raise, feed, or maintain any wild or vicious animal for purposes of display or exhibition, whether gratuitously or for a fee; provided, that this section shall not apply to zoological parks."
Wild animals are defined in Sec. 4-1 of city code as "any animal normally found in the wild state and all reptiles (including snakes) that are poisonous or exceed eight feet in length."
Because there is no exception in the code for circuses, PETA urged the city to "consider at least requiring that the scheduled performance of this cruel circus go forward without elephants, tigers or any other animals."
The City Council briefly summarized an evaluation of the email and code at a regular meeting last week. Garza said the code lacks clarification and could be improved, but the circus would still be allowed to operate as it has for decades.
"In the lack of that clarification in the code, we've sort of had to makeshift the process, and so when the circus comes into town, a member from the health department will go out and inspect, for a lack of a better term, the conditions of the animals," Garza said during the meeting. "And if any irregularities are found, we'll shut them down."
David Gonzales, the director of the Victoria County Public Health Department, said a department representative visited the circus early Tuesday. To his knowledge, this is the first year concerns about the welfare of the wild animals involved have been raised to the city, he said.
"We just want to make sure that the public is safe and also that the animals are safe, well kept and in good health," he said. "All the documentations looked to be in place, and the animals appeared to be in good health and safely housed."
If an animal needs medical attention, the department also has a veterinarian able to assist, he said.
The circus has a zero-tolerance policy for verbal or physical animal abuse and "strongly opposes any form of cruelty or mistreatment," according to its website.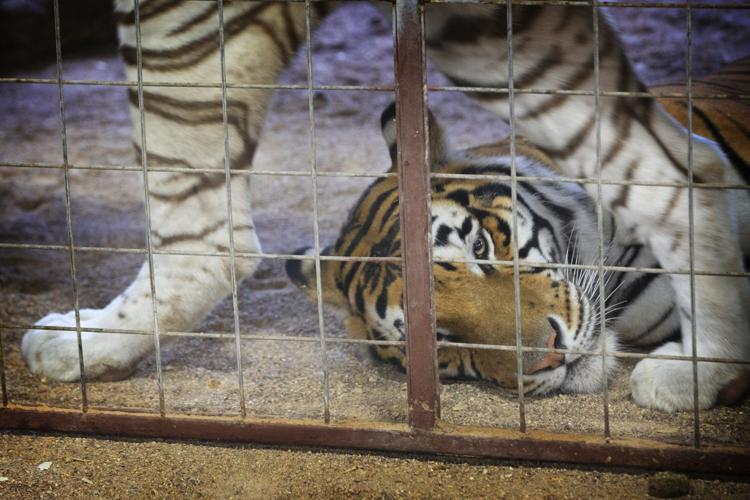 The circus also claims it continues to "meet or exceed" all federal standards under the Animal Welfare Act, though members of the Carden Family, which runs multiple circuses, have received citations on more than one occasion. The violations included failure to provide adequate veterinary care and failure to handle animals properly, according to records obtained by PETA from the U.S. Department of Agriculture.
Andrea Enax, a Victoria mom who took her husband and two children to the show, said she had reservations about her family's first trip to the circus after she had already bought tickets.
"We wanted to let them see the elephants, hopefully ride them, and experience something different," she said. "I'm hoping they are treated well. I didn't see very many good reports online after I had bought the tickets, and I was like, 'Oh no, I really hope not. I really hope that is not the case' ... There is no way for me (as a consumer) to tell if they're being mistreated, but it is also really hard to support if they are."
Public demand for animal-free circuses has grown in recent years as more cities enact bans under the consensus that wild animals have no place in circuses, where they have been found to be confined and forced to undergo cruel training practices and may pose a danger to the public.
With the growth of those concerns, some major players in the industry that were once booming with business have taken their tents down indefinitely. The Ringling Bros. and Barnum & Bailey Circus, for instance, went out of business in 2017 after 146 years.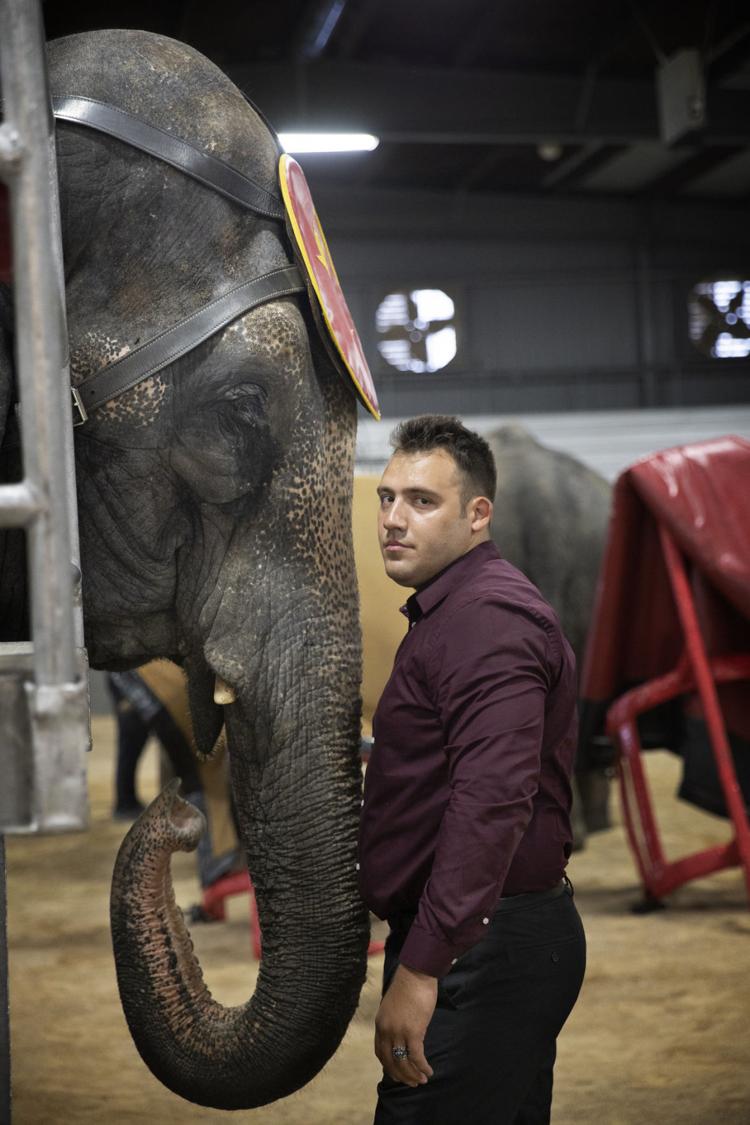 Feld Entertainment, the circus' parent company, announced in 2015 that elephant performances would be phased out by 2018. Kenneth Feld, the chairman and CEO of Feld Entertainment, said the shutter was the result of dwindling ticket sales and high operating costs coupled with the elimination of its iconic elephant acts.
The circus' last show at Reliant Stadium in Houston is the only other circus Cloud has taken her granddaughter to.
"They didn't have elephants at that show; they had lions and tigers, but no elephants," she said.
"They had elephants; you just don't remember," her granddaughter said a few minutes before the lights dimmed in the arena and a full crowd cheered with excitement.
"I guess not," Cloud replied with a lighthearted laugh. "Anyways, we're just hoping tonight is a good show!"