CUERO – "Go, Ruby, go!" rang out from the mouths of children and adults alike Friday evening, just as the sun set on the rooftops of downtown Cuero.
A crowd of about 75 people gathered in the same spot where the tradition of Ruby Begonia was born and cheered on this year's two prospects for the title.
Ruby Begonia will compete at the King Turkey Day festival in Worthington, Minn., and Cuero's Turkeyfest against Worthington's turkey named Paycheck. The times from both races will be added together to determine which town is the "Turkey Capital of the World" until next year, when the rivalry starts anew.
The two turkeys up for selection weren't timed but rather observed for certain characteristics. Neither appeared to be in a hurry but stayed on course.
The first racer prevailed due to a certain je ne sais quoi.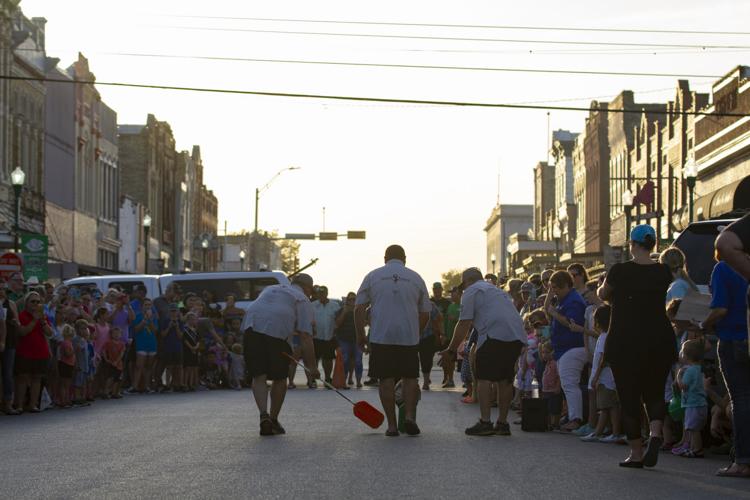 "It can't be too fat or too skinny and got to have a little bit of wildness to it," said Kenneth Schley, the captain of this year's racing team.
Cory Thamm calls that wildness "the right amount of crazy." The former Turkeyfest president has raised the Rio Grande wild turkeys that become Ruby Begonia for more than a decade.
"We want them to know what a human is and that it is not the worst thing in the world to be standing a couple of feet away from one, but you don't want them also just like, 'Oh yeah, come pet me' because then they won't run away from you to go to the finish line," he said. "Pseudo-tamed is what we're going for."
There is a rich history between Cuero and Worthington, rooted in the gobbler industry.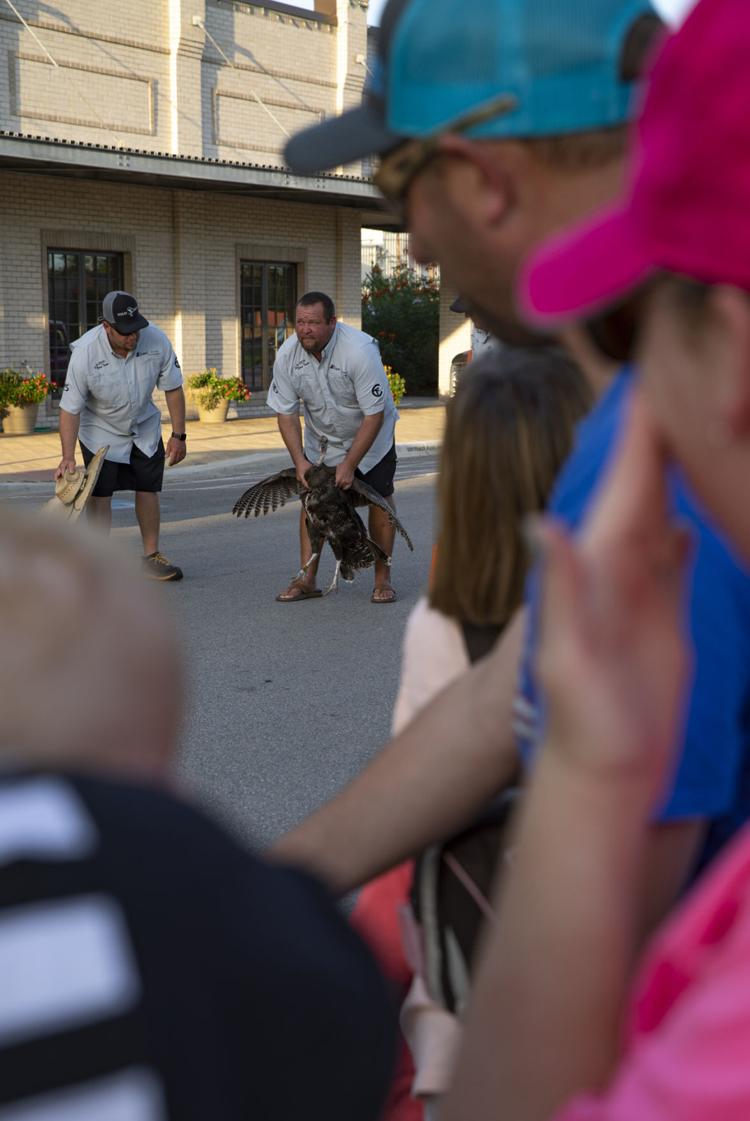 Turkeyfest hatched out of turkey trots that started in 1912, when an estimated 30,000 people flocked to see more than 18,000 turkeys herded down Main Street in Cuero on foot before the time of trailers and trucks, according to Turkeyfest's history page.
Worthington's King Turkey Day festival dates back to 1938. The competition between the sister towns began in 1973, a year after Cuero held its last turkey trot amid a dispersing turkey industry. The editors of both town's local newspapers got together and decided they ought to settle which town is the "Turkey Capital of the World" with an annual competition between Paycheck and Ruby Begonia, and thus the race was born.
The rivalry, like all good ones, is a lot more of a friendship built on common ground than anything else, said Thamm, who has made the trip to Minnesota for the festival many times.
"People will have little parties at their house, and the ultimate goal at the end of the night is to get a Texan over just so they can hear us talk," he said. "They laugh as soon as you say something, but we do too; they're great, just wonderful people, you know? Some of my best friends are 1,200 miles away."
Now that Ruby Begonia has been selected, the racing team will train her with Thamm.
"We practice at the same time because the bird gets practice being chased and the team gets practice doing the chasing, so it all kind of works hand in hand," Thamm said. "And then when you're doing it in a crazy environment on the street, with all these people screaming and hollering, hopefully Ruby remembers where to go."
In addition to Capt. Schley, this year's team is composed of handlers James Rath and Clayton Lantz. All three Cuero men have raced in previous years and are heavily involved with the Turkeyfest.
Ruby Begonia will travel with another turkey to Minnesota for the King Turkey Fest to help with her mood and temperament, Rath said.
"I mean, you wouldn't want to go to Minnesota by yourself, right?" he explained.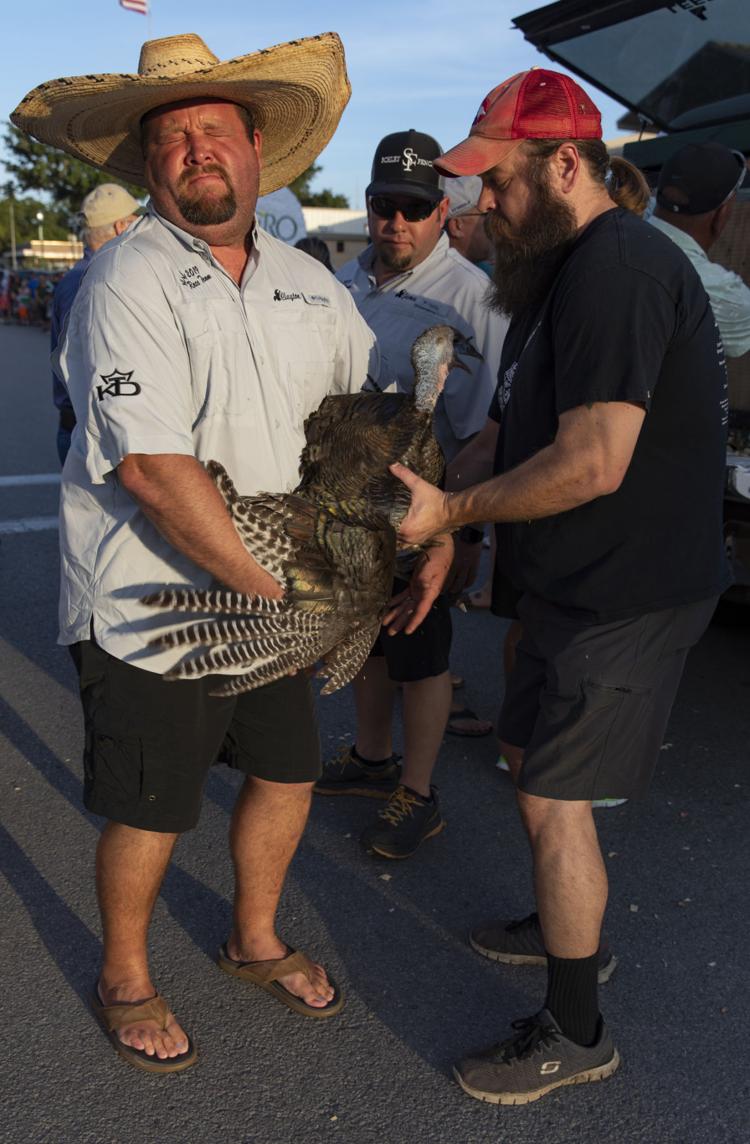 Rath is a second-generation turkey racer. His father, Erwin Rath, has been involved in the festival since the mid-1990s, served on the board for six years and was part of the race team.
"I never thought I was going to be a turkey racer; that wasn't exactly a goal of mine, but here I am," Rath said. "I'll say that it is an honor to carry on the tradition."
Erwin Rath stood on the sideline Friday evening and watched his son with a smile. He said has enjoyed seeing the younger generation embrace their history.
"They kind of thought it was stupid, us doing all this volunteer work when they were younger, but now he is right in the middle of it," Rath said. "It is good to see that the kids carry on what the parents did and keep this thing alive."